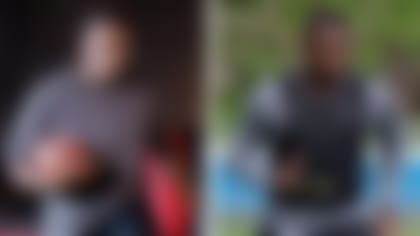 With the 2014 NFL Draft right around the corner, NFL UP! interviewed five prospects who play five different positions about their workout and nutrition regiments.
We start off by talking to first-round offensive lineman prospect Taylor Lewan who gives us the scoop on his workout regimen, diet and what NFL player he models his game after.
A: First it comes from your parents. That's one part of it. And the other thing is nutrition. My diet I do every single day to keep my body in shape. Everyone thinks of linemen being these big fat guys. I want to change the dynamic of offensive linemen where we don't have to be that. We can be these individuals that are in shape and fit.
Q: WHAT'S YOUR WORKOUT REGIMENT BEEN LIKE SINCE COMBINE?
A: After the combine I started training at the API in Arizona. And there we have three-hour workouts. There are three phases. The first one is movement. A dynamic stretch, getting your hips, your shoulders, every joint in your body loose and ready to go. Then you get into your running, you're lifting and that's your advance basic weights. I can't say how much I do because it changes every day.
Q: WHAT IS THE MOST IMPORTANT TRAIT FOR AN OFFENSIVE LINEMAN GOING INTO THE NFL?
A: The most important trait is confidence. You go into a situation and believe you're the best player when you step onto the field. Then you already have something on your side. And that's the belief you can accomplish something.
Q: WHAT'S THE DRILL THAT'S HELPED YOU THE MOST IN YOUR POSITION?
A: Any drill that has to do with corners. To me offensive lineman are like unathletic corners. There's bigger guys, we have to have nimble feet, you have to be strong with your hands. You can't get knocked back. It's actually crazy how those two correlate just different breeds of athletes.
Q: WHAT'S THE MOST IMPORTANT DRILL THAT'S HELPED YOU OUT THE MOST IN YOUR CAREER?
A: Muscle memory. Over and over. Making sure to keep my shoulders squared. Make sure to keep my head at the right angle. Making sure to keep that imaginary distance between me and my defender before I engage him.
Q: WHAT FITNESS ADVICE DO YOU HAVE FOR ASPIRING OFFENSIVE LINEMEN?
A: Ladder drills. And that's keeping your feet moving. Keeping your athleticism and yourself on your toes at all times. Don't be afraid to be that guy who does extra sit ups before you go to bed because 10-20 days later you'll see the results.
Q: WHAT IS YOUR NUTRITION AND DIET LIKE THESE DAYS?
A: In college it was really dramatic because I didn't eat carbs and that's a huge energy source for your body. So now my diet is really big on taking carbs and taking carbs at the right time. So having 150 grams a day between workouts. It really helps the body. You use it as premium fuel. As far as food I eat lean protein. The less weight the better. I stay with chicken and fish most of the time. A cup of rice with two cups of vegetables.
Q: IS THERE A PLAYER YOU MODEL YOUR GAME AFTER?
Want to learn more NFL player workouts and offseason training tips? Visit NFL Up! to discover the workout secrets of the NFL's best and get fit like your favorite player!