We've heard plenty about the two quarterbacks in Super Bowl XLVIII. Let's focus on the other key players who will determine the outcome. Here are three guys on each team who must play well in order for their respective squads to take home the Lombardi Trophy:
1) Wes Welker, wide receiver:Peyton Manning is a master at finding the most favorable matchup on the field. Consequently, in my opinion, Welker is going to see a steady diet of footballs on Sunday evening. Seahawks cornerbacks Richard Sherman and Byron Maxwell have the size and physicality to match up with Eric Decker and Demaryius Thomas on the outside. However, Welker has a distinct advantage working in the slot. He's quicker than Seattle's nickel cornerback, Walter Thurmond, and has the savvy to find soft spots when the Seahawks play zone coverage.
3) Terrance Knighton, defensive tackle: Knighton garnered some much-deserved attention after his dominating performance in the AFC Championship Game. His combination of quickness and power was too much for the New England Patriots' interior offensive line. Knighton's ability to penetrate and disrupt can create negative plays, putting opposing offenses off schedule. If the Broncos can force Russell Wilson into third-and-long situations, their pass rush should be able to get to the Seahawks signal-caller. That, of course, can only happen if Knighton handles his business on first and second downs.
1) Marshawn Lynch, running back: This one is pretty obvious. I don't see how Seattle wins this game without Lynch playing the lead role. His ability to run the ball effectively will serve two purposes: 1) produce points; 2) chew up clock and keep Peyton Manning on the sideline. The Broncos' last loss came against the San Diego Chargers in Week 15. In that game, Bolts back Ryan Mathews carried the ball 29 times for 127 yards and a score. His ability to grind out tough yards ran clock and limited Manning's opportunities, as the Broncos only had the ball for a touch over 21 minutes. That's the same formula the Seahawks need to follow.
2) Brandon Mebane, defensive tackle: Mebane is one of my favorite players to study on tape. He has incredibly quick hands and the lower-body strength to re-set the line of scrimmage. He jacks interior linemen right back to the quarterback and does a beautiful job of keeping his linebackers clean. Seattle's linebacking corps relies on speed and quickness to shoot through gaps and rack up tackles -- those guys are afforded that luxury by the play of Mebane up front. Manning gets rid of the ball quicker than any quarterback in the NFL, so it's very difficult to get to him with edge pressure. However, Mebane's ability to collapse the pocket can be a very effective tool in this game.
Who ya got? XLVIII analyst picks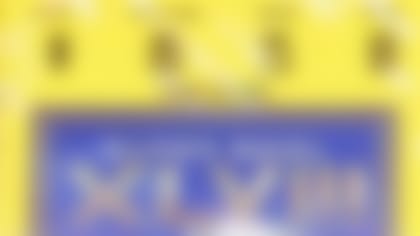 Enough with the ancillary analysis already! Who's going to win the game: Seattle or Denver? Our analysts weigh in. **READ**
3) Max Unger, center: Unger is one of the better centers in the NFL. He isn't a physically dominant player, but plays with excellent technique and leverage. He'll have a big challenge this week when he squares off against "Pot Roast" Knighton. Unger doesn't need to knock Knighton off the ball or flat-back him in order to get the job done; he needs to fight to a draw. If he can body up and wall off Knighton, Lynch can take care of the rest. Unger just has to avoid getting beat right off the snap. But that's easier said than done against Denver's talented defensive tackle.