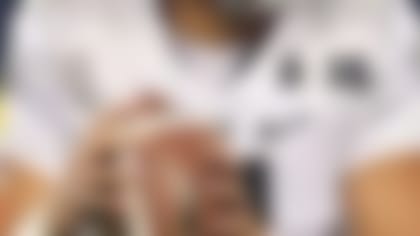 In advance of the draft, Marcus Mariota and others will look to showcase their skills at the combine (Feb. 17-23), only on NFL Network. **SCHEDULE**
Ryan insisted Thursday on WGR-AM Buffalo that 2012 first-round draft pick Stephon Gilmore is going to be one of the "elite" cornerbacks in the league.
"Where people miss it sometimes is, how many balls get caught on him? They don't complete passes on him," Ryan said. "Now, he might not get all the interceptions ... (but) they're not completing balls on him. ... This guy's an elite guy. There's no question about it."
Gilmore's receptions and yards allowed last season were similar to those of Revis and Vontae Davis, two of the NFL's top cornerbacks.
"He can take one half of the field away," Henderson explained on The John Murphy Show, via the team's official website. "Whatever side he's on, that side has been eliminated. ... I'll tell you what, look at how many times they throw the ball at him. Look at how many catches are over there, number one. Find out the yardage that's been accumulated by the receiver."
If Ryan's history is any indication, Gilmore will play a featured role in 2015.
Ryan's defenses have always been reliant on strong press-man corners. Unlike the Jets cornerbacks of recent years, Gilmore will have the benefit of one of the league's premier pass-rushing front sevens.