CORTLAND, N.Y. -- It's not easy to reach SUNY Cortland, temporary home of the New York Jets. For me, it took two flights and a 45-minute drive, with my eventual arrival cued by white street signs that said things like, "N.Y. Jets, right lane."
This small town has made the Jets its own in training camp for the past several years, and it's the perfect low-key spot, away from the big city hoopla that often surrounds Gang Green. This year, though, the spotlight hasn't shone quite as bright.
Even with a quarterback battle in full swing and a head coach who still entertains microphones, the Jets have taken a muted approach: less circus, more silence. Probably what this team needs.
1) Santonio Holmes' importance can't be overstated: Holmes, the Jets' No. 1 receiver and most electric playmaker, admitted the following on Monday night: "Right now, I can't run." Sounds ominous. In reality, Holmes was out there on Sunday, planting and coming back to balls launched by a JUGS machine. As he said, "Progress has started." He later termed said progress as "week-to-week." Because Holmes is dealing with the ambiguous Lisfranc injury -- which is different for every player who has it -- his return is a mystery. A source told me on Monday that Holmes could still possibly avoid the PUP list and play at the beginning of the season (in, say, Week 1 or Week 2). When it comes to the Jets organization, all they see is Holmes doing everything he possibly can to get ready. They see him grinding, as do those who check in on his rehab regularly. Asked if the organization has doubts about the level of effort Holmes is putting into making it back, coach Rex Ryan said, "Just the opposite." While the date of Holmes' return remains murky, what is clear is how important he is. Just look at what happened last season. The team was 2-2 during Holmes' first four games, when he had 20 catches for 272 yards. In his absence, the team went 4-8. Those associated with the Jets know that when Holmes went down, the offense went with it. And depth is still an issue. Braylon Edwards told me, "We made plays versus the Lions that showed we have potential to have a good enough offense to make plays and win games." Still, there is no other proven entity at receiver in the Jets' offense. Simply put, they need Holmes back -- and badly.
2) Geno Smith gets points for effort: On Monday -- just as on Sunday -- Smith was a shell of himself. His drops were slower and more deliberate, and there was a touch of a limp. Thanks to the ankle injury he suffered in the preseason opener against the Detroit Lions, Smith clearly is not at 100 percent. But that's not what matters. In this quarterback battle with incumbent Mark Sanchez, every point counts -- and Smith is earning them for toughness. Just like Sanchez is earning them for being on-point and accurate; the veteran delivered the deep ball nicely on Monday. When I talked with Ryan in his camouflaged four-wheeler, he explained to me why Smith's presence -- just being there on the field -- was important. "I think it has value in the fact that, in this league, durability is a big deal," Ryan told me. "And availability and durability is probably as important as athletic ability. This is the men's league, and you're going to get bumps and bruises and that kind of stuff. There's a difference between pain and injury, but yeah, the fact that he's out here, coming back, the fact that he's not 100 percent, hey, a lot of times, you won't be." So props to Smith for showing up. Everything adds up in this complex QB battle. I asked Ryan how he'll know which passer wins the competition. "When we're ready to make it," he said, "we'll just move forward."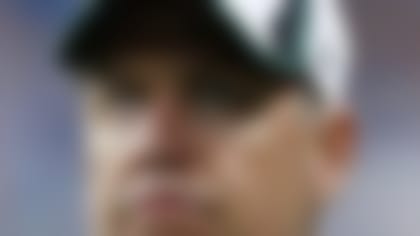 3) This defense could stand out: For the most part, the microscope has been turned on the Jets' offense, with many of the headlines being devoted to the Sanchez-Smith battle and Holmes' rehab. Meanwhile, the defense has quietly morphed into a unit that could be pretty nasty this season. Don't believe me? Ask the new defensive coordinator. "It can be very good," Dennis Thurman told me. "We have to nail down the most minute of details within the structure of the team (and) within our play calls, but the talent is there. I think we're more athletic this year, we're faster." The Jets could have seven new starters on defense, including first-round draft picks Dee Milliner and Sheldon Richardson -- young and fast and salty. When Ryan says, "We're trying to play to a certain temperament," he means it. It's worth mentioning that a few stalwarts have also opened some eyes. Calvin Pace seems young again. And middle linebacker David Harris "is probably playing better now than at any point since we've been here," Thurman told me. "He just looks like he's in better condition." Safe to say, the expectations for the unit are high. Whoever the quarterback is and however much the offense struggles, can the defense simply keep the Jets competitive? One must hope.
4) What Rex has been paying attention to: It's become somewhat of a comedic point of reference. Ryan made the joke again on Monday, calling the offense "my offense." All because he admitted to not watching the pick-six that Sanchez threw against the Lions because he was dealing with the defense (a common occurrence, by the way, for many coaches). And yet, the discussion obscures the main point: In what is as important a season as one can imagine, Ryan is diving into his defense. At Monday's practice, he spent most of his time working on the facet of the game that made him famous. As much respect as Ryan has for Thurman, he wants to make sure his fingerprints are all over this Jets defense. When I asked Ryan why, he smiled. "I've always enjoyed that," he told me, "there's no question about it. But it's more installing the defense. I think I'm a decent teacher." What better way for Ryan to make sure his message is heard loud and clear than to teach it himself? It also brings him personal satisfaction. In his way, this is Ryan going for it. "Even for me, I feel better," Ryan continued. "I need to do that. It's worked for me my whole life. We've always played good on defense, and obviously, I need that trend to continue."
5) Where is the circus? There was no tent set up in Cortland. No clowns, either. No Tim Tebow running shirtless in the rain -- shoot, even the rain was missing when I was there. Even with the uncertainty under center and the prolonged absence of one of the team's most talented players, this Jets camp has been notably quieter than past editions. No "Hard Knocks" or holdouts, no media throngs around backups giving two press conferences per week. And everyone in the organization seems a little happier. Even a near-controversy on Monday -- Joe McKnighttweeting wacky things at a fan he thought was a reporter -- evaporated by mid-afternoon, drawing a collective "meh" and a shrug. Credit general manager John Idzik, whose buttoned-up and business-like approach has short-circuited the kind of chatter that can overwhelm a franchise. Some credit also goes to Ryan, who still practices the art of wisecracking, but in more moderate and less bombastic tones than he had in the past. Maybe everyone in the Jets' ecosystem -- from team personnel to reporters and certainly players -- has tired of hysteria. Maybe folks in the organization have realized things didn't have to be that way. Regardless, the tone has become much more professional. And when adversity comes -- as it always does -- the team should be better equipped to handle it.