It's summer time at the NFL.  During the next few weeks, we here at NFL.com  will unveil our Most Underrated and Overrated Players of All Time for all 32 teams and allow users to determine their choices as well.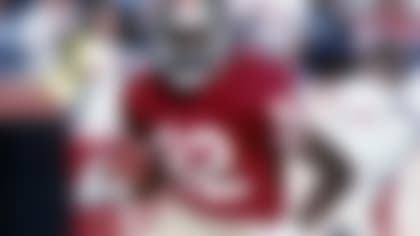 John Taylor -- WR, 1987-95
Robin to Jerry Rice's Batman, Taylor was the perfect No. 2 receiving option for the San Francisco 49ers. He was neither flashy nor physically imposing, but he was multi-dimensional -- finishing his career with the second-most punt return yards in franchise history. He was also big in the clutch. You might recall Montana's game-winning touchdown pass to Taylor -- not Rice -- in the waning seconds of Super Bowl XXIII. Taylor is sixth all time in receiving yards in team history, but even more impressive is that he's one of just two Super Bowl champions enshrined in the Delaware Sports Hall of Fame (Randy White is the other). If that doesn't epitomize "underrated" I don't know what does.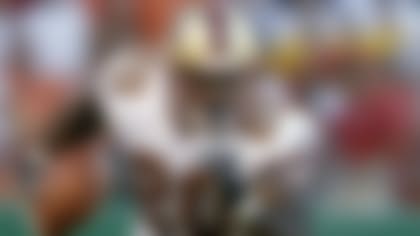 Garrison Hearst -- RB, 1997-03
The third overall pick in the 1993 draft never found his stride until landing with the 49ers in 1997. He averaged 4.7 yards per carry in San Francisco, and in 2001 inspired a team and his city by returning from a career-threatening injury. Some thought Hearst might never walk again after an injury suffered in a 1998 playoff loss to the Atlanta Falcons limited blood flow to his ankle -- similar to the condition that ended Bo Jackson's football career. Hearst fought back and after missing two full seasons he returned to the field to rush for 1,206 yards -- the second most of his career -- and made his second Pro Bowl. By 2003, the Niners phased Hearst out in favor of Kevan Barlow, but not before Hearst finished as the fifth-leading rusher in team history.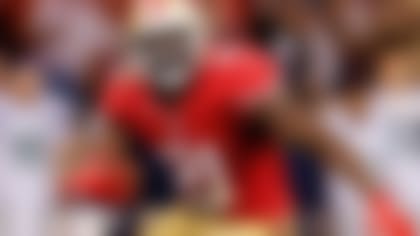 Frank Gore -- RB, 2005-12
Gore has gone from draft-day question mark to San Francisco fan favorite. As the lone bright spot on a 49ers team that wallowed through the Mike Nolan and Mike Singletary years, Gore chugged off 1,000-yard seasons one after another. In his eight years in the league, he's only missed 1,000 rushing yards twice -- his rookie year and in 2010 when he missed the last five games to injury. Jim Harbaugh has turned around Alex Smith's career and launched Colin Kaepernick's, but Harbaugh's willingness to lean on No. 21 in the backfield has helped bring San Francisco back among the NFL elite. Did we mention he's the team's all-time leading rusher, that he's third in career rushing yards for active players or that he's 34th all time in yards? Well, he is.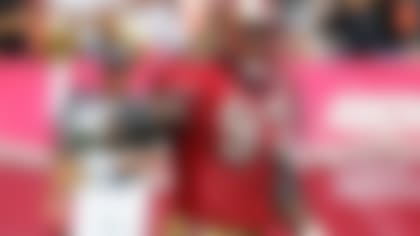 Bryant Young -- DT, 1994-07
Try to rattle a list of the top five defensive tackles of all time. Now list your top five 49ers defenders, any position, of all time. Chances are, Young didn't make either list. But he's far and away the 49ers' all-time leader in sacks with 89.5 (Charles Haley ranks second with 66.5). Young ranks fifth all time in sacks by a defensive tackle. After suffering an awful-looking broken leg in 1998, Young returned a year later to play all 16 games, record 11 sacks and earn a trip to the Pro Bowl. Young was also a member of the All-Decade Team of the 1990s. The other tackles on that all-decade team are Hall of Famers Warren Sapp, John Randle and Cortez Kennedy. Which one of these is not like the others?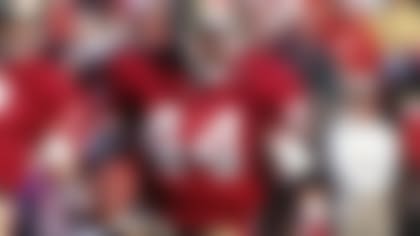 Tom Rathman -- FB, 1986-93
If you were to build a fullback in a laboratory, you'd end up with Rathman. A bruising blocker who was punishing in short-yardage situations and had reliable hands, the Nebraska product was never a stat-sheet stuffer. However, he opened holes for a running attack that never completely got its due during the Niners' heyday of the 1980s and early 1990s. During Rathman's eight seasons in San Francisco, the 49ers finished in the top 10 in rushing yards six times -- four times the team ended in the top three. Just to prove it's not a fluke, Rathman has served as the 49ers' running backs coach for the past three seasons. In two of those seasons, the team has been top 10 in rushing yards. The more things change, the more they stay the same.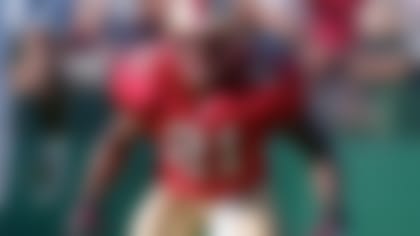 R.W. McQuarters -- DB, 1998-99
It doesn't matter that McQuarters only spent two seasons by the Bay, because in those two years he earned his "overrated" label. He was a first-round pick who took 22 games to record his first interception with the 49ers. That was his only interception with the 49ers. While McQuarters spent 11 years in the league, bouncing between four different teams, he started 16 games in a season just once. But what about his punt returns? After all, he excelled at that as a college player at Oklahoma State. In the NFL ... not so much. McQuarters never finished better than 13th as a returner during his time in the league. There could be some fans out there who remember McQuarters fondly. Let us know when you find them.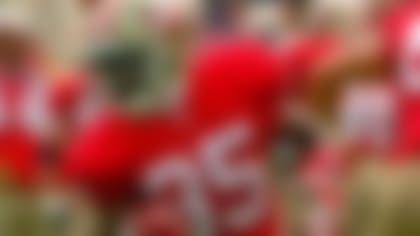 Dexter Carter -- RB, 1990-94, 1995-96
A first-round pick out of Florida State, Carter was the heir apparent to Roger Craig in the 49ers' backfield. And while many frustrated 49ers fans remember Craig's costly fumble against the New York Giants in the 1990 NFC Championship Game, they definitely remember Carter's fumbles -- in most every other game. In 90 career games with San Francisco, Carter put the ball on the ground 33 times. He coughed it up another seven times in one season with the New York Jets. Fortunately for Niners fans, the Carter era was short-lived. The team drafted Ricky Watters in the second round of the 1991 draft.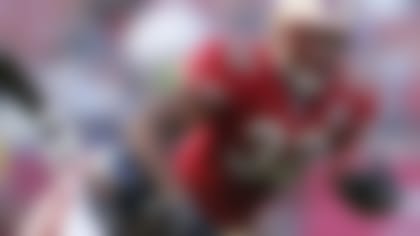 Kevan Barlow -- RB, 2001-05
In 1999 and 2000, nobody knew if Garrison Hearst would ever play football again. The 49ers brought in an aging Charlie Garner for a couple of years but needed a long-term solution. Insert Kevin Barlow. Square peg meet round hole. The team phased out Hearst in favor of the younger Barlow, but the third-round draft pick from Pitt never delivered. Once Hearst left after the 2003 season, Barlow had the backfield to himself. The result? A combined 1,403 yards in two seasons. In Barlow's five years by the Bay, he ran for 3,984 yards and 24 touchdowns. It worked out in the end, however. The team eventually gave Barlow's job to a young kid from Miami named Frank Gore.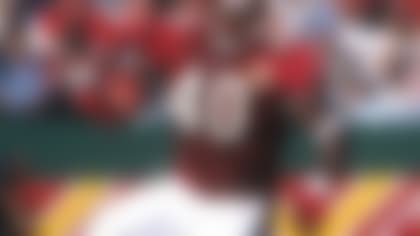 William Floyd -- FB, 1994-97
"Bar None." That's the nickname given to the former Florida State fullback by his agent, calling Floyd the best fullback in football, bar none. That was enough to convince the Niners to draft Floyd in the first round of the 1994 draft. Being a part of some very productive San Francisco offenses can make it easy to overlook his deficiencies. But in Floyd's four seasons with the 49ers, "Bar None" racked up 959 rushing yards and 13 touchdowns. By comparison, in Mike Alstott's first four seasons in Tampa Bay, he rushed for 2,837 yards and 25 touchdowns. One of those players was the best fullback in football -- bar none.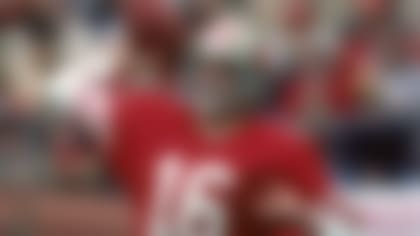 Joe Montana -- QB, 1979-1992
Before you break something important, listen. Montana was a very good quarterback. I'll even allow him as a GREAT quarterback. But he is NOT the best quarterback of all time. You could argue he's not even the best quarterback in 49ers history. He had a supporting cast that included Jerry Rice, Brent Jones, Roger Craig and coach Bill Walsh. Think Dan Marino, Warren Moon or Jim Kelly couldn't have won a couple of titles with that group? Even after connecting with Dwight Clark on "The Catch", it took a game-saving tackle by Eric Wright to prevent the Cowboys from going to the Super Bowl. Oh, and about the whole "might not be the best QB in 49ers history" ... Steve Young has a better completion percentage, passer rating, 3,500-plus rushing yards and 37 rushing touchdowns.
-- by Dylan Milner and Marcas Grant