Outside of simultaneously rehabilitating three rather series injuries to his ankle, back and ribs, he's going back to college to finish his degree, an endeavor that, according to head coach Ron Rivera, is going well.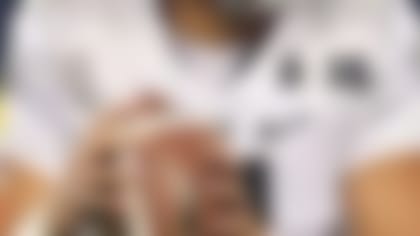 In advance of the draft, Marcus Mariota and others will look to showcase their skills at the combine (Feb. 17-23), only on NFL Network. **SCHEDULE**
He also plans on working with a quarterbacks coach this offseason and starting a voluntary workout group with some of his receivers.
"It's part of his plan he's going to implement and part of what he's working on specifically," Rivera said Thursday at the NFL Scouting Combine. "There's been times where he's talked about getting the guys together. I know he and Kelvin (Benjamin) developed a great relationship together and I know they plan on getting together at some point. I know Greg Olsen was part of the conversation at some point."
Rivera isn't concerned about over-working Newton after an incredibly stressful regular season. The two recently had an extended sit down to talk about Newton's health and experiences in school. Rivera wanted to ensure that Newton wasn't overcommitting.
"Just listening to him talking about the plan he wants to implement, he feels very comfortable, very confident," Rivera said.
If it all works out, there cannot be a better scenario for the Panthers head coach. Though whispers about Newton's work ethic and attitude have dwindled over the years, hearing about Newton's plan to take Benjamin under his wings has to make Rivera feel at ease.
There's obviously no guarantee it will aid the offense -- Mark Sanchez, after all, held yearly voluntary camps in California during his time with the Jets -- but the ceiling is limitless for Benjamin and it can't hurt.
Polishing Newton's public perception is an added bonus.
Some more notes from Rivera:
» The coach's family is doing well despite a serious fire that tore through their Charlotte-area home in early January and are currently renting a place they plan to stay in for the next six months while a construction company performs work on the house.
» Veteran running back DeAngelo Williams appeared like a prime candidate to get cut because of his age and salary, but he recently sat down with Rivera and general manager Dave Gettleman and was not informed of a pending release.