Much like one of his runs in Indianapolis, Trent Richardson's time in a Colts jersey could end up being short, disappointing and conclude in frustration for everyone involved.
The running back's two-game suspension, announced after Richardson missed the AFC Championship Game, indicated a growing rift. He has one game remaining on that team-imposed suspension -- if he's still in Indianapolis in 2015.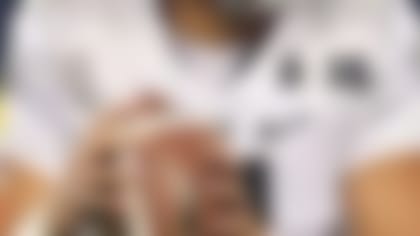 In advance of the draft, Marcus Mariota and others will look to showcase their skills at the combine (Feb. 17-23), only on NFL Network. SCHEDULE
That job security is not looking good for the runner who general manager Ryan Grigson traded a first-round pick for.
ESPN's Mike Wells, citing multiple sources, reported Monday that prior to Richardson's absence from the walkthrough that got him suspended, the team was already upset with the running back about weight issues and lack of accessibility.
The weight issues, per Wells, began after a Week 6 hamstring injury. The 24-year-old back went from 225 pounds to start the season to around 240 pounds later, according to a source.
The failure to let the team know he wouldn't be at the walkthrough the day before the AFC Championship Game appears to have been the final straw leading to the suspension.
The two-game ban could signify his end in Indy. Because of contract language, the suspension might allow the Colts the opportunity to void the $3.1 million in guaranteed money owed to Richardson next season -- the NFLPA could challenge that decision.
At this point it feels like the Colts should be willing to admit their mistake and move on rather than spend another season watching Richardson stumble into disappointment.