*The Baltimore Ravens came in to Sunday's game against the Texans with a clean and clear playoff scenario spelled out: Win out and punch your ticket. But a shocking 25-13 loss to the plucky Texans in Houston really complicates things. Here's what we learned: *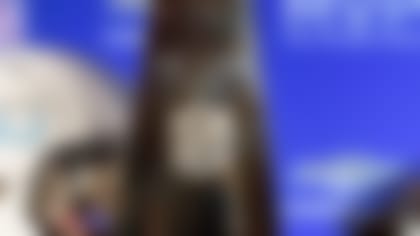 The NFL playoff picture is shaping up as teams head deeper into the 2014 season. Who looks promising? Who's on the edge? Check it out
This one will sting the Ravens for a long, long time. Instead of controlling their playoff chances, which they could have done by beating Case Keenum and Johnny Manziel/Brian Hoyer to end the season, the Ravens now dip into a convoluted pool of scenarios alongside Buffalo and San Diego. If the season ended today, the Chargers would snag the sixth seed.
Joe Flacco did not react well to an onslaught of zero blitzes from Romeo Crennel. The Ravens quarterback didn't react well to anything, honestly (final numbers: 21-50, 195 yards, two touchdowns, three interceptions). He needed to place the team on his shoulders with their playoff destiny in hand. He simply could not. Blame also goes to Gary Kubiak, who finally countered an all-out blitz properly in the fourth quarter on a touchdown pass to Torrey Smith. Losing both starting tackles to injury, Eugene Monroe and Rick Wagner, further complicated matters.
Just a year ago, Case Keenum was 0-8 as the starting quarterback of the Houston Texans and on Sunday, he threw the ball 42 times. Bill O'Brien's game plan was brilliant, all the way down to the beautiful halfback pass by Arian Foster. Though he was a little too confident in Keenum at times, allowing him to sling a deep ball up 16 with 40 seconds left in the first half, there were few imperfections.
Congratulations to Andre Johnson, who became the 10th player in NFL history to catch 1,000 passes. Next to Marvin Harrison, he was the fastest in league history to do so. Catching the ball from Keenum, a quarterback who got the call from Houston while hunting last week, seems symbolic in a way. Harrison will go down as a better receiver all time, but where might Johnson have been with a quarterback like Peyton Manning? Puts his offseason frustrations into perspective, doesn't it?
J.J. Watt passed Mario Williams for Houston's all-time franchise lead in sacks. He did that in almost 20 fewer games (82 for Williams, 63 for Watt). Watt added another sack on Sunday, and against a line cluttered with backups, caused plenty of problems for Flacco.