Players approach their offseason workouts in different ways. Some take long, and often well deserved breaks. Others simply tone down their workouts to maintain their shape. After the 2014 season, NFL Up! had a chance to chat with New York Giants running back Rashad Jennings about his offseason routine. He gave us the rundown on what his regimen is like between seasons, and even provides some tips for a low impact workout to start your own routine.
What's your offseason routine like?
Right after the season, you know, I'm not in the playoffs, so I'm training just as if I was in practice, just as if it was everyday routine. Next year, I plan on being in the playoffs, so I'm staying here a couple weeks and training just like I'm in the playoffs. And I actually encourage a couple guys to do the same, that way next year, we've already been here. But in a couple weeks, I tailor it down. I find fun activities to be involved in, like spin class or get into some hot yoga. Some Bikram. Maybe even some indoor tennis. Some different type of exercise and cardio just to stay in some type of movement and shape. That way, when I go down to Miami and start training, I'm not necessarily starting from ground zero. But there's also a ton of massage and chiropractic care. A lot of maintenance work is what I'm doing; ankle mobility, corrective work. Today I was working on a lot of adductive work and ankle walks. I've got a series of ankle walks that I go through.
Do you typically give yourself a rest period after the season? You mentioned you had a workout today.
I'm not hitting it hard, though. I'm not hitting it like a maniac. I'm so used to moving so I'm weaning myself off. I'm not going cold turkey with it. Over the years, I've really understood and learned how to listen to my body. I remember as a rookie, Torry Holt told me that. He told me when I was young, he said, "Rashad, you need to listen to your body." And I know exactly what he means now. So, for me, sitting down or shutting it down does not work. Active rest is the best way for me to recover.
Do you have a particular focus in mind for this offseason?
Every offseason I cut up the film of every touch I had. Every run I had, every catch I had, every block I had, and I study film and try to find glitches in my game and find what I did well. I maximize on those things, and I focus on the things I didn't do well. I find muscle groups and find patterns that are going to help me in this particular offensive system and start to focus from there. I keep a routine of what I'm going to do regardless, but every offseason you want to add something to spice up your game. Now that I really know this offensive system and what kind of cuts are going to be needed from me, I know how to train. So, I'm going to take my tape, watch it, write down some notes and watch it with my trainer. He'll write down his notes and collectively we'll put together a routine to put me in a position to be one of the top running backs next year.
Do you have a specific regimen for recovery?
I wouldn't say a favorite, but I enjoy spin classes. Those are fun and I get to enjoy that a little bit more than I do during the season.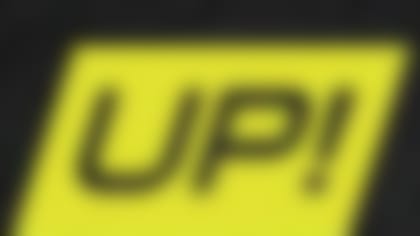 Looking to add some elite exercises to your workout routine? Visit NFL Up! for videos and tips from trainers and players to get football fit. More...
Sticking with more cardio then?
Yeah, fun cardio. Throw on some headsets, listen to some music or some audiobooks and just roll.
What's a rough rundown on offseason schedule?
Rule of thumb is most people can shut it down. Then, after the Super Bowl, you want to start to try to work a little, maybe three times a week, and then in March you want to hit it four times a week. But me, I'm a little different. I do the sauna room, I do the steam room, hot tub, cold tub, ellipticals and all those types of things and work on soft tissue right now. Those are the big things I do because I'm tailoring it off a little bit.
Do you have any tips for recovery for those working out at home?
As far as exercises to recover, active rest. I was talking to my barber, and he said he wanted to get on a routine. I gave him something simple and practical to start with. You want to do something consistent and let your body understand. I simply suggested that he start off doing 30 pushups and 30 situps every night for a week. After that week, add 30 pushups and 30 situps in the morning. With something as simple as that he says he's seen a big difference in his body already. So I think, just even at home, if you don't want to hit the gym, it's just finding something at home that you can be consistent in and that's where you get your biggest results.
Rashad Jennings is a 6-year veteran NFL running back currently playing for the New York Giants. He established the Rashad Jennings Foundation, which provides mentorship for individual success while promoting health and fitness worldwide.