All right, well we are going to scout the health status of Terrelle Pryor for most of the week as he goes through the concussion protocol. But no matter who the starting quarterback is for the Raiders, he's going to be up for a tremendous fantasy matchup against Washington.
Teams have done really well against Washington this season and, well, that's kind of an understatement. Although it has not allowed the most fantasy points to quarterbacks this season. That distinction goes to the San Diego Chargers. That's right, if you see your starting quarterback or a quarterback on the wire going up against the Chargers, take note.
But here's the question, if you're desperate for a quarterback and need to add somebody, would you start Matt Flynn if he were to start against the Raiders? I know my friend and host of Animal Planet's Off the Hook: Extreme Catches Eric Young put in a claim for Flynn because he plays in a 14-team league. So it's not crazy to think about. But we have some other sleepers for you to look at.
Alex Smith, QB, Kansas City Chiefs: Smith doesn't turn the ball over. That's the great thing. He hasn't thrown an interception in his last six games. And the Giants can't seem to stop anybody as they've allowed the fifth-most points to quarterbacks and seven touchdown passes this year.
Donnie Avery, WR, Kansas City Chiefs: If you saw Week 3's game against the Eagles, you saw what Avery is capable of. He's established himself as Smith's go-to-guy. Despite his success, the Giants are still going to focus on Dwayne Bowe and take their chances with Avery. Which is good for your fantasy team.
Bilal Powell, RB, New York Jets: There is a Jets running back worth a roster spot. Powell has scored at least 13 points in back-to-back weeks. He established a career high 149 rushing yards against the Bills in Week 3. The only caveat here is the Titans are going to be a much tougher matchup. But few teams run the ball more than the Jets.
Debate: Fallout from Bucs' QB change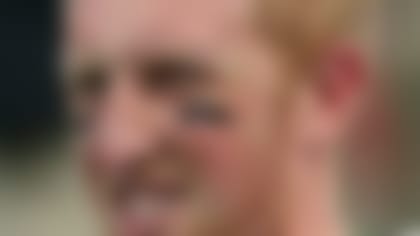 Josh Freeman's out, rookie Mike Glennon's in. What does this quarterback change mean for Tampa Bay? Let's debate! READ
Le'Veon Bell, RB, Pittsburgh Steelers: Coach Mike Tomlin said he's going to roll with Bell some this week against the Vikings who have allowed a lot of points to running backs this season. Let's be honest, the Vikings can't stop anybody. Plus, I've seen some of your roster concerns. Many of you can't afford to bench anybody. So while you'd like to wait at least a week to see what Bell can do, it's understandable if you have to go with him this week.
Brandon Bolden, RB, New England Patriots: Bolden might not have had the most touches in Week 3, but he's the best long-term option in New England. He made the most of his eight touches with 100 scrimmage yards. And it's his ability out of the backfield as a receiver which makes him far more valuable than LeGarrette Blount. Bolden has a great matchup this week against the Falcons who have allowed the third-most receiving yards to running backs.
Kendall Wright, WR, Tennessee Titans: Wright has established himself as the winner of the Titans-receiver-to-own gig. He has scored at least seven points in consecutive games, plus he's had 17 targets in those games.
Mike Williams, WR, Tampa Bay Buccaneers: Williams could see more looks if Vincent Jackson is more injured than he's letting on. Let's be serious, how many times have you played a guy because he seemed fine and then he leaves after one series? We call this the Roddy White Effect. Williams and the Bucs have a good matchup against the Cardinals who have allowed seven touchdown passes this season.
Justin Blackmon, WR, Jacksonville Jaguars: This is a pure pick-up-and-stash move. Blackmon really started to turn it on at the end of the 2012 season with at least 11 targets in each of the last four games of last year. So he's going to be a stash.
Kansas City Chiefs D/ST: This squad has been a part of Rank's 11 since the season started! The Chiefs have scored the most defensive points in fantasy, lead the league with 15 sacks and have 23 fantasy points in two of three games this year. This unit is fantastic!
Tennessee Titans D/ST: The Titans have recorded 13 sacks with nine takeaways in their last three home games. The Jets have been miserable on the road and they have a rookie quarterback. If you shuffled in the Titans last week and don't get the Chiefs this week, don't even sweat it.
Did you know that Adam Rank won last year's Expert's League title? Oh that's right, it's like the only thing he ever talks about. Well congratulations, Rank. You finally did something. What have you done for us lately? Let's worry about 2013 and stop living in the past. Typical Lakers fan, am I right? Oh, if you found this useful (as if) check him out on the latest "Dave Dameshek Football Program". And follow him on Twitter, please. He's taking us to lunch if he gets 17 more Twitter followers today. And we only got 15 the last time, so step up fantasy enthusiasts!