With the pool of college players for the 2014 NFL Draft all set, the NFL.com Digital Features team decided to take this opportunity to forecast potential Madden ratings for 15 of the top prospects setting their sights on the NFL. Adam Rank, Alex Gelhar and Amar Shah all weighed in. The results are below.
Johnny Manziel, QB, Texas A&M
Adam - 82 - I might not give him enough credit because his ELUS, SPIN and JUKE should be among the highest on the game.
Alex - 81 - His mobility stats should be off the charts. Interested to see if his AWR takes a hit for sometimes suspect decision making.
Amar - 83 - What he does on the field is nothing short of a human video game. Has opportunity to become a once in a life time player. Or just Doug Flutie 2.0.
Adam - 74 - He's really started to move up draft boards and could have a decent chance to be rated much higher.
Alex - 73 - I don't think Madden buys the pre-draft hype.
Amar - 71 - Have a lower OVR for him because I need to see more of a sample size.
Teddy Bridgewater, QB, Louisville
Adam - 81 - His AWR rating should be off the charts, because no college quarterback is asked to do as much as he is.
Alex - 82 - Many have Bridgewater as the top QB in the draft. I think Madden reflects that in his ranking.
Amar - 84 - Our scouts love his football IQ, athleticism and I tend to agree. He's a star in the making.
Derek Carr, QB, Fresno State
Adam - 73 - This ranking would be consistent with where EJ Manuel and Geno Smith were ranked last year.
Alex - 73 - Memories of David Carr keep Derek from getting a higher rating until he proves it in the pros.
Amar - 70 - Let's see if his big on-field numbers translate to the next level.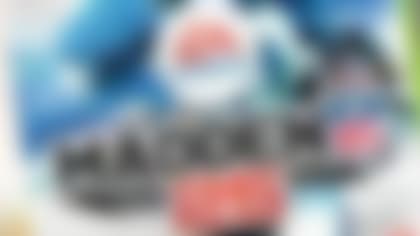 We're handing it off to you. Let your voice be heard. Help EA rate these NFL players for Madden NFL 25. More...
Jake Matthews, OT, Texas A&M
Adam - 84 - Likely to capture the highest grade of all of the offensive players in the draft and he will be an instant starter for some club.
Alex - 85 - Arguably most pro-ready player in the draft. Plus, bloodlines. He'll likely be one of the top-ranked rookies.
Amar - 86 - Protected Ryan Tannehill and Johnny Manziel. He'll do the same for whoever his quarterback is in the NFL.
Mike Evans, WR, Texas A&M
Adam - 81 - He's a bit taller than this year's prized rookie receiver, Keenan Allen, but he could certainly match the production of the Chargers' rookie.
Alex - 80 - Big, strong receiver. Expect high CTH and JUMP stats to start.
Amar - 83 - Size and ability to become elite playmaker.
Sammy Watkins, WR, Clemson
Adam - 81 - He's an explosive player who compares favorably to Percy Harvin so I expect a SPD rating in the high 90s.
Alex - 82 - Watkins will be the most electric rookie skill position player in Madden with high ELU and CIT scores.
Amar - 84 - Explosive talent can translate to big time plays. Only question is can he stay out of trouble.
Adam - 78 - This year's version of Tavon Austin is likely to go in the first-round of the draft, but hopefully his OC will find a use for him.
Alex - 77 - SPD should be among highest for rookies. Drops keep his OVR lower than it should be.
Amar - 76 - Dynamic and if he stays healthy has potential to become TD machine.
Jadeveon Clowney, DE, South Carolina
Adam - 83 - He was dogged for his play during this season, but the Madden ratings will be much kinder to him.
Alex - 84 - The Madden ratings gods likely don't care about the media's thrashing of Clowney last year. He'll deliver in this game.
Adam - 83 - His attributes will be off the charts because he's a converted fullback who became a dominant linebacker.
Alex - 82 - Still mastering his position. But his SPD and STR should keep his rating up in his rookie year.
Amar - 84 - Top-five pick and a future sack leader. His overall Madden score will just rise
Khalil Mack, OLB, Buffalo
Adam - 79 - His AGI will be really high, because it's one of his strong suits but scouts knock his average strength.
Alex - 78 - I don't see the Madden ratings gods giving a much higher OVR than this to a player from the MAC, even if he deserves it.
Amar - 80- Pass rusher extraordinaire. Will be a tackling machine. I'm high on his OVR.
Ryan Shazier, OLB, Ohio State
Adam - 79 - He has such a great explosion; expect his JUMP to be very high as well as his ACC.
Alex - 79 - A tackling machine, should come out of the gates with a solid TAK.
Amar - 76 - Quick and strong, but will have to find right defensive scheme to truly thrive. Watch where he lands.
Ha Ha Clinton-Dix, FS, Alabama
Adam - 80 - His size is pretty imposing for a safety, but he's going to be amongst the position's leaders in SPD.
Alex - 82 - I bet Madden loves his size and gives him high PWM and TAK scores.
Amar - 85 - Future Ed Reed. Has all the intangibles. He's pro ready and the Madden gods will respect that.
Adam - 77 - He excels in pass defense for linebackers and should be among those highly rated in that category.
Alex - 78 - Top ILB in the draft. He should have an impressive SPD score for his position.
Amar - 76 - Could be an instant starter from day one. TGH unquestioned.
Loucheiz Purifoy, CB, Florida
Adam - 80 - His SPD and AGI are so high; he really has few weaknesses as he heads into the NFL in 2014.
Alex - 80 - His CTH and PRC should make him an immediate impact cornerback in Madden.
Amar - 80 - Big time play maker who can disrupt offense in a second. Size is the issue. SPD is not.