With the 2013 NFL Scouting Combine behind us, we turn our attention to the slate of pro-day workouts that will be held at schools around the nation over the next month, beginning Friday. Prospects who weren't invited to the combine will get a chance to make their mark in the minds of scouts. Those who either worked out poorly at the combine or didn't work out at all, meanwhile, will get a shot at redeeming their reputations.
2013 Pro Days Schedule By Date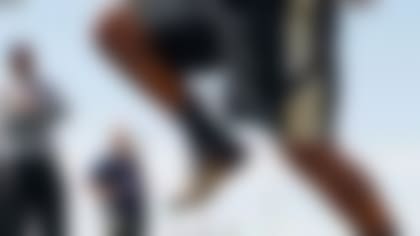 Between the combine and the draft, prospects work out for scouts at individual pro days at their respective schools. **Full schedule.**
Pro days have long been an important part of draft season, helping low-profile players connect with talent-hungry teams. Several gems have emerged over the years, elevating their draft status or going on to become superstars. With that in mind, I put together a list of nine players who significantly boosted their careers at their pro day workouts -- plus one player who botched his and turned into a stud anyway.
Roy Williams, WR: Before his pro day, I had pegged the former receiver, who did not work out at the 2004 NFL Scouting Combine, as a second-round pick. Then he worked out at Texas and blew everyone away. He was fast, running the 40-yard dash in the 4.4-second range, and was unbelievable at catching the ball. After the workout, I walked up to him and invited him to the draft; he wound up being the seventh overall pick, taken by the Detroit Lions.
Osi Umenyiora, DE: Umenyiora, who did not go to the combine, had a knockout performance at Troy's pro day, running in the 4.65-second range and showing good athleticism and speed. Consequently, the New York Giants made him their second-round choice in the 2003 NFL Draft.
Wes Welker, WR: Welker didn't have great speed (he ran the 40 in the 4.5-second range), but the Texas Tech walk-on did have unbelievable quickness and hands, which he was able to show off at his pro day. On a scale of 1 to 10, his hands and quickness would have both scored a 10. After going undrafted in 2004, he went on to become an elite receiver with the New England Patriots.
Victor Cruz, WR: A UMass product who was not invited to the combine, Cruz worked out at two different pro days ahead of the 2010 NFL Draft -- once at his own school and once at Boston College. He didn't have great speed (running the 40 in 4.52 and 4.47 seconds at Boston College), but teams got to see what he could do as a route runner; they got to see that he had quickness and the ability to catch the ball. He went undrafted, but eventually stuck with the Giants, becoming a key figure for the team that won Super Bowl XLVI.
Henry Melton, DT: A former high school running back and linebacker, Melton still was learning to play on the defensive line in the run-up to the 2009 NFL Draft, having switched positions during the course of his Texas career. Few people knew about him, but he was outstanding at his pro day, running 4.64 and 4.66 40s, which is great for a heavy defensive lineman. The one-time unknown quantity turned himself into a fourth-round pick; last season, he was as good as any defensive tackle in the NFL.
Ryan Clark, S: Clark, who wasn't invited to the combine, had a really, really good pro day at LSU in 2001, running lights-out. After going undrafted, Clark spent a couple of seasons with the New York Giants and Washington Redskins before sticking with the Steelers, where he's played the past seven seasons. The Pro Bowler is an example of how top talent can be overshadowed by bigger names at high-profile programs.
Matt Cassel, QB: Cassel is another guy who was almost forgotten about, overshadowed by Matt Leinart and Carson Palmer during his time at USC. He was similarly overlooked at his pro day in 2005; the main group of guys was done working out at the event, and Cassel was still there on the left side of the field, kind of an afterthought, almost all by himself. But a scout from New England worked him out, and that's how he ended up being a seventh-round pick, which eventually turned into a second-round pick when the Patriots traded him to the Kansas City Chiefs.
Antonio Gates, TE: Gates, a basketball player who didn't see a snap of college football, was discovered at Kent State's pro day in 2003. He needed to show teams he could play, and he looked very good. Teams were understandably reluctant to draft a basketball player with limited gridiron experience, but they were interested in Gates. In fact, 19 different squads tried to sign him as an undrafted free agent. He landed, of course, with the San Diego Chargers, where he became one of the top tight ends of his era.
Darlington: Draft's biggest mysteries
Te'o were two of the most polarizing prospects at the combine, Jeff Darlington reports. **More ...**
Jay Ratliff, DT: I remember him putting on about 20 pounds between the end of his senior year at Auburn and his pro day in March 2005. After displaying rare quickness, he was picked by the Dallas Cowboys in the seventh round of the draft. Ratliff has since made four Pro Bowls.
Arian Foster, RB: Foster is simultaneously an example of how a poor pro-day performance can hurt a guy and a cautionary tale against giving pre-draft workouts too much weight. Foster, who played college ball at Tennessee, lived in San Diego, so he worked out at San Diego State's pro day ahead of the 2009 NFL Draft -- and he did not do very well, posting 4.73 and 4.69 40s. Consequently, he wasn't drafted. Foster latched on with the Houston Texans, even spending some time on the practice squad, before breaking out with a league-leading 1,616 rushing yards and 16 touchdowns in 2010.