There's no question, based on their salary-cap situation, the Pittsburgh Steelers will look different in 2013.
But general manager Kevin Colbert is resolute in saying that won't change the standard in Pittsburgh, even for a year. And he points to his past experience as evidence.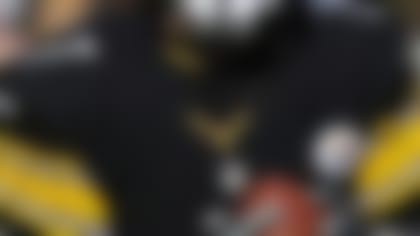 "Last year, we let go of significant players," Colbert said Wednesday from his office, citing last winter's purge of veterans James Farrior, Hines Ward, Aaron Smith and Chris Kemoeatu, all of whom ended up retiring. "This year, that may or may not be the case. We never want to be in a position where we have to gut the team. We want to compete every year. And this year, we weren't able to. We didn't get in the playoffs. And that was a failure.
"But we want to avoid being in a position where we make that one-year, all-in run, then disappear."
The Steelers have been successful in that pursuit. They last missed the playoffs in consecutive seasons at the turn of the century, and they've played in three Super Bowls (winning two) since then.
And yet, when you examine this year's situation in a vacuum, and separate the decorated recent past of the club, you'll find wiggle room for creativity and ingenuity limited by a logjam of big contracts that might not force a gutting, but almost certainly will lead to tough decisions.
Pittsburgh isn't the only NFL team in this spot. Plenty of other clubs have players' rising individual cap figures bottlenecking into a salary cap that isn't ascending accordingly, as it did at the end of the last decade under the old CBA and will again when the new TV money kicks in after the 2014 season. But in large part due to the aforementioned success -- naturally, players with rings wind up getting rewarded -- the Steelers' contract gridlock will be particularly difficult to navigate.
QB Ben Roethlisberger -- $19,595,000
OLB LaMarr Woodley -- $13,240,000
ILB Lawrence Timmons -- $11,160,000
S Troy Polamalu -- $10,137,500
OLB James Harrison -- $10,035,000
CB Ike Taylor -- $9,454,166
TE Heath Miller -- $7,958,500
OL Willie Colon -- $7,650,000
WR Antonio Brown -- $6,200,000
DL Brett Keisel -- $4,900,000
TOTAL -- $100,330,166
Part of that is simply a consequence of the CBA's structure, which is built to cut players into more of the television money. That cash starts coming in with the new broadcast deals, which begin in 2014 and go into the salary-cap equation in 2015.
"That part of it hasn't bothered us -- every team is dealing with the same thing," Colbert said. "With the structure we come up with, we try to be realistic and avoid phony money. If a player gets a contract, we want to be able to afford that player all the way. And it's almost as hard to predict a player's worth three, four years down the line as it is to predict how it'll affect the cap. So I worry more about a player being worth the money, and hope it's still a good investment."
If the Steelers were to keep the top 10 -- something that's highly unlikely at this point -- that would leave them with roughly $21 million for the next 41 players (the top 51 figures count in the offseason) under the expected $121 million cap. And the team already renegotiated the deals of Roethlisberger, Woodley and Timmons, three players who aren't going anywhere, and pushed money forward for cap purposes last year.
Bottom line: Something's gotta give.
"We've always tried to do things that made sense for the current year, but also do things that wouldn't strangle you financially in the future," Colbert said. "It's no different this time. We're getting in compliance. We're gonna have to have some terminations, some extensions, some restructurings. Figuring out the combination of all that, that's what we're doing now. We don't have to be compliant until March 12, so we have some time."
So where's this going? First, it's likely a name or three is lopped off the top of the salary structure. Second, the franchise tag won't be used on Wallace or anyone else. Third, all the unrestricted free agents likely will be given a chance to test the market, and a chance exists Pittsburgh might give a couple of the restricted free agents a shot to walk, too.
And fourth, the organization will need to lean on its ability to draft and develop to keep its head above water in a time of transition. The same way the assembly line once went from Greg Lloyd and Kevin Greene at outside linebacker to Jason Gildon to Joey Porter to Harrison to Woodley, it needs to churn out replacements now for those disposed in the next few weeks.
Breer: The price of winning
"That's where your new talent should be coming from, and if you have those kinds of guys in place, you're getting those from the draft and you want to be developing and paying your own," Colbert said. "But you never know if they'll be the answer, not until they play a 16-game schedule. You're just not sure. You think you know, but you never really know until they get out there. The advantage we have is in the constancy of the system. ...
"We've had similar systems, and you should be able to stack players at positions when you have that."
No doubt, the broader system in Pittsburgh, above individual players or coaches, has been tried and tested over the decades and continues to churn out contenders.