Instant Debate: Bolts blame game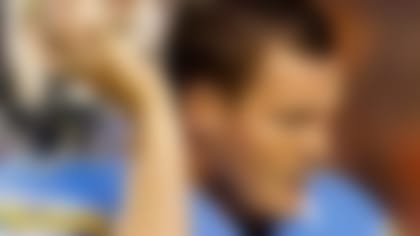 Who's to blame for San Diego's Monday meltdown: QB Philip Rivers, head coach Norv Turner or GM A.J. Smith? More ...
Peyton Manning caught fire in the second half, and the Chargers completely self-destructed. Philip Rivers personally accounted for all five second-half turnovers (three interceptions, two fumbles -- not to mention, another first-half pick) and is taking the brunt of the criticism. I went back and studied the coaching tape to try and figure out why the Chargers quarterback struggled.
The two fumbles are easily explained. San Diego's offensive tackles took turns getting beat cleanly by Elvis Dumervil and they deserve the blame for each fumble. However, the interceptions and inconsistency in the passing game does fall on the shoulders of the Chargers signal-caller. Here are three reasons to explain why Rivers played so poorly:
1) He was too aggressive.
Decision-making is the most important aspect of quarterback play. Arm talent, athletic ability and excellent fundamentals are all irrelevant if you aren't throwing the football where it should be thrown. Rivers likes to attack defenses, but he got caught trying to force several balls into blanket coverage Monday night. He needs to improve his patience, take more check-downs or simply throw the ball away. Chargers receivers need to create more separation, but Rivers would be better served to find his tight ends and running backs when nothing opens up on the outside.
2) His footwork has been poor.
What's wrong with Philip Rivers' arm strength? That was a question I was asked numerous times following Monday night's game. He floated two deep balls that were picked off and he also had two underneath routes that were undercut for interceptions. However, after studying the tape, I came away more concerned about his feet. He has developed two very poor habits. Most NFL passing plays require the quarterback to release the ball in rhythm (immediately after his third, fifth or seventh step) or with a single hitch step. In this game Rivers double- and triple-hitched after he completed his drop and he was repeatedly late on throws. Also, he struggled to reset his feet when he was forced to move around inside the pocket to avoid pressure. Until he fixes these two issues, his timing and accuracy will continue to suffer.
3) He hasn't developed chemistry with his new weapons.
The Chargers lost talented wide receiver Vincent Jackson to the Tampa Bay Buccaneers in free agency and brought in Robert Meachem and Eddie Royal to help replace him. Rivers had a great feel for Jackson, but he has yet to get comfortable with his two new receivers. I believe one of the reasons Rivers isn't throwing with more anticipation is because he isn't quite sure that he is seeing the same thing as his new receivers. His first-half interception was an aggressive mistake intended for veteran teammate Antonio Gates, but his three second-half picks were each intended for his new receivers (two to Royal, one to Meachem).
The good news for Rivers and the Chargers is that each of these issues can be corrected. Rivers can improve his decision-making, footwork and chemistry with his receivers. Those are things that can be developed during practice, so this is a perfect time for the Chargers to have their bye week. I am not as concerned about Rivers' arm strength after studying the tape. He doesn't have a huge arm, but he made several "stick" throws down the field. I expect Rivers to play much better when the Chargers head to Cleveland following their bye week.