Roster weaknesses: Every team has them, and the draft is often the best way to address them. With the 2014 NFL Draft fast approaching, NFL Media's Daniel Jeremiah will be taking an up-close look at the main areas of weakness -- and the prospects who could fix them -- for all 32 squads in the league. Be sure to catch "Path to the Draft" on NFL Network at 7 p.m. ET Monday through Friday for more in-depth analysis.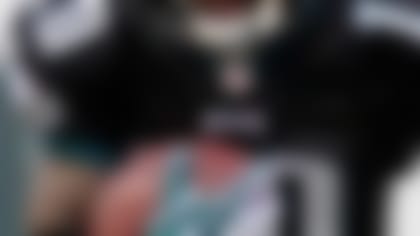 Stay up-to-date with all the latest news and rumors behind DeSean Jackson's potential destinations with our DJax tracker. More...
Coach Chip Kelly didn't need much time to adjust to the NFL game, accomplishing a lot in his first season at the helm of the Philadelphia Eagles. His fast, high-octane offense averaged 6.3 yards per play -- tied with the Denver Broncos for first in the league -- and finished fifth in first downs per game (22.2). Winning the NFC East was an important step for the organization, but I think identifying Nick Foles as the team's quarterback of the future was an even greater feat. Foles threw 27 touchdown passes and just two interceptions last season, removing any need for the Eagles to take a signal-caller early in the draft. After adding Mark Sanchez as a backup, they might not take a quarterback at all in May.
The offense as a whole is full of playmakers and nightmare matchups, but the defense lacks standout performers. After finishing 29th in the NFL in yards allowed per game (394), including a league-worst 289.8 yards through the air, the Eagles must add talent to their secondary if they want to avoid making another one-and-done playoff appearance.
Here are four positions of need for Philadelphia -- and four prospects who could fill them.
The Eagles are deep at cornerback, having signed Nolan Carrollin free agency to join Bradley Fletcher and Cary Williams. But not one of the three is a premier player at the position, someone who can consistently shut down the likes of Dez Bryant, Victor Cruz and Pierre Garcon. Darqueze Dennard is a fast, physical corner who could fill this void, but he'll likely be gone before the Eagles pick at No. 22 overall. Virginia Tech's Kyle Fuller and Ohio State's Bradley Roby are two quality corners who could still be on the board. Fuller's performance against talented Alabama wideout Amari Cooper generated a lot of buzz in the scouting community, so much so that most talent evaluators that I've talked to say Fuller has risen from a second-round pick to a fringe first-rounder.
Kelly has always been a fan of edge defenders who have size and length, dating back to his days at Oregon. The Connor Barwin-Trent Cole pairing at left and right outside linebacker was serviceable, but with Cole turning 32 in October, the Eagles will be looking to get younger at that spot. Kony Ealy's Missouri game tape showed a productive player who has a lot of upside as an edge rusher. His dominance at the collegiate level forced offenses to focus attention on him, which opened the door for teammate Michael Sam to have a breakout season.
If Philly chooses to address the position with a middle-round pick, I could see them taking Cassius Marsh. Kelly is very familiar with the UCLA product, who had a solid 2013 season and was dominant during the first few days of practice in the week leading up to the East-West Shrine game (he left before the game).
The Eagles have depth in the back end of their secondary, bringing in Malcolm Jenkins to partner with Nate Allen and Earl Wolff. But as with the cornerbacks, the safety group lacks a premier defender. In the likely scenario that the two top-rated safeties in this year's class (Alabama's Ha Ha Clinton-Dix and Louisville's Calvin Pryor) are off the board, I could see the Eagles giving a hard look at Deone Bucannon in the second round (No. 54 overall). The former Washington State defender has an intriguing blend of size, range and ball skills.
Another player to keep an eye on: Florida State's Terrence Brooks. The projected second- or third-rounder had an outstanding performance at the NFL Scouting Combine, running a 4.42-second 40-yard dash.
Releasing DeSean Jackson on Friday -- as surprising as it was -- opened the door for Jeremy Maclin and Riley Cooper to step up in a big way. There's definitely a need at the position, but with the depth in this year's class, I think Philly can find the right player to fit Chip Kelly's system in the second round or later. The coach liked bigger receivers when he was at Oregon, and Jordan Matthews fits the mold to a T. The 6-foot-3 pass-catcher from Vanderbilt, who ended his career as the SEC's all-time leader in receptions (262) and yards (3,759), could be an interesting second-round pick.
Brooks: Ideal fits for WR prospects
The right environment is key in the NFL. Bucky Brooks pairs the 2014 NFL Draft's best receivers with suitable pro teams. READ
If the Eagles want to wait even longer, BYU's Cody Hoffman -- and his 6-foot-4, 223-pound frame -- would fit well into Kelly's scheme. He could be available as late as the fifth round.
So what will the Eagles do with their first-round pick (No. 22 overall)? Here's what NFL Media's analysts see happening, according to their mock draft projections (click here for full mock drafts):