Will this week's MNF game produce epic air and ground performances like their past matchups?
Monday Night Football history lesson
One notable passing performance in series: Well, it happened earlier this year. Brady threw for 466 yards and three touchdowns in a 40-32 win over the Bills in Week 2. Those 466 yards represented the second-highest total of Brady's career and the most ever allowed by the Bills (the highest total of Brady's career is 517 yards, which came against the Miami Dolphins in Week 1 of the 2011 season). Three fourth-quarter touchdowns by the Bills made the final score look more competitive than the game actually was. The Patriots held a healthy 37-13 lead going into the final period.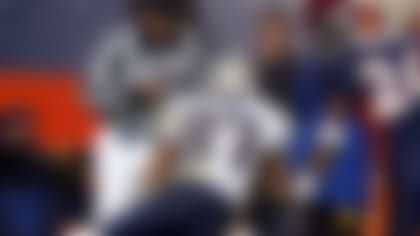 Bills: The season premiere of Monday Night Football for the 1974 season was sensational. The Bills edged the powerhouse Oakland Raiders, 21-20, on a last-minute touchdown catch by Ahmad Rashad from a Joe Ferguson pass. It was Rashad's second touchdown catch of the game, which ended when the Raiders' George Blanda -- a Pro Football Hall of Famer -- missed a 50-yard field goal attempt as time expired at Rich Stadium. The Bills finished 9-5 that season and made the playoffs, losing to the eventual Super Bowl champion Pittsburgh Steelers in the AFC divisional playoffs. The Raiders would lose just one more game the rest of the regular season, finishing 12-2, but lost to the Steelers in the AFC championship a week after the Bills lost to Pittsburgh.
Patriots: Coach Bill Belichick used a very unsual strategy to pull off a 30-26 win over the Denver Broncos on Monday Night Football during the 2003 season. Trailing 24-23 late in the fourth quarter and facing a fourth-down situation at their own 1-yard line, Belichick instructed long snapper Lonie Paxton to snap the ball out of the back of the end zone. Instead of punting out of their own end zone -- and likely providing the Broncos with ideal field position -- the Patriots got a free-kick punt from their own 20-yard line. New England's defense halted Denver to a three-and-out, got the ball back with two minutes left to play, and won when Brady hit receiver David Givens on an 18-yard touchdown pass. Belichick's crazy gamble paid off and the Patriots went on to win the second of three Super Bowls in a four-year span.