"Which lucky guy are you bringing to the holiday party?"
That was the question posed to me by a male co-worker I barely knew in the breakroom. HR operatives might be squirming in their chairs reading this, but it's the kind of workplace interaction most women have to navigate -- and one that was especially awkward for me, given the secret I was keeping.
I was new to NFL Media and didn't have my bearings yet. I panicked, pretended I had forgotten about the party and thanked this co-worker for the "reminder." Walking away with my morning coffee, I couldn't help but wonder how he would've reacted if I had provided my honest answer.
"I actually don't date men, so I won't be bringing one to the party."
I've always despised conversations around my sexual orientation. Always been uncomfortable correcting those who automatically assume I live the heteronormative life they do. I've paid close attention to conversations and looked for tells. When someone speaks positively about a person who is gay -- or supports gay rights -- I feel safer divulging my experiences. Do others worry about telling a co-worker they're straight? Who am I kidding? They don't even think about it.
My name is Erica Tamposi. I am an NFL Network producer. I am on-air talent. I am a creative. I am a friend. I am a sister. I am a daughter. I am a football fan. And I am gay.
I list that descriptor last on purpose. It's part of me, but I'm more than that. I don't want it to define me on its own. In fact, for many years, I hid it.
The journey to where I stand now, comfortable being my full self at work, was not always an easy one to travel. After watching some strong LGBTQ+ professionals in the sports world publicly assert their right to be who they are, I wanted to share what my journey was like.
When I was hired by the NFL in 2017, I assumed it would be an actively inclusive space for the LGBTQ+ community, an environment where I wouldn't feel like an outsider. Not exactly. It's impossible to tell someone's sexuality just by looking at them, although sometimes there are hints. Feminine women and masculine men in the LGBTQ+ community have a struggle of their own, constantly having to come out to people because they don't "look gay." But upon starting my new job, I quickly realized that, to the naked eye, the NFL was as straight as a workplace could be. Tough, hard, edgy football players, buttoned-up executives and female on-air talent always dressed to the nines. As I looked around a neighboring cubicle cluster, producers were sporting full heels and skirts, casually talking about their boyfriends and husbands while they pulled up some editing footage on their computers. An easy-going side conversation to them -- and an alert to me:
They are different from you, Erica. They might not accept you. You have to be careful.
Falling for stereotypes, I initially figured there would be a bigger open lesbian presence within a sports-driven organization and was looking forward to that possibility. That just wasn't the case. Consequently, as I walked through those doors each day, I prepared myself to experience -- and engage with -- the heteronormative narratives that have always emanated from society and my own conservative upbringing. Even though my parents never said, "Hide who you are," I grew up trained with a simple sort of mantra:
Present yourself in the best way you can.
Taking cues from society and my own fear, this really meant something different:
Present what people want to see as the best you.
And my early days in the NFL Media environment only exacerbated my self-doubt.
What do people want to see when they turn on the TV? What if I dress differently? Carry myself differently? What if I'm never the girl in a dress and heels?
With each thought, I felt my chances of breaking through dwindling. So I kept my private life separate from my work life. In my mind, it could only hurt my ultimate goal of becoming on-air talent and growing a following within sports media. I felt tense around co-workers and supervisors. Would they respect me if they knew? It's an all-too-common way of thinking that plagues many in the LGBTQ+ community, and I battled those fears every day. The internal quickly impacted the external, as I also felt the need to maintain a certain physical image. Each morning, I believed I had to put on the clothes and makeup that I knew wouldn't "give me away."
However, amidst the turmoil, one thought consistently tugged at me:
How am I supposed to rise up the ranks and become the best professional version of myself if my own company doesn't know the real me in the first place?
Fortunately, I earned the chance to confront that very question when I became a voice on the Around The NFL Podcast. It was a gradual transition, but the four male hosts of the show, production team and fans welcomed me with open arms, and I finally felt like I could showcase my true self. The closer I got with my new co-workers -- and, ultimately, friends -- the more I felt like I could trust them and share my secret without judgement.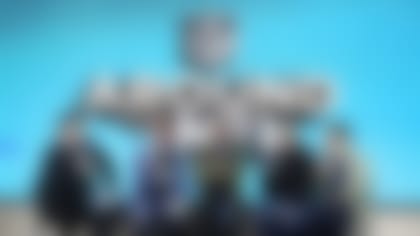 I'll never forget a text exchange one of the ATN Pod hosts showed me that he'd had with someone who's a big name in the media world. This person, whom I consider a superstar, asked my co-worker if I was gay. My co-worker's succinct reply, a text that still makes me smile as I type it:
My heart swells thinking about it. My co-worker was actively sticking up for me, even if the question wasn't necessarily asked in a malicious way. I felt confident letting my secret spread further and further out of my trust circle. I was spunky and outspoken, and the guys loved me for me. They didn't want me to be someone I'm not, and I will always be thankful to them for the opportunity and their mentorship. I'm also quite thankful to another person working in the NFL -- someone I've never even met.
As women, we already experience more scrutiny than our male counterparts in all walks of life. How we dress is noted. How we look. How we speak. How we carry ourselves. Our age. All topics of discussion. Being a woman in football only heightens these challenges. Add in being from the LGBTQ+ community? Yep, further tension. And that's why I draw immense inspiration from San Francisco 49ers assistant coach Katie Sowers. Not only is she a female coach in a male-dominated industry, but she's also gay and totally open about it.
Sowers, who's in her fifth season in the NFL and third season as an offensive assistant for the Niners, publicly came out just a few years ago. She shared a story about having been denied a coaching position because of her sexual orientation. It felt all too familiar. We hear stories like this all the time. They're burned into our brains in the LGBTQ+ community. You can be talented, charismatic, thoughtful and good at your job, but you need to be careful about who you share your life with. These prejudices still exist and remain at the forefront of my mind.
But Sowers persevered. And earlier this year, she became the first female coach -- and first openly gay coach -- to hit the Super Bowl. I was also working that week in Miami, and during the 49ers' media availability at Super Bowl LIV Opening Night, I gravitated toward this woman who inspired me so much. Looking around as reporters took notes on what she had to say, I held my breath at first. But then I heard her fielding run-of-the-mill questions about the game and the Niners' plan. She wasn't there as a token figure or publicity piece; she was there because she earned it. Seeing friends from my small-town high school sharing articles on social media in support of Sowers' Super Bowl ride truly lit something inside of me. She wasn't hiding anything, and she was succeeding. She was drawing praise from all corners, including my conservative hometown.
That experience was another positive step in my own personal voyage. And in the wake of all this, I feel different. I feel empowered.
Back in 2014, the first NFL prospect to publicly come out as gay, Michael Sam, was chastised for kissing his boyfriend on TV after being drafted, clouding what should have been an unequivocally joyous, life-changing event. Today, NFL Network viewers around the globe can see a framed photo of my girlfriend and me, hanging prominently within my at-home set. It's relatively subtle and perhaps a minor victory, but it's significant to me and hopefully to others within our LGBTQ+ viewership. Representation matters, and I'm grateful to play a small part.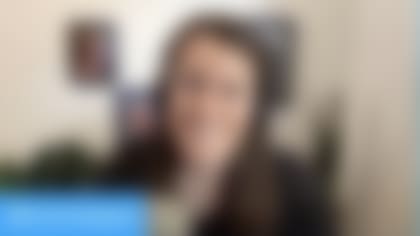 The NFL is making strides with inclusion and social justice inside our offices, across the league and beyond. October is LGBTQ History Month, and the NFL has set up a site with op-eds, news stories and interviews at NFL.com/Pride. I'm proud to work here. This month has been filled with special days celebrating LGBTQ+ youth. A favorite of mine, Spirit Day, is an official occasion created to remind LGBTQ+ youth -- the most vulnerable group -- that they matter and belong. The Trevor Project reports that 29 percent of LGBTQ+ youth are kicked out of their homes and face homelessness. (You can learn more about The Trevor Project and support LGBTQ+ youth by visiting TheTrevorProject.org.) The NFL is really proving that football is family.
As I write this, though, no active NFL roster currently features an out player. There aren't many publicly out hosts, analysts or reporters. The way a large portion of our society still sees the LGBTQ+ community clearly runs deep. Prejudice toward gay people remains, consequently limiting opportunities in many walks of life. We can change that with more representation, creating a culture that doesn't discriminate against people because of whom they love. LGBTQ+ kids deserve to see themselves reflected on screen, inside and outside the sports world.
Katie Sowers was my greatest inspiration to speak more openly about my sexual orientation within the NFL, and I hope to serve as someone else's.