My name is Troy Vincent. I am a husband, a father and a grandfather. A brother, an uncle and a nephew. A Black man and a Christian. My pronouns are he, his, him. I identify as straight and cisgender.
You may recognize me as a former player in the National Football League for 15 years. And while it seems like yesterday, my playing experience ended 14 years ago. Now I am an Executive Vice President of the NFL.
Throughout the time of being associated with the NFL, my learnings have been informed by how we as players, coaches, trainers and club owners make diversity, equity and inclusion work. We stand on the foundation that diversity is a fact and inclusion is a choice.
There are 1,696 active NFL players. According to surveys conducted by GLAAD and the Trevor Project, approximately 9-12 percent of people polled identify as members of the LGBTQ+ community.
This begs an important question:
Have we created an environment of allyship and support across the NFL -- and all professional sports for that matter -- to give people the space to be who they need to be?
Locker rooms across the nation seek to make inclusion work. A teammate is highly regarded for their abilities on the field and their heart for those on their team. A team's success is dependent upon this bond.
There has never been a single active player that has come out. While I'm sure I've played with LGBTQ+ players -- highly skilled, athletic and effective at their jobs -- they did not come out. But they were my teammates and part of the larger NFL family.
That was their choice irrespective of the culture or other reasons. We all have the right to share, or not share, different aspects of ourselves publicly -- whenever and wherever we choose to do so. No one is entitled to information about our identities or orientations, especially if you do not want them to know. We all get to decide.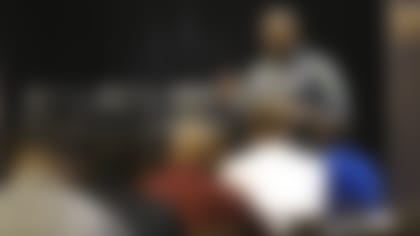 While there's always work to be done, we seek to create an environment of allyship and support across the league -- and in all professional sports for that matter -- to give people the space to be who they are.
Sunday, Oct. 11 is National Coming Out Day and 22 NFL teams are slated to play games that day.
Coming out can be challenging. It's something that can be overwhelming and scary. It's intensely personal. As such, I want to make something abundantly clear ...
The National Football League condemns homophobia. We do not tolerate discrimination of any kind in our sport. There is no place for harassment, heteronormative language or ignorant terminology.
Our "It Takes All of Us" mindset includes supporting and celebrating openly LGBTQ+ players and personnel as well as allies across the league. It also applies to those who aren't ready to be open in their workplace.
We've long heard from players that an out teammate would be accepted in their locker room. As someone who speaks with players and football personnel daily, I wholeheartedly confirm that notion.
At the NFL, we have a shared commitment with clubs and players to continue to foster a safe space and not put any pressure on out athletes to lead.
We must continue to focus on creating an accepting environment and work together, unrelentingly, to stamp out bullying and to eradicate discriminatory language. Most importantly, we need to walk the walk.
Anyone in the player community who may be considering coming out, know this:
Just as I have done with family members and close friends, I am committed to serving as a conduit to help you through that journey -- either myself, in collaboration with my teammates at the league office, or through the many organizations with whom we partner on LGBTQ+ issues.
We have no way of knowing if an active NFL player would choose to come out, or what they might experience. What I do know is that I am committed to celebrate, support, and welcome them.
Troy Vincent is the NFL's Executive Vice President of Football Operations.