One reliable preview. One key factor to decide the game. It's that simple.
Air & Ground matchup of Week 10
Packers quarterback Aaron Rodgers enters the game with the NFL's highest passer rating. Against the Bears, Rodgers' stats are stellar: 241 yards per game, 25 touchdowns, eight interceptions, a passer rating of 105.0 and (most importantly) a 10-3 record. In the Packers' 38-17 dump trucking of the Bears in Week 4, Rodgers threw for 302 yards and four touchdowns.
A bugaboo for the Packers has been the team's rushing defense (currently ranked 32nd in the NFL), and the Bears figure to try to take advantage of that leaky unit. In Week 4, the Bears had 235 yards rushing against the Packers. Bears running back Matt Forte is vying to become just the third running back with 1,000 yards rushing and 1,000 yards receiving in the same season (Roger Craig in 1985 and Marshall Faulk in 1999 are the others). Forte is currently on pace for 1,124 yards rushing and 980 yards receiving. Forte is also on pace for the most-ever receptions for a running back in a season (116) and attempting to be just the seventh running back in NFL history to lead the league in receptions.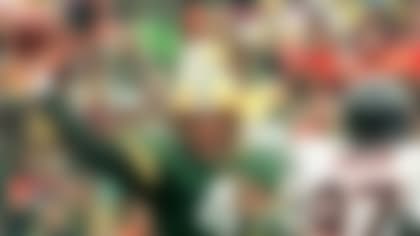 Great Moments in Air & Ground History
Packers 35, Bears 28 (Week 11 of 1995 season) -- On a chilly, mid-November day in Green Bay, the 6-3 Bears played the 5-4 Packers in a pivotal NFC Central showdown at Lambeau Field. In that game, Bears QB Erik Kramer -- en route to a career-high 3,838 yards passing and 29 touchdowns -- threw for 318 yards and two touchdowns against the Packers. That was a fine day, but overshadowed by Brett Favre, who went for 336 yards and five touchdowns. Edgar Bennett and Robert Brooks each caught two touchdown passes apiece for the Packers. While the Bears' once-promising season ended in a disappointing 9-7 finish that kept the team out of the playoffs, the Packers used this victory over a long-time rival to catapult the team to the division crown -- the team's first since 1972. A season later, the Packers were Super Bowl champions for the first time in 29 years.