Odell Beckham Jr.'s one-handed touchdown catch against the Dallas Cowboys in Week 12 is already being dubbed "the greatest catch of all time." Beckham's grab seemingly defied the laws of physics as he contorted his body to pull in the catch.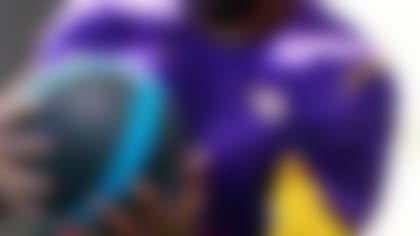 Watch more of Odell Beckham Jr.'s workout. Visit NFL Up! for videos and tips from the wide receiver. More...
With all the memorable plays Beckham has been making this year, it's no surprise that the rookie wide receiver has an intense training regimen that helps him prepare for the big moments. This past offseason, Beckham demonstrated his workouts to NFL Up! and showed how he prepares himself for game time.
When talking to NFL Up!, Beckham emphasized the importance of single-leg strength. He said that receivers need to be able to have explosiveness off the line to get past defenders and make the necessary cuts. In order to achieve this, Beckham focuses on single-leg squats and other exercises that help strengthen his quads.
And explosiveness was a key to Beckham's second quarter touchdown grab on Sunday against the Cowboys. When the ball was snapped, Beckham burst past his defender, Brandon Carr of the Cowboys, and forced Carr to grab him. Despite the holding penalty against Carr, Beckham managed to fight through and make the one-handed, leaping touchdown grab.
Another key part of Beckham's preparation is visualization. The receiver said that visualizing a play before it happens prepares him for when situations arise on the football field, helping plays feel natural, no matter how impossible they may seem. Beckham referred to one specific instance that happened in his first day of practice with the Giants.
"I woke up and was like, 'I'm going to catch a ball today with one hand in practice,'" he said. "And I remember how it was in my dream, and the situation came up in practice and it was the same exact thing. Deja vu."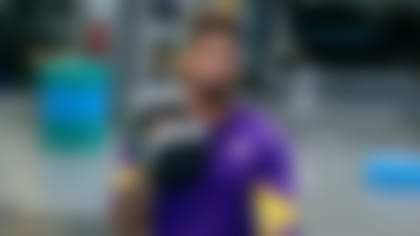 The fourth quarter is arguably the most crucial quarter in football. Players have been pushing their bodies through three grueling quarters, and for some, finding that last reserve of energy is as much about mental preparation as it is about physical preparation.
Beckham told NFL Up! that pushing through fatigue requires mental toughness, and you have to dig deep and push through in order to ensure you are giving it your all up until the final seconds tick off the clock. To help keep his mind at ease, the young receiver also incorporates meditation and yoga into his weekly routine.
Beckham also credits another sport for helping him achieve endurance through an entire game: soccer.
"I'll mess around with a bunch of different sports," said Beckham. "I'll go juggle a soccer ball; try to kick a soccer ball just to get my feet right. I do a lot of different things just to keep myself an all-around athlete."
The receiver has been playing soccer since he was young, and believes incorporating other sports into his workout routine helps differentiate his regimen from other NFL players.