OAKLAND, Calif. -- On Aug. 17, 2011, following the third round of the NFL Supplemental Draft, Terrelle Pryor received a call from Al Davis.
"You're going to be a star," Davis said.
Not right away, of course. Training camp was all but over. The Oakland Raiders already had a quarterback, and Pryor, a Rose Bowl MVP who'd begun the previous season as a front-runner for the Heisman Trophy, understood all too well that Davis was saving him from the scrap heap.
Harrison: Week 3 Game Picks
How many unblemished NFL teams will remain after this week? Elliot Harrison provides his predictions for all 16 games. **More ...**
Then again, wasn't that the Raider Way, which is to say, Al's Way?
"It's going to be a tough couple of years," Davis, then 82, told Pryor, then 22. "Keep plugging away. You're going to be successful. I believe in you."
By then, Davis' sanction was no guarantor of success. But never had the identity of one franchise, in any sport, been so tied up with the cult of one man. He'll be dead two years next month and, now as then, people wonder: Was he a madman or a visionary?
Like there's any difference.
I mean, who ever heard of black uniforms? Al Davis made it cool to be bad. No owner had a greater impact on American popular culture. Just Win, Baby! It's as American as the Pledge of Allegiance.
Davis' was an empire built of castoffs: Alzado, Matuszak, Plunkett and so on. They went to five Super Bowls, won three. Then, inevitably perhaps, the lean years. Zero playoff appearances since 2002. Disastrous drafts (of the Raiders' six top-10 picks since 2004, only one, Darren McFadden, remains with the team). It was easy, perhaps too easy, to bash Davis after he got old: King Lear of Oaktown. It commonly was accepted that the game had passed him by.
Or had it? Quite suddenly, it seems, the 2011 supplemental draft is bearing fruit ripe with redemptive possibilities -- for the owner and the player.
"It's like he saw the future," Pryor says.
It's far too early to tell if Pryor will be a star. But he is what he envisioned himself being as a kid, long before most people ever heard of Cam Newton, RGIII, Colin Kaepernick or Andrew Luck. Terrelle Pryor is a starting NFL quarterback. What's more, he's proof that Davis anticipated the future of the position before many of his contemporaries. The course is inexorable; the position, ever more cerebral, is also more athletic.
"I believe in my ability," Pryor declared. "And I'm going to prove him right. ... I'm tired of hearing that I have potential. I want to reach it. ... I had to look at myself in the mirror."
The offseason saw the Raiders trade Carson Palmer ("a mentor to this day," Pryor said) and acquire a presumptive stop-gap starter in Matt Flynn. Meanwhile, Pryor was working his butt off, most of the time with former USC pitching coach and quarterback guru Tom House. Their work focused on footwork and accuracy. But the mechanics were a metaphor for something else. Terrelle Pryor did a little growing up. By his own admission, he remains a work in progress. Still, he endows the franchise with something it hasn't had in a while: hope.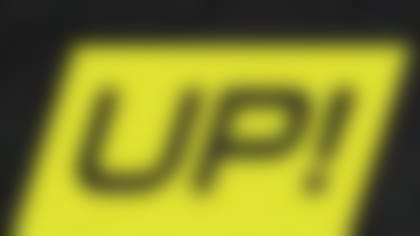 Up your game. Get fit like your favorite NFL player. We unlock exclusive workouts tips from the best in the league. More...
Davis' last castoff might not be his best. But it might rescue his reputation. Still, you wonder about the reputation of a kid like Pryor, the recipient of a five-game suspension after his story became a national obsession for months. By comparison, Johnny Manziel, another quarterback accused of receiving illicit benefits, had his ordeal resolved in a matter of days, quite conveniently, on the eve of the season. (Manziel had to sit out two quarters in Texas A&M's opener.)
Fairness? Pryor still doesn't know what to make of the term: "I don't think it matters at this point. Why would I go back in the past? Why would I put any negative thoughts in my head when I have to lead this team?"
"You could see it on the film," Pryor said. "Every time I give the ball to Darren, every linebacker scraped over to me. There were holes left for Darren."
I ask him what Davis would've said.
"Just win, baby," Pryor said. "We won."