NEW YORK -- With Super Bowl XLVIII's kickoff right around the corner, it's time for New York and New Jersey to take a collective bow.
Super Bowl week has been incredible. Super Bowl week has been epic. Let's take it a step further: All things considered and comparatively speaking, the week has been absolutely perfect, leading up to what should be a wonderfully competitive and delicious title bout.
Yes, I am a New Yorker. I grew up in the New York suburbs. My wife and I live in Manhattan now, raising our family in the concrete jungle. I love the energy, the people, the diversity, the culture, the sports, the restaurants and the things to do.
And apparently, everyone else does, too.
Have you noticed there hasn't been any complaining from the media about the host city this time around? Have you realized that Twitter has been devoid of sob stories?
Literally everyone seems happy.
The Denver Broncos and Seattle Seahawks have enjoyed an issue-free week in Jersey. The media has been smoothly ushered to press conferences throughout the area. The fans are soaking up every last ounce of New York. Traffic concerns haven't even registered.
And I'm not surprised by any of it.
You can't find a better big-event city on the planet. New York knows how to throw a party, or host a worldly event for the President of the United States, or stage a key moment at the United Nations. Whether an event takes place at the Javits Center, Radio City Music Hall, Madison Square Garden or on Broadway, it's always done to perfection.
Did I mention the restaurants? Yes. Yes, I did. Loved seeing that Peyton Manning (reportedly) dined at a classic Italian restaurant in my neighborhood. Best season ever at quarterback ... and great taste in New York cuisine!
Super Bowl fans this week have taken part in the festivities, parties, toboggans and everything else that the NFL and the hosts wonderfully set up.
And don't just take my word for it.
I loved seeing John Fox and Pete Carroll raving about New York and New Jersey this week. I loved hearing Fox appropriately giving the Mara, Tisch and Johnson families due credit for the Giants/Jets' hosting effort.
And the buzz has been incredible on radio row. Arizona Cardinals team president Michael Bidwill said on my SiriusXM Radio show, "Schein on Sports," that he voted for the New York Super Bowl and gushed about the job the league and the city have done this week. Yes, New York received rave reviews on my show from every guest, ranging from Atlanta Falcons general manager Thomas Dimitroff to Hall of Famer Ronnie Lott to Jacksonville Jaguars star Maurice Jones-Drew.
I'm not naïve to potential logistics getting to the game on Sunday, but that exists in a Week 3 game for the Giants or Jets. And it certainly isn't more spread out than Dallas or Detroit's Super Bowls were. All the positives described above certainly outweigh that one negative.
And the weather on Sunday is supposed to be a Caribbean-like 40 degrees.
Yes, a few of my friends from NFL.com who traveled from California aren't thrilled to be wearing scarves and gloves all week. It's winter. There are four seasons. It's awesome.
Yes, in the interest of full disclosure, some current and former players on my radio show this week, like Jonathan Vilma and Eric Dickerson, expressed that they don't like playing in the cold. Heck, Dickerson wore his winter coat over three layers -- indoors -- when I interviewed him on radio row! Oh, well.
Who ya got? XLVIII analyst picks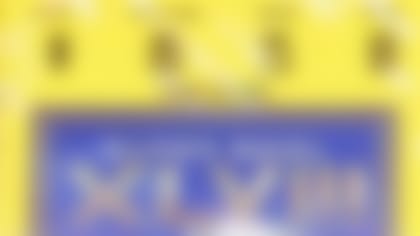 Enough with the ancillary analysis already! Who's going to win the game: Seattle or Denver? Our analysts weigh in. **READ**
Hey, a Super Bowl outside, in the winter! I love it! Mets third baseman and face of New York sports David Wright told me on the radio show that he can't wait for an outdoor, cold-weather Super Bowl, saying that's how big games are supposed to be played. Wright cited how much he loves watching NFL Films' expansive catalogue of footage in the elements, and pleasantly recalled the most underrated cold-weather game ever: Giants-Packers in Lambeau Field on Championship Sunday back in January of 2008. (The game when Tom Coughlin's face turned a shade of red that Crayola doesn't make a crayon for.) Wright wasn't the least bit surprised New York was such a perfect host. That's a guy who knows this city.
There are many fine Super Bowl cities. I can't wait for Arizona next year. Indianapolis was awesome, and I hope that city gets another hosting opportunity. New Orleans is always great.
But for all of the misguided concerns, this has been the best Super Bowl week ever, for everyone involved.
New York/New Jersey has earned another Super Bowl. I can't wait for it. And if everyone else in attendance is honest, they can't either.