On Wednesday afternoon, I received a text message from David Garrard. His comeback to the NFL, an attempt resurrect his career with the New York Jets, would in essence be over before it started. Garrard told me exclusively, "Having to call it quits. My knee is not holding up. Continuing to swell after practices. Limiting me in what I can do!!"
And instantly, two strong takes popped into the omnipresent thought bubble above my head.
First of all, I feel terrible for Garrard. For the second straight year, he was on his way to securing a starting quarterback job ... before an injury derailed his efforts. (Last year's disappointment came with the Miami Dolphins.)
Secondly, Mark Sanchez is akin to Freddy or Jason in the horror flicks: You try to kill him off, but he keeps coming back to torment even more. Sanchez suddenly has that George Costanza feel to him: I don't think he could get fired if he tried, even if he drove around the Jets' complex in Florham Park, N.J., dragging the Super Bowl III trophy behind his the car or dripped mustard on a vintage Joe Namath jersey.
Garrard's gone. Tim Tebow's gone. Heeeeeere's Sanchez!
New Jets general manager John Idzik comes from the Seattle Seahawks. Idzik has brought with him Pete Carroll's "competition everywhere" mantra. Even the boisterous Rex Ryan can't get through a sentence now without citing the new Jets motto.
Last year in Seattle, the Seahawks signed Matt Flynn to be the starter, giving the quarterback a three-year deal worth a cool $19.5 million. One month later, they drafted Russell Wilson in the third round. Wilson came in and outworked Flynn. He outplayed Flynn. Wilson energized the building with his savvy and leadership. He became the starter and the rest is history.
Last weekend, Jets coaches gushed over Smith at rookie minicamp. And Geno handled himself -- and the big, bad New York media -- with aplomb. Smith gave himself an "F" for his performance in the first practice. I'll give him an "A" for his dealings with the media. And frankly, it was refreshing to hear a Jets quarterback be critical and analytical, as opposed to Sanchez's head-in-the-clouds, everything-is-rosy refrain.
What's the definition of insanity? Doing the same thing over and over again and expecting a different result.
Fallout from Garrard's departure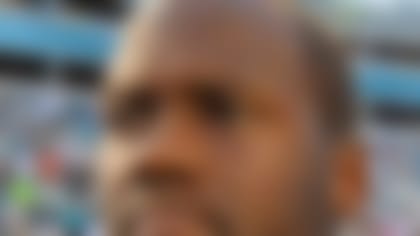 How does David Garrard's exit affect Mark Sanchez? Gregg Rosenthal says it's tougher for the Jets to cut the underachiever. **More ...**
I know how the Mark Sanchez movie ends. It ends with a turnover. Perhaps one of the 36 picks he threw over the last two years. Maybe it ends with the "Butt Fumble" and its accompanying laugh track. NFL Network host Rich Eisen joked with me on SiriusXM that the over/under on him saying "butt fumble" during Week 2's Thursday Night Football game between the Jets and New England Patriots is set at 10. I laughed. It's truly funny. And I'll take the over.
Smith didn't display any of the diva qualities that dogged him during the pre-draft process and sent him sliding head-first into Round 2. Before the draft, I wrote a column stating my belief that Smith is a big-time prospect, with a supporting viewpoint from one NFL general manager.
I think Smith is very capable of winning the job, especially given the changing nature of this franchise.
Quietly, Idzik has had a very good offseason. He eradicated bad players, bad contracts and bad influences in the locker room by making the necessary cuts and not bringing back underachieving free agents. Idzik signed and traded for low-budget players with upside. While I was concerned that Ryan had influence on the selections of Dee Milliner and Sheldon Richardson, a person from the Jets' war room stresses these were Idzik picks. Plus, Idzik got a first-rounder for Revis when the entire universe knew he had to trade him. And Idzik is making over the Jets' front office, a group that needed a massive clean-up.
It's going to take time -- certainly past this year, given the Jets' current roster -- but the organization is taking ultra-important steps in the right direction. Idzik is trimming the fat. Sanchez represents failure, futility and the losing culture. He should reside on the pine.
Garrard's retirement is a blow, make no mistake. One source who has seen all of the quarterbacks play this offseason told me, "(Garrard) was winning the job. It wasn't even a question. He has more talent than Mark and more experience than Geno."
Now let's see Smith prove all of his doubters wrong. Let's see him work harder than anyone else. Let's see him earn it.
Rex is in job-preservation mode. One way to keep a gig is to develop a young quarterback.
And he doesn't come with a built-in laugh track.