Even more so than Most Valuable Player or Rookie of the Year, Coach of the Year is a subjective evaluation.
Debate: Coach of the Year?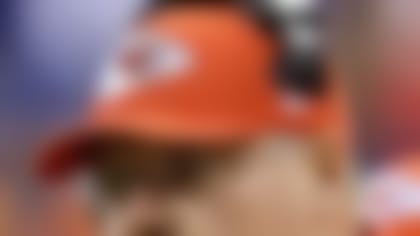 Do you simply give it to the best coach? If so, there wouldn't be much fluctuation, and people like Vince Lombardi, Don Shula, Chuck Noll and Bill Walsh would have owned the award. Do you give it to the coach who engineered the biggest turnaround? That's routinely the case in the voting, and might be again this year (which is why Andy Reid has been a season-long favorite). But that policy tends to disregard some of the best coaching jobs -- instances where already-good teams take the next step (like Pete Carroll's Seahawks), or excellent teams remain at that level despite adverse circumstances (Bill Belichick's Patriots).
Here are my top five candidates for the 2013 Coach of the Year award, with the proviso that all of these guys would be worthy winners. In each and every instance, the coach set the tone and put his team in a good position to win, week in and week out. Talent is the ultimate yardstick in the NFL, but a good coach can help maximize production with the talent at hand. All five of these coaches accomplished that this season:
Bill Belichick, New England Patriots (12-4 in 2013)
Because of his continued success, we usually are dismissive of what Belichick achieves, saying, "Well, his teams are always good." In basketball, people used to say the same thing about Phil Jackson and Pat Riley -- they won a lot more titles than Coach of the Year awards. For Belichick, this season rivals the 2008 campaign (when Tom Brady was lost for the year in the first quarter of the season opener, yet the Pats still went 11-5) as his best coaching job ever. Belichick faced the unprecedented distraction of the murder charge against Aaron Hernandez, the loss of four of his top five pass-catchers from 2012 and debilitating injuries on both sides of the ball. Despite all that, the Patriots earned a bye, won a playoff game and finished with a top-10 offense.
Belichick, though highly respected, too often gets overlooked because "He has Tom Brady." He's simply a great football coach. The Pro Football Hall of Fame should waive the five-years-after-retirement rule and enshrine him in Canton right now.
Ron Rivera, Carolina Panthers (12-4)
Rivera didn't have the most improved team -- the Panthers went from 7-9 in 2012 to 12-4 -- but he was arguably the most improved coach. As has been well-documented, Rivera had a history of mishandling fourth-down and clock-management situations, often seeming to coach from a defensive posture, and apparently lacking faith in his offense. Until this season. Recast as "Riverboat Ron," the third-year coach showed belief in Cam Newton's leadership, tossing his young quarterback into some high-pressure/high-reward situations, and Newton's increased reliability helped spark the entire team.
Pete Carroll, Seattle Seahawks (13-3) Some people don't like Carroll, because he likes to do things differently, and seems to enjoy letting everyone know that he likes to do things differently. But you have to give him credit for what he's built in the Pacific Northwest.
In terms of the ancillary support systems that allow players to flourish, Seattle has to be at the forefront. Carroll has created a team in his own image, in a place where he can corner the market on an "us against the world" mentality (with a little help from Richard Sherman, of course). One mark of a fine coach is when people around the league attribute an influential style of play to him -- like the Lombardi Sweep, Walsh's West Coast Offense or Tony Dungy's Tampa 2. Carroll has introduced the concept of the "long player" into the league lexicon, with defensive backs who are big and tall.
Carroll's style faces a crucial test on Super Bowl Sunday, as Seattle's vaunted defense will oppose the best fleet of receivers and best quarterback in football. Whatever the result, there aren't many coaches who even reach the Super Bowl with a second-year quarterback.
Andy Reid, Kansas City Chiefs (11-5)
Yes, the Chiefs stumbled down the stretch, going 0-6 against Peyton Manning, Philip Rivers and Andrew Luck. But the team went from 2-14 to 11-5 overnight. And under Reid, Alex Smith and the offense got better as the season wore on. (Kansas City scored at least 31 first-half points in three of its final four games.)
Reid instilled a calm professionalism at the helm, while revitalizing an offensive attack that hadn't really taken full advantage of the multi-dimensional threats of Jamaal Charles and Dexter McCluster in prior seasons. Now he must fight his way out of the Marty Schottenheimer rep: being good during the regular season, but unable to win it all.
Chip Kelly, Philadelphia Eagles (10-6)
Kelly came into the NFL with as much pressure as any coach in a long time. Everyone was talking about how the former Oregon boss would revolutionize the league. (OK, in fairness, everyone except Kelly himself.) That did not happen, but Kelly did adapt his style to fit the league, something many college coaches fail to do after making the NFL jump.
Philadelphia's offense was entertaining throughout the season, and ultimately a potent force. The Eagles finished in the top five in many of the most important benchmark categories (including leading the league in both yards per passing attempt and yards per rushing attempt), and they did so with two entirely different quarterbacks leading the way.