It happens every fall. A player bursts onto the scene, makes a big play or helps his team win a pivotal game, and the collective football world celebrates his arrival as a true difference maker in the NFL. Let's get ahead of the curve! In advance of the 2013 season, NFL.com analyst Bucky Brooks identifies candidates for significant improvement, concentrating on linebackers below. Click here for other positions.
Most Improved Linebacker for 2013: Whitney Mercilus
Mercilus' backstory: The Houston Texans have fielded one of the NFL's top defenses since the arrival of coordinator Wade Phillips in 2011. Part of the unit's success can be attributed to Phillips' ability to identify and develop impact playmakers in the draft. From J.J. Watt to Brooks Reed, he has done a marvelous job of getting tremendous production from young players in his scheme.
In 2012, the Texans selected Mercilus with the 26th overall pick of the draft to replace Mario Williams at outside linebacker. The team had planned to bring Mercilus along slowly, but he earned more playing time over the course of the season by flashing intriguing skills as a pass rusher. He finished with six sacks -- pretty impressive for a guy with just four career starts.
Why he will improve in 2013: In the NFL, defensive coaches build around the talents of their personnel. Coordinators use various defensive fronts, coverage, blitzes and packages to best take advantage of the individual and collective skills of their top players.
As he has demonstrated throughout his time as a distinguished coach and defensive coordinator, Phillips has a knack for getting maximum production out of his top pass rushers. This has been an integral part of his success as a defensive play caller for the Denver Broncos, Buffalo Bills, Atlanta Falcons, San Diego Chargers and Dallas Cowboys. Interestingly, in each of the two previous stops in Phillips' coaching career, he turned a young, athletic pass rusher (Shawne Merriman in San Diego and DeMarcus Ware in Dallas) into a Pro Bowl-caliber playmaker. Additionally, he helped each player's complement (Shaun Phillips for Merriman and Anthony Spencer for Ware) mature into effective playmakers by developing their talents on the practice field before unleashing them on opponents.
In Mercilus, the Texans have a high-energy edge rusher with natural pass-rush skills. He excels at winning hand-to-hand combat battles on the perimeter while using his sneaking burst and acceleration to chase the quarterback in the pocket. These traits -- the same skills that helped him become the nation's sack leader during his final season at Illinois -- made him a legitimate threat as a designated rookie pass rusher.
When I look at the tape, it is evident that Mercilus simply has a knack for getting to the quarterback off the edge. He displays excellent snap-count anticipation and possesses the kind of first-step explosiveness commonly found in Pro Bowl-caliber pass rushers. The video clip above showcases Mercilus' outstanding "get off" and burst at the snap; he simply blows past the right tackle on an upfield rush before recording an easy sack.
Mercilus also displays the ability to read, react and explode quickly on play-action passes. As the edge player in the 3-4, he is expected to set a hard edge at the point of attack to keep runners from turning the corner on outside runs. This responsibility can make some pass rushers hesitate when run fakes are executed in their direction, but Mercilus has shown the intuition and awareness to sort things out while attacking the quarterback from the edges. In the video clip below, Mercilus sniffs out the passing play and registers a sack despite a strong play fake by Baltimore Ravens quarterback Joe Flacco out of a traditionally run-heavy formation. These are the kinds of plays defensive coaches love -- because they result from instincts and awareness, not exotic play design.
Lastly, Mercilus' relentless energy should make him an effective weapon under Phillips. The wily defensive wizard demands maximum effort from his players, and he expects his difference makers to deliver impact plays throughout the course of a game. Though he was limited to a situational role as a rookie, Mercilus displayed the kind of non-stop motor and ball awareness that Phillips covets, collecting sacks off of extra effort and exhibiting a strong nose for the ball in pursuit. Given the impact of sacks and turnovers in the NFL, Mercilus' impressive traits could make him a star in Phillips' defense.
Impact on the team: The emergence of Mercilus as a Pro Bowl-caliber pass rusher could give the Texans -- who are already considered Super Bowl contenders -- a shot to win 12 games and secure home-field advantage throughout the playoffs.
Projected 2013 stat line: 58 tackles, 10.5 sacks, 3 forced fumbles and 1 interception.
Other Linebackers to Watch
Instant Debate: Sack king in 2013?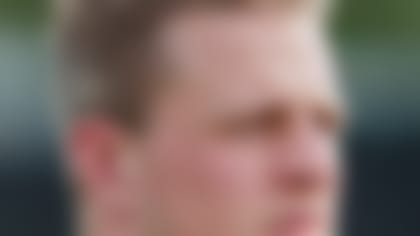 Who will win the inaugural Deacon Jones Award as the NFL's sack leader in 2013? Reigning king J.J. Watt? Let's debate! **More ...**
Brandon Graham, Philadelphia Eagles: Every NFL team needs a few legitimate pass rushers who can get after the quarterback. Graham was expected to be an impact pass rusher for the Eagles when he was selected with the 13th overall pick in the 2010 NFL Draft, but he struggled to adjust to the pros and battled through an assortment of injuries during his first two years. However, the light seemed to come on for Graham in Year 3; he finished with 5.5 sacks and two forced fumbles while displaying explosive first-step quickness and acceleration racing around the end. Additionally, Graham flashed impressive hand skills and pass rush moves while thriving as the Eagles' designated pass rush specialist. Given more opportunities as a likely starter in an aggressive 3-4 scheme in 2013, Graham could post 10-plus sacks for the first time in his career.
Bruce Carter, Dallas Cowboys: The Cowboys' transition to a Tampa 2 scheme requires that they have fast, athletic linebackers who can suffocate the explosive offenses thriving in the NFC. Carter is the prototypical Will linebacker in the scheme, with the speed and athleticism to excel as a sideline-to-sideline playmaker. While a few injuries have kept Carter from fulfilling his immense potential, the big-play talent is evident whenever he steps on the field. If Carter stays healthy, he could be pushing for Pro Bowl honors by season's end.
Jacquian Williams, New York Giants: The Giants' linebacker corps has represented one of the team's most glaring weak spots in the past few years. However, the return of a healthy Williams could bring some speed and athleticism to a unit that has lacked both. The former sixth-round draft pick is a sideline-to-sideline player capable of chasing down backs from the backside or sticking with tight ends or receivers down the seams. Although injuries have helped limit the amount of action he saw in his first two seasons (he missed six games in 2012), Williams certainly possesses the talent to be a big-time playmaker in the Giants' scheme. If he can avoid the injury bug, Williams could help solve the Giants' biggest problem.