It happens every fall. A player bursts onto the scene, makes a big play or helps his team win a pivotal game, and the collective football world celebrates his arrival as a true difference maker in the NFL. Let's get ahead of the curve! In advance of the 2013 season, NFL.com analyst Bucky Brooks identifies candidates for significant improvement, concentrating on tight ends below. **Click here for other positions.**
Most Improved Tight End for 2013: Jordan Cameron
Cameron's backstory: Selected with the 102nd overall pick of the 2011 NFL Draft, Cameron gave the Cleveland Browns a young, athletic tight end to mold for a prominent role down the road. The team instituted a slow development plan for Cameron by placing him behind a pair of wily veterans, Alex Smith and Benjamin Watson, to learn and master the nuances of the position, given his limited experience as a collegian. (Cameron played basketball at BYU in 2006-07 before transferring to USC for football, starting at wide receiver and eventually moving to tight end.) Although he played sparingly during his first two seasons as a pro, Cameron displayed promising flashes, leading many to declare him ready for a bigger role on offense.
Why he will improve in 2013: The arrivals of head coach Rob Chudzinski and offensive coordinator Norv Turner ensure the tight end will be featured prominently in the Browns' passing game. As disciples of Ernie Zampese -- who was greatly influenced by Don Coryell -- Chudzinski and Turner both boast distinguished reputations for transforming developmental tight ends into premier playmakers.
Chudzinski, a long-time NFL tight ends coach, has tutored some of the finest tight ends in the NFL to the most productive seasons in their respective careers. In Antonio Gates' four seasons under Chudzinski's direction (2005-06; 2009-10), the perennial Pro Bowler averaged 72.3 receptions for 991 receiving yards and 9.3 touchdowns. In Gates' six years without Chudzinski, those averages drop to 58.8 caches for 726.1 yards and 7.7 touchdowns. Kellen Winslow enjoyed the best season of his career with Chudzinski's help in 2007, tallying 82 receptions for 1,106 yards and five touchdowns. Most recently, Greg Olsen posted career bests in receptions (69) and receiving yards (843) under Chudzinski's guidance last season.
Factoring in Turner's experience coaching the likes of Jay Novacek, Vernon Davis and Gates, it's easy to envision an athletic tight end like Cameron playing a major part in the Browns' offensive attack.
Checking in at 6-foot-5, 245 pounds with an extensive basketball background, Cameron is an explosive athlete with strong hands and ball skills. He excels at working the deep middle on skinny post routes and digs, utilizing his speed and quickness to run away from defenders out of breaks. The 18-yard gain in the video above showcases Cameron's ability to stretch the defense with his speed on a vertical route.
Cameron's athleticism and versatility will encourage Cleveland's new coaching staff to deploy the tight end in a variety of alignments to take advantage of mismatches in the secondary. For instance, Cameron can flourish as a traditional tight end in one- and two-TE sets, or play as a slot receiver in certain packages. Additionally, he can line up outside as a receiver -- like he does in the video clip on your right -- to exploit man coverage from a linebacker or safety in space.
With Chudzinski and Turner adept at creating opportunities for tight ends in the passing game, Cameron could rise from obscurity to become a difference maker in 2013.
Impact on the team: The emergence of a dominant playmaker between the hashes will open up the field for the rest of Cleveland's young, athletic playmakers. While that might not be enough to help the Browns take the AFC North, it should make them a competitive bunch that vies for a winning record this season.
Projected 2013 stat line: 55 receptions for 750 receiving yards and nine touchdowns.
Other Tight Ends to Watch
Luke Stocker, Tampa Bay Buccaneers: The Buccaneers have a loaded offensive lineup, with running back Doug Martin and receivers Vincent Jackson and Mike Williams attracting the headlines, but Stocker could be the key to unlocking the unit's explosive potential. The big-bodied, long pass catcher is a tough matchup for defenders over the middle, making him a valuable weapon against eight-man fronts (designed to stop Martin) and two-deep coverages (used to contain Williams and Jackson). With Josh Freeman under strict orders to become more effective and efficient from the pocket, Stocker should receive more attention as a designated safety valve in the passing game.
Debate: Biggest 'Top 100' grievance?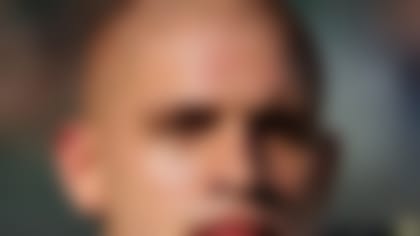 NFL Network has completed the "Top 100 Players." What is the biggest gripe? Many analysts cite the absence of Jimmy Graham. **More ...**
Ed Dickson, Baltimore Ravens:Joe Flacco's emergence as a Super Bowl-winning quarterback coincided with a slight philosophical change on offense that resulted in more balls thrown to the Ravens' tight ends, Dennis Pitta and Dickson. Although Pitta was the biggest beneficiary of the new approach, with 61 receptions for 669 yards and seven touchdowns, Dickson could play an enhanced role with Anquan Boldin out of the mix. If Dickson can handle the dirty work between the hashes, Flacco will continue to make strides by relying on a deadly 1-2 punch at tight end.
Coby Fleener and Dwayne Allen, Indianapolis Colts: This series is supposed to identify individual players set to break through in 2013, but the Colts' dynamic tight end tandem could help the team take over the AFC South. While Fleener and Allen certainly didn't disappoint as rookies -- combining for 71 receptions and five touchdowns -- their collective impact will increase dramatically with Pep Hamilton taking over as offensive coordinator. At Stanford, Hamilton helped Andrew Luck develop into one of the top quarterback prospects in recent memory by designing an offense that featured the tight end position as a focal point of the passing game. Given a pair of young, athletic, pass-catching tight ends to work with -- including a familiar face from Stanford (Fleener) -- Hamilton could revive the blueprint to help Luck succeed in Year 2.