The transformation of the NFL into a passing league has turned receivers into marquee players on the free-agent market. Teams are looking for difference-makers on the perimeter who can impact the game with speed and dynamic skills.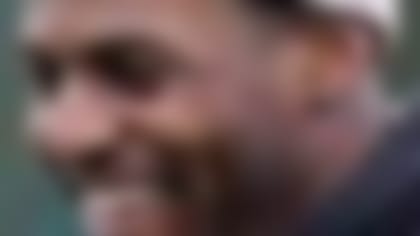 Where will Mike Wallace wind up? Follow him and all the other NFL players on the move in our free-agent tracker. More ...
Based on their production, performance and potential, Mike Wallace and Greg Jennings are considered the receiver gems of the 2013 free-agent class. Wallace, a four-year veteran with 4.3 speed, is one of the most explosive playmakers in the league, scoring 32 career touchdowns in just 63 games with the Pittsburgh Steelers, averaging a ridiculous 17.2 yards per reception.
Jennings has been a silent killer as the Green Bay Packers' unheralded No. 1 option. He has amassed 425 receptions and 53 touchdowns during a solid seven-year career that has seen him develop into one of the most polished receivers in the NFL.
Several teams desperately need a weapon on the perimeter. I thought I'd compare Wallace and Jennings in five categories to determine which wideout is the superior player. Here is what I discovered after my film study:
Jennings is one of the best pass catchers in the NFL. He snatches the ball out of the air with his big mitts; his hand-eye concentration is remarkable. He tracks and adjusts well to the flight of the ball while shielding defenders with his body to keep them from knocking the ball away at the last moment. Jennings' exceptional reactions and body awareness particularly stand out when he boxes defenders out on over-the-shoulder catches or back-shoulder fades. Though he's a receiver of relatively small stature (listed at 5-foot-11 and 198 pounds), Jennings is unquestionably one of the best 50/50 pass catchers in the game today.
Wallace is a dependable receiver, but most evaluators would describe him as a "body catcher." He prefers to trap and cradle the ball against his chest rather than snatching the ball cleanly out of the air. There are times when all receivers are forced to cradle the ball, due to ball positioning or the proximity of defenders, but the fact that Wallace routinely utilizes this method suggests he isn't a confident pass catcher. This might explain his large number of drops (six in 119 targets). Of course, his propensity for dropping passes in 2012 could have been an aberration, caused by the distraction of last offseason's contract dispute. But the lack of consistency must be factored into his final evaluation.
Jennings is one of the slickest route runners in the game, using a vast array of stems and releases to obtain leverage on defenders at the top of routes. Additionally, he understands how to vary his tempo and speed to set defenders up for double moves down the field. While Jennings regularly opened his bag of tricks to get open in Green Bay, this rarely affected the timing of the passing game. Quarterback Aaron Rodgers -- who routinely released the ball before Jennings would hit the top of his break -- certainly trusted in Jennings' ability to get to the designated spot. Every NFL quarterback covets a No. 1 receiver with exceptional route-running skills.
Harrison: Team needs in free agency
With free agency set to kick off at 4 p.m. ET on Tuesday, March 12, Elliot Harrison identifies priorities for all 32 NFL teams. More ...
Wallace burst onto the scene in 2009 as one of the fastest receivers in the league. The Steelers capitalized on his explosiveness by featuring him as the designated vertical option on most plays. During the early portion of his career, Wallace's repertoire consisted of the go, post and deep comeback. Wallace's fastball is certainly enough to bring him success, but if he wants to anchor a team's passing game as the No. 1 receiver, he must be able to run a variety of short and intermediate routes. When I study Wallace's game, I'm not impressed with his ability to get open consistently against elite corners on intermediate routes. He lacks the creativity and cleverness to set up defenders with a variety of stems, and he still tips off his routes with his body positioning and choppy steps when getting into his breaks. Although Wallace's speed and explosiveness keep defenders from squatting on his routes, he must continue to refine his game as a route runner to be considered a true No. 1 receiver in the NFL.
Offensive coordinators love receivers who can make plays with the ball in their hands. Receivers with exceptional running skills can turn short passes into big gains, making the offense more difficult to defend. Jennings is a crafty runner with sneaky wiggle and elusiveness in the open field. While he lacks the speed to completely run away from defenders in space, Jennings is productive and effective with the ball in his hands.
Wallace, meanwhile, is downright scary in this capacity. Not only is he fast enough to run past defenders in the open field, but he displays the elusiveness to weave through traffic for big gains. Wallace repeatedly turns bubble screens, crossing routes and fly sweeps into explosive plays, revealing his remarkable speed and short-area burst. Additionally, Wallace shows toughness and strength when running through arm tackles en route to productive gains. Playmaking is especially important in today's game, and Wallace's speed and running skills make him a potent weapon on the perimeter.
Offensive coordinators in the NFL will tell you that the passing game is designed to yield big plays, touchdowns and first downs. Receivers who can deliver in those three areas are viewed as valuable commodities. With a sneakily explosive game, Jennings (who has 425 receptions for 6,537 yards and 53 touchdowns in 96 games) fits the bill. Most importantly, he's tallied 97 receptions of 20-plus yards, including 33 of at least 40 yards. Those numbers suggest that he is a big-play weapon who can impact the game from the perimeter. Now, he is not a vertical threat who can rely on his speed and athleticism to get open down the field, but he does have a knack for slipping behind defenders to produce big plays. Jennings' yards-per-catch average of 15.4 makes it hard to dispute his impact as a playmaker.
Judging by his ability to repeatedly run past defenders on the perimeter, Wallace might be the fastest man in the NFL. He explodes past defenders on vertical routes; the Steelers capitalized on this by frequently targeting him on the go-route, post and deep crosser from the outside. Pittsburgh also attempted to get him the ball on an assortment of short crossing routes, allowing him to utilize his speed to run away from defenders on horizontal routes. Not only are Wallace's career numbers (235 receptions for 4,042 receiving yards and 32 touchdowns) impressive, but they are remarkable when factoring in his 67 receptions of 20-plus yards -- including 27 of at least 40 yards -- over just 63 career games. Given his robust career yards-per-catch average (17.2) and penchant for delivering impact plays, Wallace ranks as one of the most explosive players in the NFL.
Just as quarterbacks are judged by their ability to raise their level of play when it matters most, receivers are evaluated according to their capacity to impact big games, particularly in the postseason. Evaluating Jennings' play throughout his career, I was most impressed with his postseason performance. He consistently stepped up his game in the playoffs, thriving as the Packers' No. 1 target when the pressure was on. In 10 postseason games, Jennings has 50 receptions for 673 yards and six scores. Although injuries and the emergence of Jordy Nelson limited Jennings' production somewhat during the Packers' last two playoff ventures, the fact that he was so instrumental in helping the team win Super Bowl XLV makes him a special player, in my mind.
In four postseason games with the Steelers, Wallace was a major disappointment -- a non-factor whose lack of production robbed the offense of its explosiveness. When I reviewed his play and tallied his numbers (16 receptions for 141 yards with one score), I came away concerned about his ability to function as a No. 1 option in the passing game. As the lead receiver, Wallace must be able to impact the game against coverage designed to limit his opportunities. Defensive coordinators showed that they could effectively neutralize Wallace during those four playoff games, making it tough for me to consider Wallace a clutch performer at this time.
The free agency frenzy will lead teams to overspend on potential impact players. Jennings and Wallace are obvious candidates to break the bank based on their enticing skill sets. While both could find success wherever they go, I believe Jennings is the better overall player, someone who could succeed in any system. Now, I know that age (Jennings will turn 30 in September) and a relative lack of speed might prevent him from receiving a deal that rivals Wallace's contract on the open market. But as time goes by, I believe we will look back at Jennings as the marquee player of the 2013 free agency class.