The Don Shula NFL High School Coach of the Year Award is a league award that has been created to honor exemplary high school football coaches who display the integrity, achievement, and leadership demonstrated by the winningest coach in NFL history, Don Shula.
NFL teams and players were called upon to nominate active or retired high school football coaches for their character and integrity, inspirational leadership, commitment to the community, health and safety, and on-field success.
This year's Don Shula NFL High School Coach of the Year was Coach Mike Grant of Eden Prairie High School in Eden Prairie, MN. Nominated by the Minnesota Vikings, Grant, along with Tri-Central High School (Kirklin, IN) Head Football Coach George Gilbert and Katy High School (Katy, TX) Athletic Coordinator and Head Football Coach Gary Joseph, was one of three high school football coaches from across the country named as a finalist for the award.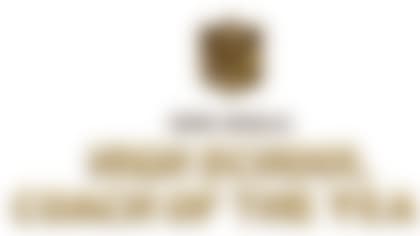 As part of his nomination, Grant wrote of his responsibility as a coach: "You have to make great decisions. We talk about thoughtfully deciding who you are going to run with in your group of friends. What is your story going to be when you are done here? Will people think of you as an outstanding person or as someone who never achieved what they could have? We provide support through our school and coaches for kids struggling with family issues and let them know that they have a family here with our football team that will have their back!" Grant coached San Francisco 49ers OT Carter Bykowski along with former NFL players Joe Foreman and Mark Levoir.
The Don Shula NFL High School Coach of the Year Award selection panel is comprised of Coach Shula; former Dallas Cowboys Personnel Director and NFL.com contributor Gil Brandt; former Indianapolis Colts Coach and current NBC analyst Tony Dungy; veteran sportswriter Jack Fleischer; Executive Director of USA Football Scott Hallenbeck; Former Raiders Coach and member of the Pro Football Hall of Fame John Madden; General Raymond Odierno, Army Chief of Staff; Sam Palmisano, Retired Chairman of the Board, IBM Corporation; Former Secretary of State, Senior Fellow on Public Policy at the Hoover Institution and faculty member at the Stanford Graduate School of Business Condoleeza Rice; Executive Director of the American Football Coaches Association Grant Teaff; and Aaron Thomas, Athletic Director at Aplington-Parkersburg High School and son of the school's late football coach Ed Thomas.
As the national Don Shula NFL High School Coach of the Year, Grant received $25,000; $15,000 of which will be granted to the Eden Prairie High School football program.