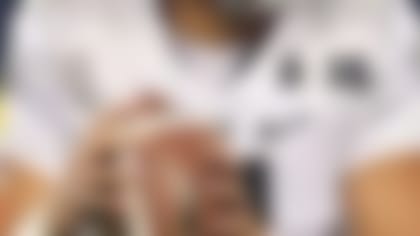 In advance of the draft, Marcus Mariota and others will look to showcase their skills at the combine (Feb. 17-23), only on NFL Network. **SCHEDULE**
Even in the meaningless final month of a lost season, Glennon couldn't unseat underwhelming journeyman starter Josh McCown.
If the Bucs' personnel department has designs on Florida State's Jameis Winston or Oregon's Marcus Mariota with the No. 1 overall draft pick, Licht will entertain offers for Glennon.
That prospect begs the following questions: What is Glennon's value? And which teams will be interested?
With 29 touchdowns in 19 career games, Glennon is more than just a reclamation project. En route to earning Offensive Rookie of the Month honors in November of 2013, he became the first rookie in NFL history to throw at least one touchdown pass in his first eight games.
Gushed Greg Schiano at time, "I think this is a guy that certainly, as long as he continues on this trajectory, is a guy you'd love to have as a quarterback for a long time."
The problem is that Glennon didn't continue on that trajectory. His 2014 game tape is unimpressive, showing an immobile, often indecisive passer with accuracy issues and an inability to move the offense for quarters at a time.
Boasting prototypical size and a strong arm, though, Glennon is sure to attract suitors willing to gamble on a bounce-back season with better coaching and consistent blocking.
The Pewter Report's Scott Reynolds believes Licht would settle for a third-round pick but no less than a fourth-rounder in return for Glennon. We see the latter as a more realistic price tag.
Glennon is one of the NFL's top 32 quarterbacks. He should be under center in another city when the 2015 season opens.