Maurice Jones-Drew is 27 years old, with six NFL seasons and nearly 1,500 carries behind him, playing a position where shelf life is a factor starting with the first pro huddle a player enters. And he's asking for something that's rarely given to a guy in his spot: a third payday from the team that drafted him.
For now, the Jacksonville Jaguars aren't pulling out their hair over the absence of the franchise's signature player. In fact, according to one club source, no one inside the building is giving outward signs of "sweating it at all," with just a couple weeks left until opening weekend. But if Jacksonville were to consider meeting Jones-Drew's request, one fundamental question would need to come first, according to other NFL decision makers.
"Do we want the player for a year or multiple years?" said one rival general manager. "And if it's multiple years, what you're always thinking about is a three-year commitment, because it's really too hard to project past that. If you're OK with three years, you want to come to some meeting in the middle. He's such a pillar, such a big part of that franchise, I think you have to address the problem."
"You have to hold your ground, especially when he's not in camp," said an AFC personnel executive. "Now if he comes in, maybe philosophically, that changes things a little bit and you can circle the wagons and have dialogue and reach a common ground. But if he's holding out, while he's holding out, you can't move. I just wouldn't incentivize doing that."
One thing all these guys agree on is that, even with the considerable mileage Jones-Drew has accumulated, he shows every sign of being able to hold up within the three-year time frame cited by the GM above. And the Jaguars would have to believe that to acquiesce in any way -- because there's every reason to believe that Jones-Drew is in for a subpar 2012, having already missed all of the spring and training camp.
Last year, Chris Johnson reached a new deal with the Tennessee Titans on Sept. 1, ending a holdout that spanned the entire offseason. He posted career lows in total yards, yards per carry and touchdowns, despite playing in all 16 games.
Five years ago, Larry Johnson staged a similar holdout, finally reaching a deal near the end of August. He was coming off consecutive 1,700-yard seasons. That year, 2007, he missed eight games, rushed for just 559 yards and posted a per-carry average nearly a yard less than his previous career low.
"I'd look at him being the same guy over the next three years, and then decline, but I think this year is gonna be a wash," said one AFC personnel director. "Running backs do not come back after a holdout with the same effectiveness. You need the timing with the O-line, especially with a new offense in there. You need to take hits. ... He's gonna limp into this year."
An NFC personnel executive said he didn't think it would be a year-long problem, but agreed there'd be an issue early, and added that pass protection in a new offense could make things worse. "If you were trading for him, it'd be for a three-, four-year package, not a six-game fix," he said. "He'll be a mainstay, but it's important for backs to carry the ball, get in a groove cutting and carrying the ball behind their line. And they need to take hits. They need the contact. You can't get them ready for that in practice."
The other thing all four evaluators agreed on is that a comparison to Ray Rice, as a player, is a fair one. Rice signed a five-year, $35 million deal last month that's worth $17 million through one year, $25 million through two years and $29 million through three years. The deal Jones-Drew signed in 2009 gave him $21.85 million in its first three years -- more than fair at the time considering a) inflation and b) the Jags dynamo still hadn't posted a 1,000-yard season at that point and was being paid on a projection.
Jones-Drew is due $4.4 million this year and $5.1 million in 2013. Say the franchise tag number for running backs, which was $7.7 million this year, rises to $9 million in 2014. Add the figures together, and Jones-Drew would stand to make $18.5 million from 2012 through 2014, which is $10.5 million short of what Rice stands to make over the same period.
Is Jones-Drew trying to double-dip on the Jaguars? Without question, he is. Jones-Drew was already paid on projected performance, and now he's trying to score another windfall on past performance.
But the NFC personnel exec said, "It's part of the business, you gotta adjust. Sometimes you have to say, 'OK, this might be a slap in the face, but when all's said and done, we have to put our best players on the field.' If you're worried about getting your feelings hurt, you're gonna wind up fired and looking for a job. ... This is a quality guy, a football player through and through, and everyone who's been around that team understands how bad they need him. The new owner needs to put his ego in his pocket."
Conversely, the AFC personnel director said, "They've gone too far down the road, they gotta hold their ground. If they were gonna give it up, they should've done it before camp."
Still, for all the hand-wringing over money and precedents and any short-term effect this holdout could incur, the dividing line here must come down to one question: How much more gas is left in Jones-Drew's tank?
Per these evaluators, all with extensive scouting backgrounds, one sign that a power back is slowing down is a decreased ability or willingness to "get the extra yard" through fight and leg-drive. For smaller, faster backs, it's when they have a harder time beating safeties and linebackers from the handoff to the hole.
Jones-Drew, a combo back, hasn't shown either deficiency yet on tape. But he also isn't the type of back who outlasts the normal lifespan at the position; those guys, with Emmitt Smith and Curtis Martin being the best examples, are normally reliant on off-the-charts vision and instincts to overcome any physical decline.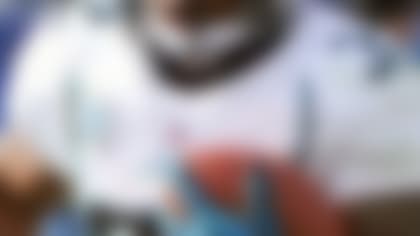 Maurice Jones-Drew has hinted to being open to a trade out of Jacksonville, but Gregg Rosenthal says don't expect the RB to be heading anywhere. More ...
What we do know is that whenever Jones-Drew does lose it, it could sure happen fast. There's a perception, league-wide, that it's about to happen to Michael Turner, who has carried a similar three-down load to his Jacksonville counterpart. And that's where the good news is for Jones-Drew. He doesn't seem to be nearing that point quite yet.
"He looked and ran like he hadn't lost anything, right into (late in 2011)," said the GM. "It was hard to stop him. As for the other question (if the drop-off is coming), if everyone knew that formula, and how to time it, you could be pretty successful in your job. But to me, it didn't look like there was, or was going to be, any drop-off. You can tell he's the kind of difference maker that's hard to find, with that rare power."
The Jaguars play their third preseason game Thursday night in Baltimore, and the Mike Mularkey era officially kicks off two weeks from Sunday with a visit to Minnesota. There's a new owner, Shad Khan, and renewed optimism that Blaine Gabbert might actually be the right quarterback to build around. There are plenty of reasons to feel good about the new plan in its early stages.
Whether or not Jones-Drew will be a part of it, for now, remains anyone's guess.