JACKSONVILLE, Fla. -- Standing on the 27th floor with his back to a wall-spanning window overlooking the St. Johns River and downtown Jacksonville on Tuesday, Jacksonville Jaguars owner Shad Khan delivered to reporters what he viewed as the day's big news.
But as Khan is surely learning in the infancy of his NFL ownership, few are willing to squint too far into the long-term future when there's a short-term subject to pay attention to -- which is precisely why the topic quickly shifted on Tuesday toward the tenuous status of running back Maurice Jones-Drew.
That's when a funny thing happened. Khan turned the tables. As it turns out, we're the ones learning more about him. It's time for us (Jones-Drew included) to take note.
In fact, after what we've seen over the past 24 hours, it's time for Jones-Drew to do more than that. It's time for him to show up for training camp.
After Khan sent a message to Jones-Drew through the media -- "Train is leaving the station. Run, get on it." -- Jones-Drew's agent, Adisa Bakari, began telling reporters that Jones-Drew was upset Khan had taken a public approach to the situation. The folks in Jones-Drew's camp then spread the word that the running back was "open to a trade," because the Jaguars clearly didn't value him. Soon after, Jones-Drew's position, again communicated through intermediaries, changed one more time: He's open to getting this relationship worked out.
Now, somebody needs to send the following message back to Jones-Drew:
Nobody is upset but him. The relationship needs to be thawed only because he put it in the freezer.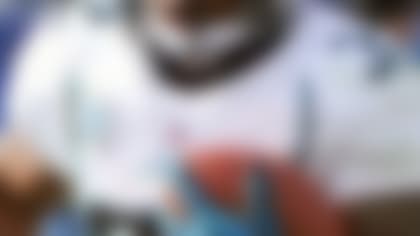 Maurice Jones-Drew has hinted to being open to a trade out of Jacksonville, but Gregg Rosenthal says don't expect the RB to be heading anywhere. More ...
Do you see any sweat beading on Khan's forehead? Do you see him twisting his mustache in angst?
No, you don't. You see a man who is far more concerned about bettering an organization and a city -- a man who recognizes the issues surrounding ticket sales are far broader than one star running back who is trying to convince ownership he can fill the seats like nobody else.
On Tuesday, while Jones-Drew was attempting to make the Jaguars nervous, Khan was meeting with Commissioner Roger Goodell about his willingness to move one game per season to a stadium on the other side of the ocean.
Khan is willing to take what would literally be 1/8 of his team's home games away from its fan base, believing it will ultimately be best for the Jaguars and Jacksonville. Do you think he's going to cave to a running back's desires just to make a short-term fix at one position on a rebuilding team? Please.
"If Maurice Jones-Drew thinks anything is going to change, he clearly doesn't know (Khan)," one team source said Tuesday.
That's not to say Khan is some hard-nosed tough guy who wants to throw his weight around. He is, though, a man who is not going to let irrational perspective or public pressure alter his plans.
The source was right: Clearly, Jones-Drew doesn't know who he's dealing with. He is acting like the Jaguars owe him something, like he deserves greater loyalty after six years of service to a different coach and a different owner. True, Jones-Drew is an outstanding player worthy of elite money. But he's already on the second contract of his career (with the same organization, mind you). So where's the leverage?
Khan recognizes this organization needs fixing. By committing to play one game per year in London -- and helping the NFL with its international agenda -- he might get proper help from the league to promote and market his brand in a way that will increase exposure domestically and overseas.
The NFL now has a vested interest in seeing the Jaguars succeed as a marketable team. Maybe that means more Monday Night Football appearances. Maybe it means more visible use of the team's brand in league-wide marketing campaigns. Who knows? But however it works out, Khan recognizes the NFL can help him.
Sacrificing a home game at a stadium that struggles to fill itself up no matter who is running the ball is risky (but potentially rewarding) business.
So how does this end? Well, Jones-Drew can continue to play these games, taking the chance that he'll miss one valuable year out of the two remaining on his current contract. Sources said at least one team has reached out to the Jaguars, expressing interest in a possible trade. Jones-Drew can hold out, hoping some team is willing to give up something like a second-round pick and an additional fifth-rounder -- what the St. Louis Rams gave the Indianapolis Colts for Marshall Faulk in 1999. It seems reasonable that the Jaguars would listen then.
Of course, that team would also have to be willing to give Jones-Drew the contract he wants -- which is ultimately the issue at hand.
So hey, it's possible that Jones-Drew finds his way to more money. He's got a pretty slim shot, though, and it's likely to evaporate within the next few days as the Jaguars' conversations with any potential suitors run their course.
When that happens, Jones-Drew might be wise to make the only move he'll have left: Get on the train before it's too late.