2013 Pro Days Schedule By Date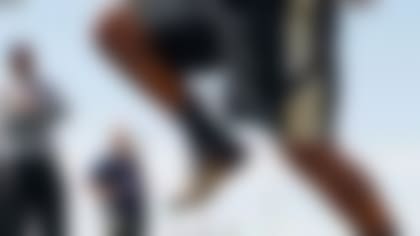 Between the combine and the draft, prospects work out for scouts at individual pro days at their respective schools. Full schedule.
Between now and the end of the month, hundreds of prospects will get a chance to solidify or boost their draft stock. Every year, pro days seem to turn up a diamond in the rough or two while simultaneously giving some prospects a shot to regain their ground after stumbling at the NFL Scouting Combine.
With that in mind, I've put together a short list of prospects who must make good at their respective pro-day workouts. These prospects are at a pivotal point in their professional careers, even before those careers have officially begun.
Jarvis Jones, LB, Georgia: After he chose to not work out at the combine, I slotted Jones fairly low in my mock draft, giving him to the Green Bay Packers with the 26th overall pick. This prompted a call from Jones' agent, Joel Segal, who wanted to know why I had the linebacker prospect -- seen as a top-10 talent by some -- being drafted that low. I explained to him that it was because he didn't work out. I think Jones is putting himself at a disadvantage at his pro day; because he didn't lift or jump or run in Indianapolis, he'll have to do all of that in Georgia, in addition to performing well in his positional drills. The prospects who worked out in Indy, by contrast, are free to focus solely on their drills. Jones will have to work twice as hard as many of his peers.
Matt Barkley, QB, USC: Barkley, who was not cleared medically to throw at the combine, is another guy who's going to have to run and jump and still look good in drills. Folks have their doubts about Barkley, but I don't think you can be a four-year starter (and three-time captain) at USC without having some talent. He doesn't have to be perfect at his pro day; if he looks decent, I think he can be a top-10 pick.
Terron Armstead, OL, Arkansas-Pine Bluff: Armstead isn't on this list because he needs to make up for a poor combine performance; his blazing-fast 4.71 40 was the best among offensive linemen, as was his 34.5-inch vertical. He's here because everybody and their brother is going to head to Arkansas-Pine Bluff to watch him work out. They're going to have more people at that pro day this year than have ever been there, and he's got a chance to solidify his status as a hot prospect. He also might get a shot to show he can do more than simply block on the line; I know at least one team is going to work him out as a tight end.
Cornellius Carradine, DE, Florida State: Carradine, who is still working his way back after suffering a serious knee injury in November, didn't do anything (besides lifting) at the combine. I'm not sure he'll be healthy enough to participate in Florida State's pro day, but if he does, and if he can show he has the kind of speed he seems to have, I think he can really elevate himself. He's a pass rusher everyone is examining.
Breer: 2013 QB class unsettled
Think Geno Smith is a lock to be the first QB drafted? Think again. Albert Breer says Matt Barkley still has time to climb. More ...
Damontre Moore, DE, Texas A&M: This guy threw the bar up just 12 times at the combine, and he didn't run very well, clocking a 4.95-second 40-yard dash. Nobody is going to use a high pick on a defensive lineman with that kind of strength and speed. Moore must make good on the second chance he'll get at his pro day.
Gavin Escobar, TE, San Diego State: Escobar has to prove he can run faster (he posted a 4.84 40 at the combine) and catch the ball a little bit better than he did in Indy. If he does, the tight end prospect has a chance to go early in the third round.