Ask Lynch about where he grew up, and if you're someone he trusts, he'll talk about 'The Town' with a gleam in his eye and a massive smile on his face.
A year ago, as he prepared for his first Super Bowl appearance, Lynch had the Seahawks' locker room in stitches as he cranked up the volume on his personal sound system and blasted the explicit-lyric-laced "Don't Fight The Feelin' " by Too $hort, an iconic Oakland rapper. I had requested the song as an homage to the city I'd called home for more than a decade-and-a-half of my adult life, and one for which Lynch and I share a great deal of affection.
"Everything about Oakland," he told me then, "is everything about me."
Last weekend, while working on a feature that will air on NFL GameDay Morning this Sunday in advance of Super Bowl XLIX, I descended upon Beast Mode's Favorite City and got a sense of just how much Oakland loves him back.
While spending time with Lynch's family members and close friends and visiting some of his favorite spots, I kept coming back to the same conclusion: Oakland made Lynch who he is, as a player and a person, and his goal in life is to repay and replenish the beleaguered East Bay city with everything he's got.
"He is like the mayor of Oakland," says Kevin (KP) Parker, an Oakland native who is one of Lynch's mentors, and who works as the player development director at nearby Cal, where Lynch starred from 2004 to 2006. "He is probably the biggest name in Oakland, not because of what he does so much on the field, but because of what he does in the community.
"He goes to the high schools and middle schools and checks in on the kids. He feeds the community. He clothes the community. He gives back -- turkey drives, toy drives, coat drives. That gives you more love than anything you do as a football player. 'Cause a lot of people don't have TVs in Oakland -- they don't even watch him play football. But they know when there's a turkey drive, and they're lining up by the hundreds ... 'Who put this on? Marshawn Lynch.' "
Like many well-compensated athletes, Lynch has made a point of giving back to the community, establishing the Fam 1st Family Foundation and putting on the types of events cited by Parker. Yet Lynch doesn't see his acts of generosity as charity so much as he does civic duty.
Raised by a single mother, Lynch saw his share of struggles as a child. As he told me last year, "I don't think I ever had a lowest point while on an active NFL roster. My lowest point came (growing up), when we were trying to figure out what we were gonna eat at night. My lowest point came when I'd wash my jeans at night -- and hopefully they were dry by the morning, so I wouldn't have to go to school in wet jeans. Or, if they were still damp, I'd iron 'em so at least they'd be hot for a moment."
While driven by the desire to give himself a better life, Lynch never wanted to make it out of Oakland. Rather, he strove to put himself in a position where he could help make Oakland better.
"When he was like 11 or 12, I was picking him up from football practice, and he said, 'Momma, when I get grown, I'm going to the NFL and I'm gonna buy you a house,' " Delisa Lynch recalled last Saturday. "And I told him at that time, 'Dreams come true, baby. So keep fighting for your dream.' It didn't seem real; it was just something that I felt like I needed to say, 'cause I wanted to keep that spirit going, that positiveness that he had.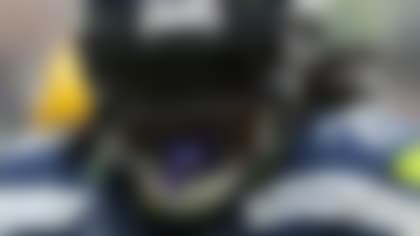 "I was shocked even hearing him say that -- but I was even more shocked when he got drafted and said, 'Momma, go get your house.' And basically, he's made it through, but he doesn't want to leave his community. And that is my son's ultimate goal when he's done with the NFL: to open up a youth center. So hopefully he can make that dream come true, too."
For all of the organized events sponsored by Lynch's foundation, the random acts of kindness -- and constant connection to the community -- are what provoke the uncanny adulation he feels when he's back home.
"He loves Oakland," says Lynch's uncle, Virdell Larkins Jr. "And he comes back. Out of all the stars who came through Oakland, you'll see him as much as anything. Most of all, he loves the youth of Oakland. I guess that's his 'youth serum' -- it keeps him young. He likes letting them know that there's another life out there. That's one of his passions.
"If you can grasp anything about him, understand that he loves Oakland to the point where he will give all the money ... it means nothing compared to saving a kid. He'll give that up in a heartbeat to save a child's life."
When people say Lynch will give a kid the shirt off his back, they're not necessarily being metaphorical.
"I've seen him do that," Larkins said.
That goes for other articles of clothing, too. Lynch frequently visits his high school, Oakland Tech, where he habitually interacts with students and encourages them to achieve academically.
"He was at Tech one day, and there was this guy who saw Marshawn's shoes and got really excited," Delisa recalled. "He was like, 'Oooh, Marshawn, I wish I could have a pair of shoes like those. Those are so nice. They're so tight.' And Marshawn was like, 'Well, what size do you wear?' And the little guy told him what size, and it just so happened to be the same size Marshawn had on. He took those shoes off and he gave 'em to the little guy and he left that school with no shoes on his feet. And it was cold that day, too."
Then there was the time Lynch found out that a Tech student didn't have a car with which to drive his date to the prom.
"He'd seen the kid working hard in school, and he appreciated what the kid was doing, and he took notice," said Delton Edwards, who was Lynch's coach at Oakland Tech. "Marshawn overheard him complaining about how he was gonna get to prom. So he just goes up to him one day and says, 'Hey, you wanna drive my Benz to the prom?'
"He said, 'What I'mma do is, I'm gonna go get it detailed. I'm gonna be in the backseat. I'm gonna let you drive it. When y'all get there, get out, and I'll take the car, and I'll come back and let you drive it home.'
"How many people would have done that -- high school kid just getting his license, and you let him drive an $80,000 Mercedez-Benz?"
Edwards, like others close to Lynch, believes the indefatigable drive the running back displays on the football field is a direct reflection of his roots.
"He loves Oakland 'cause he is Oakland," Edwards said. "Every kid that comes from here is a grinder. And everybody that's here, they're tough-skinned. If you can survive in Oakland, you can survive anywhere in the world.
"Everybody in Oakland is a go-getter. We fight so hard for stuff, we don't know how to do nothin' but run hard and be tough about stuff. 'Cause it's a grind here. And if you're soft in Oakland, you might get eaten up. And that's one thing about Oakland -- it builds good character. A lot of people talk negative about it, but that's the positive about it. The positive about it, it teaches you to be a survivor. And when he runs that football, that's what he's being -- a survivor."
That's a view shared by Lynch's cousin, Virdell Larkins III, a former high school and college teammate who now teaches at an Oakland middle school.
"Growing up in Oakland, it builds character," said Larkins, who is referred to as "Phil" by family members. "You know, we have friends that been incarcerated. We have friends that been in the ground. But it's not just a negative place. It builds character. It makes you tough.
"Sometimes you've got to weave your way through the negative and make something better of yourself. Growing up in these streets, it can make or break you. It puts chips on your shoulders, growing up around here. But we're very passionate about our city, about just giving back. And about changing lives."
And given that Lynch's hellacious running style is about as subtle as a Too $hort lyric, it's nearly impossible for those who know him best not to equate "Beast Mode" with the city in which it was born.
"It is truly rough here," Parker said. "Oakland will swallow you up, if you allow it to. But if you're strong-minded and know what you want in life, you can make it, and you're gonna have some tools in your toolbox.
"He's running with Oakland on his mind. He's showing 'em, letting 'em know that the struggles in this game are real. He's saying, 'These people are trying to stop me, saying I couldn't make it, that I can't do this, I can't do that. And I'm gonna show you.' "
When his work is done, rest assured that Lynch will show love to his hometown on a level that is truly touching.
"Marshawn is Oakland," Parker said. "He is a Town kid. He comes home a lot during the season -- flies in on Mondays, then he flies up probably the last flight on Tuesday, just 'cause he has to come taste the air, gotta come get the smell of it for his upcoming work week. Come outta the airport, smell the air, go to a couple food spots, see a couple friends, and he'll get back home to work.
"So yeah -- he's Oakland, through and through."