GULF BREEZE, Fla. -- Midway through the conversation, as South Carolina running back Marcus Lattimore started to get deep about his destiny last week, the receptionist seated behind a desk just a few feet away started to cry.
As she overheard Lattimore, who was chatting with NFL.com from a plush sofa chair in the lobby of Athletes' Performance at the Andrews Institute, she stood up, walked around her desk and kissed Lattimore's forehead, with tears in her eyes.
"I've just been sitting over there crying as I'm listening," said Judy Pilkington, who has been working the front desk at API for more than four years. "When (Lattimore) got hurt, I prayed immediately. I didn't even know him, but I felt like I knew him. People love him. And now he's here with me. Isn't that precious?"
Norris: Top 12 RB prospects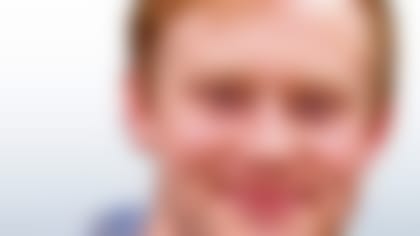 Josh Norris ranks the top 12 running back prospects in the 2013 NFL Draft, providing a round projection for each player. More ...
Pilkington kissed his forehead again -- still crying -- and continued.
"He's awesome," she said. "He's just awesome. I'm telling you. We get a lot of good guys here (at Athletes' Performance). He is ... incredible."
This week, Lattimore temporarily will leave this rehabilitation facility in the Florida panhandle to attend the NFL Scouting Combine in Indianapolis. He won't participate in any workouts. He won't run the 40-yard dash. He'll only meet with team executives, coaches and doctors as he continues his return from a gruesome knee injury that derailed a thrilling college career just four months ago.
And if you think a few dozen meetings at the combine won't do enough to improve Lattimore's draft status, which has been jeopardized by the two scars on his left knee and a third scar on his right knee, you might very well be underestimating the power of his personality, of his drive, of his relentless yet humble belief that he is indeed destined for success.
"Man, I don't know, but I feel like ... after the injury happened, I started thinking," Lattimore said. "I'm destined for this. I'm supposed to come back from this. Maybe it's just to help someone else in the future that's going to go through the same exact thing. Somebody is going to tear his ACL in his sophomore year. He's going to be a great player. Then, he's going to tear it his junior year. Then, he's going to look it up. And he's going to find some motivation in my story.
"I feel like I'm destined for this. I'm not worried about anything. I know I'm going to come back and be great."
In a week at the combine when teams will be combing every facet of a player's demeanor, every element of their background, every inch of their bodies, Lattimore's injury will require him to sell himself beyond the norm.
And he might just be capable of doing it.
A few minutes after two University of Tennessee defenders sandwiched Lattimore's knee on Oct. 27, 2012, abruptly ending a season in which he'd rushed for 100-plus yards three times in eight previous games, something very unusual happened.
Lattimore was on his back at midfield, cringing in pain after his knee had twisted in the opposite direction of his body, when his teammates began to leave the bench. The entire team -- literally every player -- surrounded their leader as trainers worked.
Then, the strangest part: Dozens of Tennessee players started to also do the same.
"I've never seen that happen before," said Lattimore, who has only watched a replay of the injury one time since it happened. "I didn't know what to think, to tell you the truth. But there was a lot of support. So much support. Not even just from Tennessee. I actually got letters from South America. It was crazy. One person wrote, 'I'm not a football fan, but I've heard about you, and I'm praying for you.' "
Fifteen minutes after the injury, LSU coach Les Miles tweeted, "So sad to see the injury to Marcus Lattimore. Strong kid! We wish him well in his recovery." And 16 minutes after that, former Georgia linebacker David Pollack tweeted, "I never heard Marcus Lattimore talk about himself over the last three years. Unselfish and as humble as a kid as I've ever been around."
It's difficult to pinpoint why Lattimore, in the months since his injury, earned such support. Maybe it was his play on the field, which included such accolades as being named Sporting News NCAA Freshman of the Year during his only fully healthy season. Maybe it was the gruesome nature of his knee injury. Or maybe it is, indeed, a personality that lights up the people around him.
Mayock's prospect rankings
NFL Network draft expert Mike Mayock has unveiled his initial position-by-position rankings of the 2013 NFL Draft prospects. See which players made the cut. More ...
"I'll tell you what -- that's what this guy does," said physical therapist Stephen LaPlante, who works with Lattimore and dozens of other high-profile athletes after they've been surgically repaired by highly esteemed surgeon James Andrews. "People come in here, and they know who he is, and they see what he's doing, and he's doing it with a huge smile. I think he motivates people.
"Patients will ask me, 'How far out is he?' He's three months from surgery. But nobody believes it. He's three months out and he's already doing this much? It's pure motivation for people."
RG3: 'He's going to be awesome'
Walking from the lobby of API toward a therapy pool, the same one currently being used by Washington Redskins quarterback Robert Griffin III during his own knee rehabilitation, Lattimore had a sudden impulse to show off the strength in his knee.
He started skipping down the hallway, bounding from each foot as his head flirted with the ceiling, each leap made while wearing an ear-to-ear grin.
"See?" Lattimore said. "I could be running on land right now. No problem."
But Lattimore isn't regularly running yet, on the orders of his doctors and physical therapists, who continue to monitor his progress since he had surgery in December. Lattimore instead says he's saving that next step until "the day" he returns from the combine. LaPlante has a different plan for him, hoping to wait at least another month, but not because Lattimore can't do it now.
Instead, he wants to keep Lattimore on an appropriate schedule, even as the running back continues to climb quickly beyond original expectations. For now, Lattimore continues to do extensive exercises on land while limiting his running to an underwater treadmill.
"He's been here a little over seven weeks," LaPlante said last week. "So from where he came when he got in here with this massive limp, when I'm saying he should still be on crutches, to where he is now in a four-month period, it's just amazing. He's one of the best guys I've ever worked with as far as work ethic."
LaPlante, however, said it's difficult to compare Lattimore's progress to anyone else. Very few people -- and no, not Adrian Peterson -- have suffered a knee injury as extensive as Lattimore.
"Three-ligament injuries are not normal. He is, in my opinion, further along than I would expect him to be at this time," LaPlante said. "But to say that's any different than anyone else, that's tough to say. It's hard to compare. You don't see these injuries very often.
Brandt: Early look at the Hot 100
Before the draft season kicks into high gear, Gil Brandt takes stock of the best prospects with his first Hot 100 list of 2013. More ...
"The swelling is minimal to none. His muscle strength is excellent. His gait is perfect. So he's definitely on the right track."
Whatever the short-term outlook, there is little discrepancy on the long-term outlook. Lattimore said he believes he will, indeed, be able to play football during the upcoming NFL season. And he plans to reward whichever team drafts him.
"My goal for these next few months is to participate in South Carolina's pro day (on March 27) or push our own personal pro day back to April," Lattimore said. "Man, I honestly feel like I can play this year. I know my body. I know if I'm progressing the way I am, I'll be ready to play. I won't have to sit out a year.
"Whatever happens, once I get on that team, if they feel like I should wait a few games, if they feel like I should sit out a year, it's what's best for me. I at least want to put some input into it and see how I feel."
Then what? Well, perhaps the most poignant opinion comes from Griffin, the player who has watched first-hand as Lattimore rehabilitates his knee. In a text message, Griffin's endorsement of his new friend was a simple one: "He's going to be awesome."
A few weeks after Lattimore suffered his second season-ending knee injury in as many years, the outpouring of support was constant. But it was a pair of text messages -- both from unfamiliar numbers with 305 area codes -- that truly inspired Lattimore to maintain his focus.
"Frank Gore had multiples surgeries on his knees, and he's been playing in the NFL for eight years. Willis' injury was pretty much the same as mine, and Dr. Andrews also did his. Both guys tell me the same thing.
"They would have been top-five or top-15 picks if they hadn't gotten hurt. But it made them appreciate the gift that they do have. And that's how I look at it now."
Lattimore continues to talk to both players during his rehabilitation, getting advice and inspiration from them. McGahee, like Lattimore, declared for the draft before recovering from tears to his ACL, MCL and PCL. While McGahee was still picked in the first round of the 2003 NFL Draft by the Buffalo Bills with the 23rd overall selection, Lattimore might need to wait slightly longer to hear his own name called.
"I think he goes somewhere in the third round," NFL Network draft analyst Mike Mayock said Monday. "And that's, you know, if he was a late-one to a mid-two (when) healthy. I think a third-round pick is fair for him, because you're probably going to get your most production starting two years out."
Mayock added that Lattimore's interviews with teams at the combine will nonetheless be important with regard to his stock, since teams will want to know the risk will be worth it. That, again, is where Lattimore's potential becomes even more intriguing.
He isn't likely to simply ease any wonder about him -- he is instead more likely to impress his interviewers to the point that he gets an increased grade on their draft board. His personality and attitude are what make Lattimore a major asset in the locker room, as much as his skills make him an asset on the field.
"I've been fortunate," Lattimore said. "I've been fortunate to be surrounded with great coaches. I have great parents. Great people. I hung out with the right people.
"I'm going to continue to be myself. It's worked since middle school. It worked in high school. It continued to work in college. And I don't see why it won't work at the next level. I'm being myself. I'm doing everything I can. I'm working hard, I'm keeping my faith in the Lord, and that's all I can do."
'It happened for a reason'
For the next two months, Lattimore knows he must continue to show teams why they'd be wise to invest in him. But he isn't currently working so hard to get drafted -- he is also focused on making an impact in the league as soon as possible.
Since his knee injury occurred, Lattimore said he's never felt sorry for himself, never felt any resentment for his misfortunes. Yes, shortly after the injury, he was very down. But it was just days before his mentality changed for good.
"I remember so many guys in high school and college who would kill to be in my position right now, even with the injury," Lattimore said. "They'd kill to be in a position to go to the NFL and do what you dream. And the main things I feel like, I can't take this for granted. Not one day. Ever.
"I'll never complain. Ever since this happened, I'll never complain about anything in my life."
And so, Lattimore pushes forward. He continues to work toward a full recovery from the gruesome injury that inspired compassion from a nation of college football fans. He continues his efforts toward paving a legacy that will be known for much more than the misfortunes that abruptly concluded his college career.
And he will do so without looking back and wondering what would have been if those two Tennessee defenders had never met his knee at the same time. He'll look to the future, when he plans to prove this was all part of making him a stronger person, the kind of person who inspires those around him and drives them to cheer him on.
"I've been hit 2,000 times in my career; I get hit in my knees 80 percent of the time. It just happened that one time. There's nothing that could have changed it. It happened for a reason. And now, I'm going to prove it."