I blew it. You all know I love to play Madden against the neighbor's kids and some dudes online in Denmark. I also love the NCAA game, too. (I wish they still made it.) I finally retired my NCAA franchise a few weeks ago after I led UNLV to championships and Heisman trophy winners; along with other awards.
But it was time to move on. So, I restarted dynasty mode with the old rosters from 2013. I contemplated many teams. Finally, I set it to the Pac-12, closed my eyes, scrolled right and let the chips fall. I landed on Stanford, which was cool. Kevin Hogan is a nice quarterback, plus Ty Montgomery and Barry Sanders. Oh, I'm sorry, I meant QB No. 8, WR No. 7 and RB No. 26. Sorry for the confusion.
I got six weeks into my season and the thought hit me: Why didn't I restart with LSU? I could have had Zach Mettenberger, Jeremy Hill and Jarvis Landry. Oh yeah, and some dude named Odell Beckham Jr. Oh wait, sorry, I meant QB No. 8, RB No. 33, WR No. 80 and WR No. 3. Forgive me.
Now I'm torn. I already made it through one season as the Stanford OC, which was awesome. I took the head coaching position at UNLV because I'm a creature of habit. Should I restart again and use LSU? I kind of feel like I should. Just writing this is talking me into doing just that. I've already done the UNLV juggernaut thing. Thank you all for the indulgence here.
All right, let's get back to Madden football. We have some new rankings after a holiday break. So, let's get down to it.
Odell Beckham Jr. saw his point total increase over the past week, too. He's up two points to 90 OVR. "But Rank, how can he go up if he doesn't even play in a game?" Because he's Odell Beckham Jr. The greatest receiver in NFL history.
Cam Newton also increased to 89 OVR. He doesn't always look pretty when he does it, but Newton has played well down the stretch and the Panthers are in the playoffs for the second consecutive year. Think about that. Newton is in a division with Drew Brees and Matt Ryan, yet he went back-to-back.
Poor Andy Dalton. Great kid. Funny. Wonderful person. Not sure he's the guy who is going to lead the Bengals to a playoff win. Actually, I'm pretty sure of it. Sure, A.J. Green was out, but did you think the Bengals were just one player away from beating the Colts? I don't know if this team needs a shakeup at the top, or maybe just at quarterback, but something is wrong here. The Bengals can get to the playoffs, but do nothing with it. Maybe that's fine for Cincinnati. But I'd be frustrated as a Bengals fan. Dalton is down three points to 81.
Wait a minute, down three points to 81? How is this possible?
Trent Richardson lost two points to 76 OVR. That's amazing. The fact his rating is over 70 really is amazing.
Six predictions for the sports weekend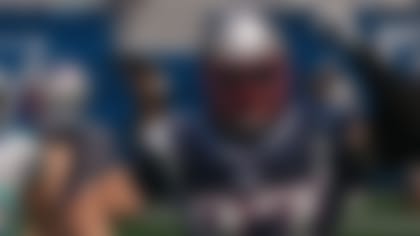 6.Peyton Manning will have a terrible statistical game against the Colts, which bodes well for Denver. Manning is at his best when he's not good. Don't believe me? Manning had a playoff passer rating of 70.5 during the 2006 AFC playoffs. The Colts won the Super Bowl that year; the only year Manning won the big one. (He was blown out in his other two Super Bowl appearances. Yes, I would categorize a 14-point loss a blowout, so sue me.) Manning will struggle and the Broncos will win. How unfair is it that the Broncos will be in the AFC Championship Game? It's crazy. Manning's Madden rating is down to 95 OVR after a two-point drop. This is just working out great for Peyton.
5. I have a lot of respect for the New England Patriots, but this is going to be a tough draw for them. Joe Flacco has topped a passer rating over 100 in five consecutive playoff games. The Patriots are 12-3 at home in the playoffs under Tom Brady. Two of those losses were to the Ravens, though. This will be a close game. I just have a feeling the Ravens will win this one. That's the analysis. The Ravens always find a way to pressure Brady. John Harbaugh is one of the most underrated coaches in the league. Wow. The Ravens are going to the Super Bowl again. They sleepwalk through the season, but turn it on huge in the postseason.
4. The Cowboys will beat the Packers. Green Bay has already built in their excuse with Aaron Rodgers' injury. I don't want to downplay his injury, but didn't Tony Romo break his back? Wasn't Cam Newton in an awful car accident? All we hear about is Rodgers' calf. How is this possible? This Cowboys team is built perfectly for this game, and you know one team from the Wild Card round will advance. So wait, if the Cowboys are going to win, do I still have to go with the Ravens? Man, I might change my mind on that again.
3. Rodgers' calf will replace Jack Youngblood's broken leg in playoff lore. ICYMI, Youngblood played in Super Bowl XIV with a broken leg, but the media is setting Rodgers up to be the second coming with his pulled calf. Seriously, dude, eat a banana or something. I crushed my calves at the gym the other night and you don't see me complaining.
2. The Seahawks will crush the Panthers. I like this Panthers team. They showed true grit. But the Seahawks look like the biggest lock of the weekend, which should concern them, I guess. Russell Wilson is the biggest difference maker. A Super Bowl with Wilson vs. Flacco wouldn't jump off the page, but it would be a great matchup of the last two Super Bowl-winning quarterbacks who both seem to play their best in the playoffs.
1. Ohio State will beat Oregon. What, I'm not allowed to have an opinion on college football? OSU has played well over the last three weeks. Even with a third-stringer in Cardale Jones. He's not your typical third-string caller, though. Well, maybe for Urban Meyer. He once had Chris Leak, Tim Tebow and Newton on his Florida roster. So Jones is like his Cam at this point. So I don't see a huge dropoff to him. Ohio State has the speed to keep up with Oregon. They are better athletically than Florida State. So, I see the Buckeyes winning this one.
If Meyer ever wants to prove himself, though, he should take over a program like UNLV and lead them to the title. It's easy to build an SEC team or a Big Ten team into a power. Do it on the lower levels. Go to San Jose State. Go to Hawaii. Go to UCLA. Just kidding, Bruins fans. But the point is, you've proven you can do it at a high level. Let's see you do some real work to build a program.