We're smack dab in the middle of the NFL season, and the fight for the Madden Next Gen crown is heating up. Several prominent players in the mid-80s made their case for a healthy ratings bump on Sunday, while the Geno-coaster took a turn for the worst in Week 8. You can view the whole Next Gen team here if you need a refresher before reading on.
After hitting a rough patch during the first quarter of the season, Colin Kaepernick has found his legs. Literally. The 49ers have finally unleashed Kaepernick to run the football, and he had his finest running day so far this season. Kap rushed for 54 yards on seven carries, including two touchdowns. He also had an efficient day throwing the football, completing around 63 percent of his passes with one touchdown. Kap's arrow is pointing up prominently once again. Meanwhile, in the NFC East Prince Amukamara reminded Giants fans why he was a first-round draft pick, when he notched five tackles and a forced fumble in the Giants' defensive win over the explosive Eagles offense. Lastly, Freddy Morris found the end zone after getting shutout last week at the hands of some serious Shanahanigans. He also racked up 93 yards on 17 carries for an average of 5.47 yards-per-carry. Defintely a good day for Morris, aside from coming up empty in the win column.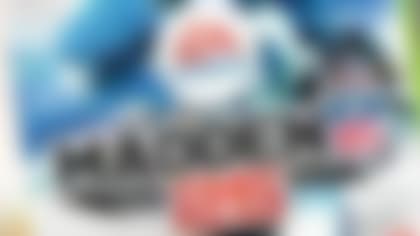 We're handing it off to you. Let your voice be heard. Help EA rate these NFL players for Madden NFL 25. More...
Luke Kuechly refuses not to make an impact in a NFL game. While he didn't set the world on fire, he registered eight total tackles in Carolina's blowout win over the Tampa Bay Buccaneers on "Thursday Night Football." Ryan Kerrigan should stay in the 90 club after registering a sack and a forced fumble in Washington's losing effort against Denver. For the third week in a row, Chandler Jones made a difference for the Patriots on defense, this time amassing six total tackles and blocking a Miami field goal attempt. While he didn't make waves in the stat sheets, Nick Fairley and his defensive tackle compadre Ndamukong Suh were relentless on the line of scrimmage against the Cowboys, pushing Tony Romo around in the pocket all afternoon.
Last week Geno Smith and the Jets beat Tom Brady. This week? Geno threw two interceptions that were each returned for touchdowns as the Jets were obliterated 49-9 by the Bengals. Chalk this one up as a "learning experience" for the talented rookie out of West Virginia. After two rock-solid performances filling in for Steven Jackson, Jacquizz Rodgers saw his touches and production plummet with Jackson returning to the lineup this week. Jackson was far from productive (11 rushes, six yards), however, so Rodgers could see his number called more often again next week. Despite Andy Dalton lighting up the scoreboard against the Jets defense, Tyler Eifert only managed two catches for 23 yards. It seems as if Eifert is still finding his place in the Bengals offense, as he has the size and talent to be more productive than he's been thus far in his rookie campaign.
- Follow Alex on Twitter @AlexGelhar for the latest Madden updates, actual NFL analysis and attempted snarky pop culture commentary