I totally get Michael Vick. The backup Jets quarterback admitted this week that he was ill-prepared to play for his squad against the Chargers in Week 5. I totally get that. If my company was going to pay for me to go on a weekend trip to San Diego, the last thing I would probably do is work. I would be Yelping the hell out of San Diego, figuring out which Gaslamp Quarter spots I was going to get to. Being a quarterback would fall way down on that list.
And with a steady influence like Geno Smith as the starter ahead of you, why would you ever imagine a scenario where Geno might get pulled? He's a strapping young man with his whole NFL career ahead of him. How could going on the road against the best team in the AFC end horribly for him?
Oh yeah, that's right. That's exactly why you would prepare for such a situation like this. Geno isn't great when you compare him to other NFL quarterbacks. (I know, such an unfair expectation, forgive me.) So you must prepare.
Instead, Vick entered the game not knowing what the (expletive) he was supposed to do. Similarly to the way you pick up a team you've never used before on Madden, like the Titans-I never use the Titans-and try to make it work. Normally I do well (not really) because, well, I'm pretty rad (not really). But you can't just pick up a computer-generated offense and master it. So I have to imagine the real thing is somewhat more difficult, and could have more painful results as a consequence.
I mean, it's not like somebody lost feeling in their legs while innocently playing a game of Madden at home on Cinco de Mayo this year. (Yes, that was oddly specific.)
But I guess the one take away from all of this is it seems like the job I've aspired to have my whole life is backup quarterback to the New York Jets. Because dang, you're not expected to do (expletive). Not even tell time correctly.
All right, let's check the movers and shakers via EA Sports Madden NFL 15.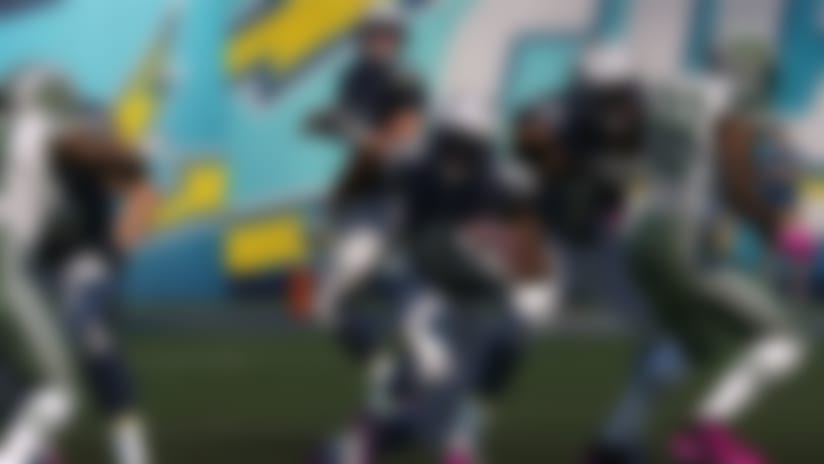 Branden Oliver had a breakout game against the New York Jets. How great was he on Sunday? Both Brenden Oliver and Brandon Oliver were trending. He gains four points to 75 OVR. That's Branden Oliver who goes to 75. Not sure about the other guys.
Andre Williams became the man for the Giants in the wake of Rashad Jennings on Sunday. He filled in more than capably, and was rewarded with a four-point boost. Williams is now a 71 OVR.
Zack Martin was a surprise pick for the Cowboys in the 2014 NFL Draft. I was there. I remember the roof on the verge of being blown off Radio City Music Hall in anticipation of Johnny Football being drafted. The Cowboys did the smart thing (yeah, I know, right?) and took the guard from Notre Dame.
There was a lot of blame to go around for the Jets on Sunday, so both Smith (73 OVR) and Vick (75 OVR) took two-point deductions apiece. The good news here is neither player understands what this means, so they'll probably think that due to the adjustment to the Eastern time zone, this is actually a positive move. Let's not ruin it for them.
Six bold predictions for Sunday
6. Smith will set his cellphone clock to adjust to the time zone automatically. Seriously, what the hell is he thinking? I always have my S5 programed to adjust to the time zone I'm landing in. I do keep one clock on local time here so I know if I'm calling my wife way too early. But even then, I can do the (expletive) math.
3. The Dallas Cowboys come out firing in Seattle. DeMarco Murray runs wild. The offense plays well and the defense even rises to the occasion. The game is tied late, and because of an injury, Tony Romo is asked to hold on a field goal attempt by Dan Bailey. The snap is made and Romo...wait for it...gets it down and the Cowboys take the lead! But then Russell Wilson hits Percy Harvin on a 58-yard touchdown reception for the winner. Be honest, Cowboys fans, you'd take that, right?
2.Eli Manning continues to thrive in his new offense as he throws a pair of touchdowns to Odell Beckham Jr. as the Giants win convincingly over the Eagles. Oh man, it feels really dirty to write that. I'm sorry, Eagles fans. You know I have your back. But can't you just feel a loss like this coming? Trust me, I hope I'm wrong. I'll turn over my Chuck Bednarik photo.
1. The Broncos bus pulls up to MetLife Stadium and Peyton Manning breaks out into a cold sweat as he remembers what happened the last time he played in that park. And then C.J. Anderson is all, "But dude, it's the regular season, you own in the regular season." And then Manning gets all "Rampage" and throws nine touchdowns against the Jets in the first half before he's pulled. In the postgame press conference, Manning is asked what got over him, and he's scared to admit, "Man, I don't...I don't remember."