My franchise in Madden is a season ahead now. In the 2017 season, Brock Osweiler is currently leading the NFL in interceptions. I guess it's art imitating life? But virtual Bill O'Brien clearly didn't see the writing on the wall.
The real Bill O'Brien finally pulled Brock out in favor of backup Tom Savage. (Just so we're clear, the only legit excuse for not hearing about this would be you were too busy seeing Rogue One multiple times.) O'Brien has had a rough go this year. The Texans offense has been stale most of the season, and Osweiler has thrown just three touchdowns and seven interceptions in his last five games. Osweiler has just four games all season where he threw more TDs than INTs.
Though the numbers aren't great, it had to be a tough decision for O'Brien. For one, he has 72 million reasons why Brock should've been getting snaps. Second, I don't think he plays Madden, so he doesn't have the ability to play future seasons and clearly predict the future like we do. In fact, I'd bet there's a rule in place preventing that. They might even get tested just like the players. Instead of testing for PEDs, a head coach's PS4 and Xbox One are subject to league inspection. I haven't been able to confirm any of this though.
You know who probably does play Madden though? Tom Savage. Did you see the amount of targets went DeAndre Hopkins' way? A whopping 17! That's a guy who's played Madden and knows who his best player is. What's that you say? Feeding your best receiver isn't Madden, it's just good football, not a Madden strategy? I see what you're saying, but it's not fitting my narrative, so I'm choosing to ignore it.
Let's take a look at these ratings ...
The Seattle Seahawks secondary may not be as stout as it was with Earl Thomas in the lineup. But it still has some studs. Linebacker Bobby Wagner is currently the league leader in tackles and added to that total with seven tackles and two QB hits against the Rams last week. He's up two to 92 OVR.
Brandin Cooks isn't the most consistent receiver in the league. Part of that is that his QB loves spreading the ball around. But his speed makes him the ultimate deep threat with Brees at the helm. Three of his touchdowns this season came from 65, 87 and 98 yards out. His 65-yarder came against the Cardinals in Arizona where he amassed 186 receiving yards. He's up one point to 87 OVR.
The Atlanta Falcons offense is loaded with young talent. Devonta Freeman and Tevin Coleman are the best pair of running backs on any team in the NFL. It might've been against the hapless Niners defense, but Freeman ran for 139 yards and three TDs on them. He's up one to 88 OVR. Edging closer to Club 90.
Despite the early struggles, Kirk Cousins was in a very winnable game against Carolina on Monday night. He managed 315 yards, but lost the ball twice with an INT and a fumble. They needed that win for a playoff berth within reach. It's going to be an interesting offseason for Washington. Cousins is down one to 83 OVR.
The Jets' problems on offense are aplenty. But you can usually depend on a receiver as talented as Brandon Marshall to make some things happen. Last week's game saw two Jets QBs taking snaps and Marshall saw a ton of targets. But he managed just one catch for 16 yards with 11 targets. That's ... well, it's not good. He's down three points to 85 OVR.
I have to talk about Brock again? I almost feel bad for all the heat he's taking, but then I remember that his contract included $37 million guaranteed including a $12 million signing bonus. He was already sitting pretty financially, now he's actually sitting on the sideline. See what I did there? I'm ashamed. Anyway, he's down one point to 74 OVR.
Six Bold Predictions for Week 16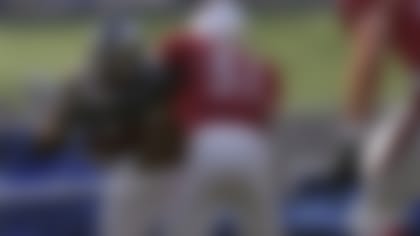 6. So I've been wrong about this before, but I'm going to keep saying this until it happens. Even a broken clock is blah, blah, blah. Todd Gurley, at home, against the Niners defense. You know, that same Niners defense that just let the Falcons run up about 250 total rushing yards. That same defense that let Bilal Powell go for about 180 total yards alone. You see where this is going. This will mark Gurley's first game with over 100 rushing yards this season. He'll get 120 yards and two TDs. It might not mean much for this season, but Gurley is in a position to make the best sales pitch possible to their next head coach.
5. The Bucs have slowed down their offense a bit. They're going for a balanced attack and because of that, Mike Evans is seeing a lot fewer targets. Tampa played the Saints in Week 14 and it was a bit of snoozer with Evans seeing eight targets with four catches and 42 yards. This week, they're going to expose the Saints secondary with Evans. The Bucs' star receiver is going to see at least double those targets and he'll bring in 130 yards and two touchdowns in a shootout with New Orleans.
4. The Patriots will beat the Jets. OK, stick with me here. It's not that bold, I know. But it's worth mentioning for one reason. With a win this week, Bill Belichick will get his 200th win as New England's head coach, becoming just the fifth coach to do so with one team. He'll join Tom Landry, Don Shula, George Halas and Curly Lambeau. Belichick will also have the highest winning percentage of anyone in that group. The prediction isn't that bold, but that accomplishment certainly qualifies.
3. It's not a big surprise that the Seahawks will beat a struggling Arizona Cardinals team in Seattle. Since he's basically the Cards' entire offense, I see David Johnson totaling over 100 yards and a touchdown. With that, Johnson will tie Barry Sanders' NFL record with 15 consecutive 100-yard games. Sanders shared the MVP title with Brett Favre in 1997 when he set that record. With MVP-level numbers like that, it makes you wonder how much worse it would get for the Cardinals without Johnson.
2. The Kansas City Chiefs need a bounce-back game after last week. Thankfully, they're in KC to take on the Broncos. Justin Houston is going to make his presence known. Since 2013, only J.J. Watt has more sacks (50) than Houston (44), with Von Miller not far behind (43.5). The KC crowd is going to feed Houston as he tears through the Broncos' O-line with six sacks and ties Watt's number.
1. The Colts steamrolled a strong Minnesota Vikings' defense last week. They're in full playoff mode right now, and they have to be. The Colts have won four straight road games and have outscored their opponents by an average of 18 points in those games. That's bad news for a Raiders team with a quarterback that's clearly hurting. Andrew Luck will throw for 300 yards and three TDs in a Colts' 35-17 win over the Raiders in Oakland.