There comes a time in life where you're officially the "old" guy. It's the time you realize your hair is thinning when you see your scalp in a photograph. It's the time you're actually hearing an argument that LeBron is greater than Michael. It's the time you realize you're closer to 50 than 25.
But I'll heed the wise words of Mr. Bob Dylan. "Ah, but I was so much older then, I'm younger than that now."
Now, let's get to this week's ratings...
Some of those positive labels attached to millennials are special, confident and team-oriented. And one guy who personifies those characteristics has been Dallas Cowboys rookie Dak Prescott. Just 23, born the week "Poetic Justice" was number one at the box office, Prescott already has Cowboy rookie records in wins (10), passing yards (2,835) and passer rating (108.6). After his performance against the Washington Redskins in Week 12, he's up two points to 84 OVR.
Safety Landon Collins has been the lynchpin of a New York Giants defense which is the most improved in the league. Collins was recently named Defensive Player of the month after recording 30 tackles, a sack and three interceptions in November.
Tyreek Hill did something that hasn't been done since Gale Sayers in 1965. Hill had a rushing touchdown, a receiving touchdown and a kickoff touchdown in the same game. The speedy Kansas City Chiefs wide receiver should be going up in OVR.
Injuries have prevented Indianapolis Colts cornerback Vontae Davis from being the shutdown corner he usually is. It's now showing on the field and in his OVR
Nelson Agholor went from being a first-round pick from 2015 for the Philadelphia Eagles to riding the bench in Week 12. Agholor has failed to record a 100-yard game all year. Hence, a one-point dip.
When you get burned by a 76-yard touchdown pass late in the fourth quarter, it's no wonder you will drop two points. Sorry Phillip Gaines, you can thank Bennie Fowler for that.
Six bold predictions for Week 10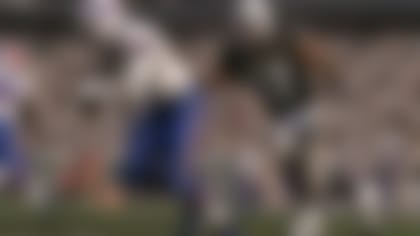 6.The New York Giants and Pittsburgh Steelers have two of the best wide receivers in the league. Odell Beckham and Antonio Brown have 33 touchdowns apiece since 2014, tied for most in the NFL. This weekend, these two superstars square off. However, I'm predicting that two other players are going to shine for these teams Sunday. Watch for Victor Cruz to go for more than 100 receiving yards and Le'Veon Bell to rush for 150 and a touchdown. In this battle of the 2004 Draft quarterback sweepstakes, I'm giving the edge to Eli and the Giants.
5.As a proud Florida Gator graduate, I know we're 24-point underdogs against Alabama in the SEC Championship. So the chances we pull the upset are similar those poor Jared Goff has of defeating the New England Patriots this weekend.  So, let's go bold or go home. Goff pulls of the miraculous and the Gronk-less Patriots fall to the Rams. And the Gators shock the world.
4. The Oakland Raiders are relevant again. Sure, C&C Music Factor of Carr, Crabtree and Cooper get all the publicity, but the man who is most important is Khalil Mack.  The third-year defensive end and outside linebacker already has eight sacks on the season. Facing the Buffalo Bills this weekend, poor Tyrod Taylor is going have a rough day with Mack chasing him all over the field. Mack goes for three sacks and forces a fumble.
3.Mike Evans is having quite a career so far. He's already crossed 1,000 yards and joined Randy Moss, A.J. Green and John Jefferson as the only receivers with 1,000 yards in each of their first three seasons. He's by far Jameis Winston's favorite target and he's been fed actively in every game this season. Evans will record 150 yards and two TDs against San Diego.
2. The Jags have had a rough go of it this year. A lot of that is stemming from inconsistent play from Blake Bortles. Among all QBs with 1,000 attempts in the last three seasons, Bortles has the NFL's worst passer rating at 80.2. This week, he plays the Broncos' top-rated pass defense. I'm basing this on nothing but gut feeling, but this has the looks of being the upset game of the week. Look for Bortles to throw four TDs against Denver.
1.Aaron Rodgers has finally started looking like the MVP we've seen before. This week, the Packers host the Texans and their solid defense. Rodgers will still be solid, but I think the running game finally gets going for Green Bay. Between Christine Michael and James Starks, the Pack will get a pair of TDs and 130 yards on the ground.