I swore going into this season I would limit my Peyton Manning bashing. True, I've been a little hard on Archie Manning's second favorite son after Cooper, so maybe I could lighten up a bit.
But then Manning Week 1 happened and Manning went out and put up 175 yards and an interception. I'll bite my tongue for now, and by that I mean at least one more week.
Come on! It's a new year, a new beginning and, of course, new ratings.
Buffalo Bills quarterback Tyrod Taylor moved up four points to 76 OVR. He finished the game against the Indianapolis Colts with a 123.8 passer rating, plus he put up 41 rushing yards. Whether he continues to climb in the rankings remains to be seen, but Bills fans should be excited to see him in the weeks to come and dial him up on Madden.
James Jones' return to the Green Bay Packers saw him finish with two touchdowns and a three-point bump in Madden up to 84 OVR. With Jordy Nelson out for the year, Jones should see a lot more targets coming his way, especially in the red zone.
Carlos Hyde rushed for 168 yards on 26 carries Monday night against the Minnesota Vikings, scoring two touchdowns in the process. He saw a two-point bump up to 79 OVR. At season's end we'll look back and say, "Remember when Hyde was only a 79 in Madden? Cute."
Adrian Peterson is down two points to 93 OVR. He was definitely a little rusty in his first game, but don't expect him to be on this side of the ratings too often.
Reigning league-rushing champion DeMarco Murray saw a two-point drop down to 92 OVR after his 9-yard rushing performance against the Atlanta Falcons last week. A sign of things to come or just a fluke start? With his old team coming to town Sunday, you can bet Murray will be motivated to at least double that total.
Tampa Bay Buccaneers quarterback Jameis Winston took a two-point tumble down to 79 OVR. I guess the good folks at Madden figured his confidence took enough of a hit after his performance Sunday.
Titans rookie quarterback Marcus Mariota became the first player since 1960 to record a perfect passer rating in his NFL debut and became the second player since 1960 to throw four touchdown passes in his debut. The former Oregon product looked like a 10-year veteran out on the field. All that and he only saw a two bump up to 80 OVR. Granted, it's only one game, but his rating is only one point better than Jameis Winston? Hmmm...
Six bold predictions for Sunday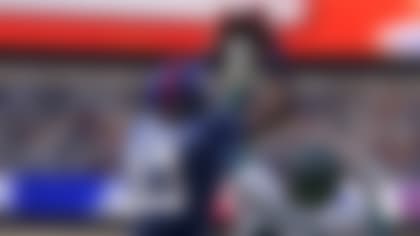 6. The Rex Ryan bus in Buffalo will keep rolling as the Bills pull off the victory at home against the rival ("nobody likes them") Patriots. After a huge season-opening victory over the Colts last week, it's easy to think Ryan's team will back to Earth come Sunday. After all, the Patriots are 13-2 in Buffalo since 2000 and have won 10 of their last 11 games in western New York. Plus, Bill Belichick is 12-2 against quarterbacks making the first or second start of their NFL career, which Tyrod Taylor will do Sunday. The two losses? Andre Ware of the Lions in 1992, and Mark Sanchez of the Jets in 2009, whose head coach just happened to be Ryan. Circle the wagons, Buffalo.
5. After the offseason losses the San Francisco 49ers endured, you'd figure Monday's game against the Vikings would've been somewhat competitive, considering many people think Minnesota is a sleeper playoff team. But the 49ers dominated that game defensively. New head coach (and man most likely to play the Walrus in a stage adaptation of "Alice in Wonderland") Jim Tomsula showed Niner fans why they should be cautiously optimistic about this year. I expect his squad to ride Monday night's momentum into the Steel City and pull out a victory against a team that's sorely missing Le'Veon Bell and Martavis Bryant. Oh, and I also predict Mike Tomlin's headset will work just fine.
4.Adrian Peterson did his best Trent Richardson impression last week, racking up 31 yards on 10 carries, leaving many to wonder (i.e. every fantasy owner in the world) whether the star running back's year off took a toll on his game. I expect Peterson to bounce back in a big way Sunday when he takes the field in Minnesota for the first time since Week 13 of the 2013 season. Peterson has averaged 128.2 rush yards per game against Detroit at home during his career, and has failed to rush for over 110 yards only once. I expect Peterson to hit the 150 mark with ease.
3. I'd be remiss if I didn't write the season's first Madden article without mentioning cover boy Odell Beckham Jr. Unfortunately, with great power comes great responsibility (I believe Pauly Shore said that line in the movie "Jury Duty"), and being the face of Madden means you better step up. ODB failed to do that on Sunday night in Dallas, but pump the brakes on any "curse" talk. ODB will remind us Sunday why he's the best young receiver in the game when the Giants take on the Falcons. Remember, too, that Beckham's first career game came against the Falcons in Week 5 last year where he scored the go-ahead touchdown for the boys in blue.
2.Sam Bradford will go off against the Dallas Cowboys. His Monday night outing against Atlanta definitely got off to a slow start, and the end result wasn't what Chip Kelly and the Philly fan base envisioned when they traded for the former top pick. But for a guy who hadn't seen real game action in nearly two years, Bradford definitely showed promise. I expect a 300-plus yard passing, three-touchdown game from the new Eagles general against a Cowboys team that really had no business winning last week against the Giants.
1. The Seahawks lost a heartbreaker in St. Louis to Nick Foles and the Rams, failing to convert on a fourth-and-1 carry by Marshawn Lynch, a play the star running back's mother said was a makeup call for Super Bowl XLIX. With Momma Beast Mode sounding off and the Seahawks hearing the cries from their faithful to open their purse for holdout safety Kam Chancellor, the deck seems stacked against Seattle as it heads to Lambeau Field for a Sunday night showdown, which is exactly why it will win. Pete Carroll and his squad know it'll be an uphill battle if they fall to 0-2 in the NFC West, and if there's any defense that can turn it on when it counts most, it's Seattle's.