Perhaps the Madden ratings gods are in the Halloween spirit as there are some mysterious and downright spooky results in the Week 9 Madden ratings below. We've reached the midpoint of the NFL season, so the quest for the Madden Next Gen crown is only going to get more fierce from here on out. Make sure to let your voice be heard and vote before it's too late. The Next Gen team is made up of 25 of the brightest young stars in the NFL who are relying on you to vote for them and increase their Madden rating so they can be crowned the Madden Next Gen Champ!
Well, well, well, look who finally decided to show up. After a disappointing first half of the season, the Miami Dolphins fed the ball to Lamar Miller 18 times on Sunday, and he responded by posting a season-best 89 rushing yards. Miller was rewarded with a bump up to 76 OVR. Thursday night's matchup against the Cincinnati Bengals could help prove if he's a one-hit wonder, or if this is a sign of good things to come. Colin Kaepernick man-handled the Jaguars in the NFL's final London game for 2013, and continued his ascent up to an 88 OVR. And one week after inexpicably being docked a point, Patrick Peterson bounced back to a 91 OVR. Yeah, that seems a bit more fitting, Madden gods.
A glitch in the Matrix...
I had to scratch my head when reviewing this week's updated Madden ratings, as there was a curious trend appearing. Namely, several players who delivered on Sunday suffered a ratings drop. Antonio Brown, who caught nine passes for 82 yards (and for the record, leads the NFL in receptions) was docked from an 89 to an 88. For what, I have no idea. Similarly, Luke Kuechly registered eight total tackles, which is a solid day at the office. That, however, was not enough for the Madden gods as they docked Kuechly down to an 89 after he'd battled so hard to break into the 90s. Most surprisingly, Chandler Jones took an OVR hit back to an 84, and this is coming off a six tackle performance in which he also blocked a field goal attempt! Clearly, something is not right on the Madden Mount Olympus, as the gods appear angry and are doling out ratings punishments to deal with their issues.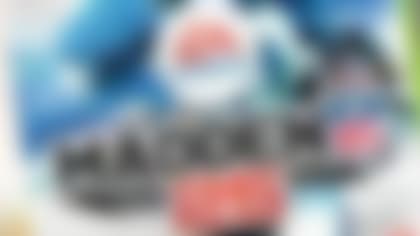 We're handing it off to you. Let your voice be heard. Help EA rate these NFL players for Madden NFL 25. More...
Kicking them while they're down
Randall Cobb lost a point in his OVR rating, dropping from an 89 to an 88 ... while he is on IR and recovers from a fractured fibula. Ouch, Madden ratings gods, that's just cold.
As we've come to expect in the Madden ratings, a downturn on the Geno-coaster's season-long ride means a drop in his Madden rating as well. Geno is back to a 76 OVR, but if history is any indication Geno will play spectacularly this weekend and rebound once again. Nick Fairley's ratings slide continues as he falls to an 88 OVR. Fairley generated consistent pressure on Sunday, but didn't make much noise in the stat sheets which is needed for Madden ratings attention. And deservedly so, Dion Jordan took a hit and fell to a 77 OVR. Jordan hasn't been used as an every down player, but even when he's on the field for the Dolphins he hasn't proved to be a difference maker thus far in his rookie campaign.
- Follow Alex on Twitter @AlexGelhar for his musings on Madden, food, film and of course the occasional insightful football comment