Luke Kuechly will be the only star of the Madden Next Gen team to shine during tonight's "Thursday Night Football" matchup between the Carolina Panthers and the Tampa Bay Buccaneers. Doug Martin is sidelined with a shoulder injury he suffered in Week 7, so the burden is on Kuechly to deliver for the Next Gen team. My guess is that he'll live up to the primetime billing. But, before you sit down for kickoff, check out the risers and fallers for the Madden Next Gen team after Week 7. Several players received their due, while one Next Gen-er continues to be the red-headed step child of the bunch, as he was ignored for a second straight week. The Next Gen team is made up of 25 of the brightest young stars in the NFL who are relying on you to vote for them and increase their Madden rating so they can be crowned the Madden Next Gen Champ!
As we highlighted in the Week 7 recap, Chandler Jones' consistent dominance over the last two weeks was rewarded with a healthy two point OVR bump up to 85. Jones had been relatively quiet to start the season, so it's nice to see him making some noise for the Next Gen team. Likewise, after another solid week filling in for Steven Jackson, Jacquizz Rodgers was boosted up to an 84 OVR. Rodgers was a dual threat in college for Oregon State, and he's proving to be the same in the NFL. He had two receiving touchdowns in the Falcons win over the Buccaneers on Sunday. The Geno-Coaster rolled on once again. After taking a one point deduction last week for his rough outing against the Pittsburgh Steelers, Geno Smith is back up two points to a 77 OVR after playing confidently in an upset win over the New Englad Patriots. Smith made some quality throws and tacked on a rushing touchdown to help the Jets get the victory at home. And finally, after weeks of knocking at the door, Ryan Kerrigan is finally in the 90s, as he went from an 89 to a 90 OVR. Justice was served, for now.
Surprisingly, no players from the Next Gen team were on a bye for Week 7. Randall Cobb, Bobby Wagner, and Casey Hayward were all still out with injuries. Despite Andrew Luck's big day on Sunday, T.Y. Hilton only managed two catches for 27 yards, yet he was able to avoid a ratings hit. On the defensive side of the ball, Dion Jordan notched just one tackle last week, but stayed pat at a 78 OVR.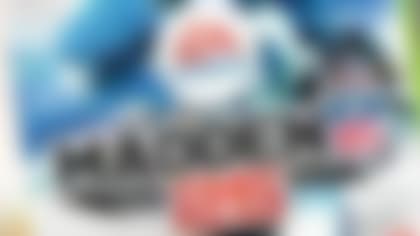 We're handing it off to you. Let your voice be heard. Help EA rate these NFL players for Madden NFL 25. More...
Kyle Rudolph was slighted in the ratings once again. Sure, he only had three catches for 27 yards, but can we really pin that on Rudolph? Josh Freeman had 16 overthrown passes on Monday night. 16! And that doesn't include the passes thrown at his receivers feet, or behind them, or to some guy on the opposite sideline. I guess I can understand the Madden rating gods' hesitance to give Rudolph a bump up given his inconsistency in the stat sheets. But it also makes me wonder how high Rudolph could climb if he had a serviceable quarterback slinging him the rock on a week-to-week basis.
Trent Richardson's production finally caught up with him in the Madden ratings. After being traded to the Indianapolis Colts, most pundits and fans were expecting big things from the guy selected two spots behind Andrew Luck. Richardson instead has delivered a 3.04 yards-per-carry average and two touchdowns through five games as a Colt. There's still time for TRich to rebound, but for now he's down to an 85 OVR. Strangely, the only other Next Gen player to take a ratings hit this week... was Patrick Peterson. Peterson had jumped up to a 91 OVR, but after an average outing on Thursday Night Football last week, Peterson was knocked back down to a 90 OVR. It's unlikely he falls any farther than that, but it just goes to show how quickly fortunes can change in the world of Madden ratings.
- Follow Alex on Twitter @AlexGelhar for his musings on Madden, food, film and of course the occasional insightful football comment