Madden, and video games as a whole for that matter, can be a great escape from stresses in life. A good game can be just as engrossing as a quality movie or TV show, but a video game requires an additional level of focus that can be a stress relief.
So next time you get off work, read the steaming pile of solid gold that are these Madden columns and turn on your console of choice, just remember that NFL players are doing the same thing. Maybe. They totally read this I'm sure.
Seattle Seahawks wide receiver Doug Baldwin told the Seattle Times that he was up late playing Madden after the loss to the Atlanta Falcons. He told the Times, "The reason why I play Madden is because in Madden I can control everything and in the game of life and the game of football you can't. It's kind of like an outlet. When I was sitting there visualizing about all that we've been through, it is hard."
It's always fun to find common place between fans and players. Players are gamers too. So, next time you're shouting at some stranger online with a weird gamertag after you just scored on fourth down, remember that the person you're yelling at might be better at actual football.
This does raise one question for Hawks fans. If people on the team play Madden, why would they throw on the goal line when they have Marshawn Lynch? Too soon? Not soon enough? Wondering if asking questions repeatedly is an effective writing mechanic?
Doesn't matter, let's move on to the ratings...
Jared Cook has always been a tremendous athlete. Every once in a while, he makes a catch that puts his skills on full display. His clutch catch against the Dallas Cowboys was that level of catch, arguably the best of his career. He's up three points to 85 OVR.
Where would the New England Patriots be without Dion Lewis. The Houston Texans' defense were putting tons of pressure on the Pats, but Lewis' breakaway speed gave New England the edge. The Patriots are now 15-0, including playoffs, when Lewis plays. They'll hope that continues this weekend. Lewis is up one point to 81 OVR.
Coming off a tough loss, the Dallas Cowboys are clearly built for success with their two rookie sensations. Ezekiel Elliott, although his season is now over, deserves tons of praise for what he was able to do on the ground. It not only gave Dallas an efficient offense, but Zeke's running controlled the clock, which kept their less than stellar defense off the field. Not taking anything away from Dak Prescott, but Elliott is the Cowboys' MVP. He gets a one-point push, ending the season at 88 OVR. See you in Club 90 next season Elliott.
The Falcons put up some serious points this year. Any defense that played them took a hit in the Madden ratings. Richard Sherman and the Hawks' D is no different. This secondary was still very good, but didn't have that shutdown factor they do with Earl Thomas. Back at full strength, this is dangerous team next season. Sherman was bumped one point to 90 OVR.
And for the point bump of the year, you have Justin Houston. The Steelers might not have scored a touchdown, but Le'Veon Bell ran all over them. Houston isn't the only Chief to take a bump, but he suffered a significant point drop. He takes a five-point hit to 91 OVR. He's maintained his Club 90 status. Hopefully we see Houston at 100 percent next season and he returns to his sack-leader status.
Six bold predictions for the Conference Championships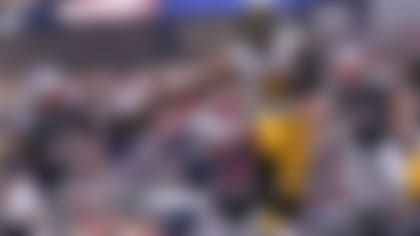 6.Whether you're a Pats fan or a Steelers fan, the focus of this game is Le'Veon Bell. He's been superb in his first two career playoff games and is the reason Pittsburgh is in the AFC championship. With that in mind, the Pats will look to stop Bell, and take their chances on a QB dual, which is a smart move when you have Tom Brady and Ben Roethlisberger not looking like his normal self. But Bell will still get his. Look for a touchdown and a 120 total yards from Bell.
5.Antonio Brown didn't score last time he faced the Pats, but he did total over 100 yards with Malcolm Butler shadowing him. Belichick and his crew will likely keep Brown quiet for the most part with safety help, but that'll be where Eli Rogers comes in. He's proven to be an asset between the numbers and will have almost no attention on him with Bell and Brown attracting most of it. Rogers will have his first 10-catch performance and have TD.
4. Predicting where the Pats score from is tough since it changes week to week. Without Rob Gronkowski in the lineup, there's no sure thing in terms of production outside of Brady. Dion Lewis showed off some game-changing speed. As mentioned earlier, the Pats are 15-0 when Lewis plays. He gives them a new dimension on the ground. Expect 110 total yards from Lewis and two TDs.
3. The Green Bay defense had trouble containing Dez Bryant last week. Now they have Julio Jones to deal with. If you're a fan of DBs, this game isn't going to be pretty. The Packers might have some luck in the first half, similar to Dez, but Jones is a level above this secondary. I see a pair of TDs going Julio's way and 130 yards.
2. The other issue the Pack will have to deal with is on the ground. The Falcons have a great pair of running backs with Tevin Coleman and Devonta Freeman. They might be mostly contained here, except Coleman is the one who's going to break loose. I see him breaking off a couple big plays. Coleman will have over 100 total yards and a TD.
1.Breaking news, Aaron Rodgers is good at this football thing. Despite the absurd amount of weapons the Falcons have, Rodgers is the hottest QB in the league. The protection he's getting from the O-line, the extra time he's able to give himself by scrambling and the insanely difficult throws he's making look easy spell disaster for the entire league at this point. The Falcons deserve tons of credit and look like they'll be an NFC powerhouse moving forward. But right now, it's Aaron Rodgers' world and we all just live in it. He'll lead the Pack to the Super Bowl and we'll see him face Tom Brady.