NEW YORK - Just about every player in the NFL takes issue with their Madden rating. Cam Newton might have taken it a step further. Newton appeared with Michael Vick and Marshall Faulk at the "Madden NFL: 25 Years and Running" exhibit at the Museum of Moving Image in Astoria, New York and expressed a little jealously over Vick's speed rating.
That might be putting it mildly.
Newton went on, at great length, about his speed rating of 85 (though he told the crowd it was just a 78).
"I should be a 99," Newton told me. Though you get the feeling his tongue is firmly planted in his cheek, there is a still a little bit of resentment about it. It's a source of pride for many of the players.
A.J. Green walked the "blue" carpet at the Madden Bowl XX and said he always checks his rating once the game comes out. Because if he didn't, he would certainly hear about it on social media. And of course, Green felt his speed rating was a little low, too.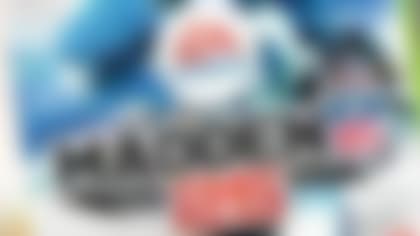 We're handing it off to you. Let your voice be heard. Help EA rate these NFL players for Madden NFL 25. More...
Congratulations to LeSean McCoy for taking the title in Madden Bowl XX. McCoy was able to take out Newton in the finals on Thursday night. And no, there was no chance I was going to suggest to Cam that he might have fared better if his quarterback was a bit faster.
SIX PREDICTIONS FOR SUNDAY
And I predict I will still feel that way about Twitter on Sunday night. Don't ever change, internet.
Madden Next Gen superstar Bobby Wagner is going to make a big impact in this game. He's been a monster and often overlooked by some of his more outgoing teammates.
The Broncos ranked seventh in the NFL against the run this season, and they are very underrated on defense. But Marshawn Lynch has done well against strong defenses in the past. Just check out his history against the San Francisco 49ers. Lynch is going to crack 100 rushing yards in this game.
Russell Wilson is going to make a ton of plays with his legs in this one. The Broncos have a strong defense, as you know. But Wilson has been able to extend plays during the playoffs and he will continue to do it in this game, too. His elusiveness rating should be off the charts next year. Just saying.
Watching so many people pick the Broncos to win this game, it gives me a similar feeling to the way people overlooked Pete Carroll's USC team in the 2005 Orange Bowl. People were convinced USC would not be able to match up against Oklahoma, but the Trojans won the game, pulling away with a great defensive performance. I really do believe the Seahawks win this game. And it wouldn't surprise me if this one starts to get out of hand late in the game.
- Follow Adam Rank on Twitter @AdamRank, or just yell at him about his predictions. The choice is yours...