I made a pitch to be the Cleveland Browns head coach last week in this space. (And don't let them know, but I would even take an offensive coordinator's gig. Still, why not shoot for the stars?) Of course, my experience in such matters is my extensive Madden playing. Scoff all you want, but more than a decade of hiring "football people" just hasn't worked out for them.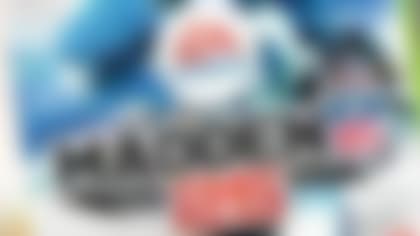 We're handing it off to you. Let your voice be heard. Help EA rate these NFL players for Madden NFL 25. More...
The Browns, to their credit, have played very coy with me. And that's cool. But every report I've seen is that they're considering an "Adam" to be the next coach of the team. So, it has to be me, right?
If the Browns are still unconvinced they will be happy to know Adam's Browns are currently 6-0 in my current online season. I made a gutsy move when I was able to send a fourth-rounder and Brandon Weeden to the Eagles for Nick Foles.
Dig that for a moment. Weeden and Foles opened the year with the same rating of 78. Weeden is about a four right now. Foles moved all the way up to 87.
In addition to people moving up, LeGarrette Blount seemed unstoppable against the Indianapolis Colts in an AFC Divisional Playoff Game as he scored four touchdowns. That's the beauty of a Bill Belichick offense. Once he's got you leaning one way, he will completely flip the switch on you. More of this coming up in the predictions page.
Speaking of running backs on the move, expect to see Montee Ball have increased value next year. He's becoming more involved in the Broncos' running attack. But his biggest influence lately has been in pass protection. Get that PBK moving in the right direction.
Andrew Luck has played really well during his first two seasons, as he's lead the Colts to back-to-back playoff appearances. He's done so with essentially two different head coaches and two different offensive coordinators. Pep Hamilton has turned down college overtures, so that's good. But Luck has turned the ball over way too much in the playoffs. This needs to be reflected in his rating headed into next year. I know, we're not supposed to knock Luck because he's a good kid and a good quarterback. However, those turnover numbers don't lie.
Six Predictions for Sunday
NFL coaches are control freaks. And superstitious. So, it seems weird Jim Harbaugh would end up changing his pants during a playoff run. If the 49ers were to lose, this would be blamed for sure. There would be a call for pleated khakis next year. Wait, does that really count as a prediction? Well, I can't say for sure unless you want me to spoil it.
No Seahawks receiver will have more than three receptions. The biggest difference in this game comes down to the big-play receivers on both sides. The 49ers have three. The Seahawks don't have one with the loss of Percy Harvin.
Peyton Manning will have an un-Manning like playoff game. Which means he will be good. Manning has been skittish during the playoffs, at least according to statistics and watching the games. Yet, John Elway in his corner will end up doing a world of good for Manning, who will have a chance to settle down and make plays.
The Broncos will still need a solid running game. They will get it from Montee Ball. Knowshon Moreno was the star the last time these two teams hooked up, but Ball will be the game's leading rusher.
Michael Crabtree was called the greatest pass-catcher in the NFL by his coach, Jim Harbaugh. But Harbaugh is supposed to stick up for his guy. That's cool. The real question is who will end up with the highest catch rating in next year's Madden game. That's something to keep an eye on. But on to the prediction. Crabtree's influence is huge for the 49ers. Colin Kaepernick has been a much different quarterback with him in the game. The 49ers will find a way to win.
Jack Del Rio and the rest of the Broncos coaching staff will spend the week studying tape of Blount and will find a way to shut down the Patriots' running attack. Well, actually, it will be Belichick himself who takes out the running game. Blount will get less than 10 carries, Shane Vereen will be heavily involved as a receiver out of the backfield and Quentin Jammer will be beaten repeatedly in this one. The Patriots will defeat the Broncos to go to the Super Bowl. Patriots vs. 49ers, pretty much the opposite of what everybody thinks.