I know. It's a tad confusing.
But Bears coach Marc Trestman said he would consider resting his players if his Sunday night game was meaningless, which of course, caused panic amongst the fantasy nerds and even sent some Bears fans scratching their heads. Has anyone heard of such shenanigans?
Well, I have. One time in college, we were having a Madden tournament, which was set up round-robin style. I dominated most of my foes, except for this kid named Mark Risco. Dude just owned me in the game. But he couldn't beat anybody else. So, I already had locked up my spot in the playoffs and was playing my man, Fink, who needed to beat me to get into the playoffs. If I beat him, I would still be the No. 1 seed, but would have to play Risco.
What ended up happening was I started running the punt-block as my basic defense. I put LaDainian Tomlinson in at quarterback for giggles and had a great time. I ended up losing. Risco was out of the playoffs and I was all set.
Now, this is probably where you would expect a moral of the story where I ended up losing to Fink in the finals all because I let him into the playoffs. This is where you would be wrong. I smoked Fink the next time I played him because he was lousy. And I beat everybody up until the finals, where I kind of beat a guy we nicknamed "Sybil" who had a different personality when he played Madden. He ended up throwing the console out the window and we never talked about it again.
No, I'm serious. The dude is a successful real estate agent now, doing pretty well for himself. He sends me emails about listings and everything. But we've still never settled that game of Madden. Maybe someday.
Jamaal Charles and Alex Smith -- as you can expect when the two guys nearly single-handedly beat the Oakland Raiders by themselves. It stands to reason both guys moved up in the Madden ratings this week. Although, you can't really pump up Smith's accuracy on deep balls because he really didn't throw any.
Nick Foles continues to move up, as well. Foles has become one of the most consistent quarterbacks in the NFL, as has one of our Next Generation guys, Ryan Tannehill.
Antonio Brown is another who continues to do it all. Remember when people thought it was a big deal when Mike Wallace left? Yeah, me either.
Six Predictions for Sunday
The Denver Broncos jump out to a 42-0 lead on the Houston Texans at halftime, but Peyton Manning is far from over. Manning throws another three touchdown passes in the second half to give him eight on the day to break the NFL record. Manning then says that whoever wrote the narrative that he couldn't win a late-season game in a dome can stick that where the sun doesn't shine. A reporter points out that nobody in the history of the world has ever written that narrative. EVER. This causes Manning to throw up the deuces and walk out of the interview room.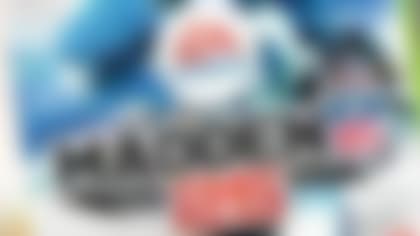 We're handing it off to you. Let your voice be heard. Help EA rate these NFL players for Madden NFL 25. More...
The New Orleans Saints have been pushed to the wall one too many times, and just as critics say the team can't win outside, they put up 45 points on the Carolina Panthers to wrap up the NFC South. They act like Drew Brees has never played outside. This is a dangerous game for the Panthers.
The Chicago Bears will have a chance to win the NFC North after the Packers lose to the Steelers and the Lions are upset by the Giants. That's right, the Giants upset the Lions. I guess that would be the bigger prediction here, right? If you've seen the Giants play, they aren't very good. Yet, they will find a way to beat the Lions because it's the Lions. Oh, but maybe the bigger prediction here is the Bears will finish off the Eagles to win the division. That's a pretty cool prediction, no?
The Dallas Cowboys decide to take the ball out of Tony Romo's hands as he attempts just six passes the entire day against the Redskins. All six of them come on the final drive after Kirk Cousins gives Washington a 27-24 lead late in the fourth quarter. And before you ask, yes, the sixth and final pass of the game is intercepted and returned for a touchdown.
Did you know that Adam Rank won last year's Expert's League title? Oh that's right, it's like the only thing he ever talks about. Well congratulations, Rank. You finally did something. What have you done for us lately? Let's worry about 2013 and stop living in the past. Typical Lakers fan, am I right? Oh, if you found this useful (as if) check him out on the latest "Dave Dameshek Football Program". And follow him on Twitter, please. He's taking us to lunch if he gets 17 more Twitter followers today. And we only got 15 the last time, so step up fantasy enthusiasts!