Happy New Year to everybody out there! My own personal holiday tradition is to stay up super late on New Year's Eve (and into New Year's morning) playing Madden and having the time of my life. And before you mention it, yes, my wife is a very lucky woman. Yet, in some way, she didn't help her own cause because she did arrange to have Santa Claus bring me a copy of NCAA 14 for Christmas. (Hit me up for my gamer tag on Twitter and maybe we can play.)
But during this holiday season it's time to take a moment to reflect on some of the players who made the most noise, both good and bad, in 2013 and who has our eye for next year.
Biggest Movers of the Year (in a good way)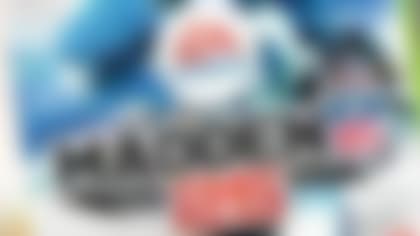 We're handing it off to you. Let your voice be heard. Help EA rate these NFL players for Madden NFL 25. More...
I'm really curious to see where Nick Foles ranks among quarterbacks next season. He's probably been the most reliable quarterback out there behind guys like Peyton Manning and Drew Brees. I felt Tom Brady took too much of a beating in the rankings because of his lack of offensive weapons. Overall, I'm curious to see where Foles lands. If I was doing it, I'd go Manning, Brees, Brady, Aaron Rodgers, Andrew Luck and then Foles.
Eddie Lacey has looked amazing during his rookie season. He's going to scratch the surface of the elite backs. He will likely get a nice little boost headed into next year, as he's been fantastic. And having Rodgers healthy for an entire season will make him even more deadly.
Speaking of tight ends, Julius Thomas should open next year as the No. 2 tight end in the rankings, right behind Jimmy Graham. Rob Gronkowski's injury rating should be very low.
Biggest Movers of the Year (not in a good way)
Matthew Stafford recently said he doesn't want to work with a quarterback guru. Who could blame him with all of the success the Detroit Lions have had in recent years?
Trent Richardson. Or as we like to refer to him as, fantasy football dream killer. Everybody thought the Browns had made a huge mistake when they traded him to the Colts. But how smart does the brain trust of Cleveland look right now? Richardson has really struggled and you might want to say it was a matter of not being able to pick up the playbook and things like that. Yet, the Browns have picked up guys like Eddy Baker and put him in the lineup and have had him play pretty well. And Donald Brown doesn't seem to have a problem playing behind the Colts' offensive line. I would expect Richardson to start with a 50 rating. Wait, it's not an expectation, but rather a hope.
Julio Jones was supposed to be the next big thing at wide receiver, but injuries have ruined his season. He's now been passed by guys like Gordon and Jeffery.
Six Predictions for Sunday
I was looking at the AFC playoff picture and if I'm reading this correctly, the San Diego Chargers win if they forfeit Sunday's game against the Kansas City Chiefs. I'm just kidding. The Chiefs have already forfeited because they will sit all of their starters going against a team that needs to win to get in. The Chargers will beat the Chiefs and all of the other scenarios will fall into place for them. The New York Jets will beat the Miami Dolphins because the team will do just enough to get to 8-8. And seriously, if that happens, Rex Ryan should be considered for Coach of the Year.
The Dallas Cowboys will win the NFC East behind the arm of Kyle Orton. I mean, this is really the only way this game can go, right?
Did you know that Adam Rank won last year's Expert's League title? Oh that's right, it's like the only thing he ever talks about. Well congratulations, Rank. You finally did something. What have you done for us lately? Let's worry about 2013 and stop living in the past. Typical Lakers fan, am I right? Oh, if you found this useful (as if) check him out on the latest "Dave Dameshek Football Program". And follow him on Twitter, please. He's taking us to lunch if he gets 17 more Twitter followers today. And we only got 15 the last time, so step up fantasy enthusiasts!