A pair of wide receivers are making cases for big boosts in their Madden ratings this week, and deserve a bump from you as well in their quest for the inaugural Madden Next Gen crown. You can view the whole Next Gen team and vote for your favorite players here.
OK, Antonio Brown, we get it. You're awesome. Brown delivered yet again, this time against the staunch Cleveland Browns' defense. He even burned Joe Haden! Speaking of burning, did everyone catch Tavon Austin's touchdown run? Man, that kid can move. Austin burst onto the scene two weeks ago, and appears to have hit the ground running (pun definitely intended) after the St. Louis Rams' Week 11 bye. Austin topped 100 yards from scrimmage for the second time this season, and for the second consecutive game. Don't blame Ryan Tannehill for the Miami Dolphins' loss to the surging Carolina Panthers. Tannehill threw for over 300 yards with one touchdown pass, and had another one dropped by Mike Wallace that could have given the Dolphins a win. He did throw an interception, but overall Tannehill looked closer to the quarterback that led his team to a 3-0 start, and not the one who has struggled of late. He'll likely be in line for a ratings bump later this week.
Dion Jordan was rumored to be the Dolphins' secret weapon who would help containCam Newton. Well, it looks as if that was partly true, as Jordan registered his second sack on the season. It's the only stat Jordan had on the day, but good for him to take advantage of his limited opportunities. Luke Kuechly had a solid day for the Panthers, notching six tackles (one for a loss) and a pass defensed. Prince Amukamara did his part to help contain the Dallas Cowboys' offense with six tackles and a pass defensed, but Tony Romo was able to lead a two-minute drive to give the Cowboys the win and effectively end the New York Giants' playoff hopes.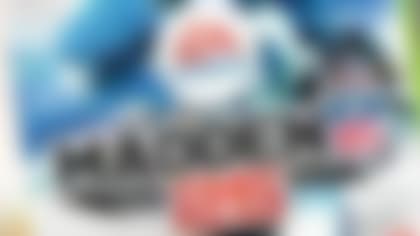 We're handing it off to you. Let your voice be heard. Help EA rate these NFL players for Madden NFL 25. More...
Geno Smith was driving the struggle bus in Week 12, and decided to pick up a few of his Next Gen teammates for a ride. Smith had another painful outing as he completed just nine of his 22 pass attempts for 127 yards with two interceptions. Lamar Miller rushed for eight yards on 10 carries. It's never a good sign when your running back has fewer yards than attempts. That's sub-Trent Richardson territory. By comparison, Richardson had a banner day, rushing for 15 yards on his seven attempts, adding two catches for 11 yards. With production like that, there's no possible way the Indianapolis Colts regret trading away that first-round draft pick for him. T.Y. Hilton couldn't find space against the Arizona Cardinals, managing just five catches for 38 yards. Lastly, Jacquizz Rodgers has all but disappeared from the Atlanta Falcons offense, as he had just five touches for 38 yards in a hard-fought loss to the New Orleans Saints. That is a far cry from the amount of touches he was seeing when Steven Jackson was sidelined with injuries.