Don't look now, but we've reached the midpoint of the NFL season. I'm just as shocked and sad as you -- it means we're almost halfway to the dark days without football on the weekends. But before those dismal times arrive, we still have plenty of football to keep us entertained. Which also means there's plenty of time left for you to help decide who will be the Madden Next Gen champ. As the NFL media hand out midseason awards, we thought we'd do likewise for the Madden Next Gen team, as well as take a look into our crystal ball and make a prediction for who will take home the inaugural title of Madden Next Gen champion. You can view the whole Next Gen team here if you need a refresher before reading on.
Chandler Jones deserves the nod for unexpected breakout performer on the Madden Next Gen team. Jones was a first-round pick in 2012 for the Patriots, and had a solid rookie campaign, posting six sacks. However, he's become a defensive wrecking ball for the Patriots in year two, racking up more sacks and one less tackle halfway through 2013 as he had all season in 2012. Not to mention, he blocked a field goal last week in the Patriots win over the Miami Dolphins. Jones has been rewarded for his game-changing efforts by moving up four points in his OVR score from his preseason rating -- tied with Geno Smith for the largest increase on the Next Gen team.
Many expected Antonio Brown to assume the No. 1 wide receiver role in Pittsburgh in place of the departed Mike Wallace, but they probably didn't expected Brown to perform so consistently in his new role (and so well). Brown leads the NFL with 56 receptions (Wes Welker is second with 50) and is ninth in receiving yards with 630. Brown has been the most reliable and dangerous weapon on a Pittsburgh offense sorely in need of some explosion. Brown's OVR rating has climbed from an 86 to an 89 since the season kicked off.
Ryan Kerrigan is quietly putting together a stellar season in the stat sheets, but sadly, his production hasn't garnered him votes in the Madden Next Gen race, as he currently ranks 22 out of the 25 Next Gen players. Kerrigan already has 6.5 sacks and three forced fumbles for a Washington Redskins defense that has been, in a word, terrible. It's frightening to think what the Redskins defense would look like without Kerrigan this year.
Midseason Disappointments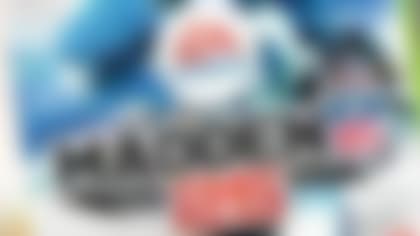 We're handing it off to you. Let your voice be heard. Help EA rate these NFL players for Madden NFL 25. More...
For all of the hooplah surrounding the Miami Dolphins this offseason, from their big offseason acquisitions to the notion that they could contend with the wounded Patriots for the AFC East title, it's even sadder that two of the three 'Fins players on the Next Gen team have been major disappointments. Lamar Miller was the fantasy football darling of the 2013 offseason, as many expected him to explode on the scene and be the featured back in the Dolphins offensive attack. Heck, he was even on Michael Fabiano's man crush list. He's outside the top 20 running backs in yards, and has scored just twice for the Dophins. His yardage was padded last Sunday, as he had his best rushing day of the year, gaining 89 yards against the Patriots. He could turn things around, but at this point, his production has been a letdown. Meanwhile, Miller's teammate and the first-round selection by the Dolphins in the 2013 NFL Draft, Dion Jordan, has been virtually non-existent. Jordan has accumulated just eight total tackles and one sack at the midway point in the season. Sure, he's a rookie, and the Dolphins haven't used him as an every-down player, but teams expect a little more out of a top-five overall pick. Speaking of high draft picks, Tavon Austin rounds out the list of disappointments on the Next Gen team. Whether it's a result of Austin struggling to get acclimated to the NFL game, or offensive coordinator Brian Schotenheimer's severe lack of creativity in how to use Austin (my guess is a bit of both), Austin has been a non-factor for the Rams offense. Many thought Austin could come in to the NFL and run away with the Offensive Rookie of the Year award, but he'll be lucky if he's even considered for it at this point.
While Doug Martin actually edges out Luke Kuechly by six points in the Madden Next Gen contest, I'm giving the nod to Kuechly for a few reasons. One, Martin is dealing with a shoulder injury and may be out for a few weeks, two, Kuechly has been consistently impressive all year and three, Kuechly plays defense, while Martin is a fantasy football superstar (at least he was in 2012!). For Kuechly to even be close to Martin in the voting is a massive accomplishment, as the exposure Martin gains through fantasy football is immense. In only his second year, Kuechly has grown into one of the better middle linebackers in the league, and while he has ways to go before he reaches Patrick Willis levels, he's on the right path. For that, I'm crowning Kuechly the Midseason Madden Next Gen Champion.
Prediction: The 2013 Madden Next Gen Champion will be ...
Colin Kaepernick. While the 49ers signal-caller has seen his OVR rating drop three points from the start of the season, he seems to once again be finding his groove -- the very groove that carried him and the 49ers to the Super Bowl last season. Kaepernick is currently fifth in Next Gen voting, 23 points out of the top spot. If Kaepernick continues to excel as the season progress, combined with the fact that he's a likeable guy on one of the NFL's most popular franchises (and a fantasy football stud) my guess is that Kaepernick will quickly regain the ground he lost in the Next Gen voting during his slump and walk away as the 2013 Madden Next Gen champ.
Disagree with my prediction? Then let your voice be heard and vote for the "Madden NFL 25" Next Gen champ! The players have a say in their Madden ratings, but only you can help crown the first ever Madden Next Gen Champion. The power is yours... use it wisely.
- Follow Alex on Twitter @AlexGelhar for the latest Madden updates, actual NFL analysis and attempted snarky pop culture commentary