ARLINGTON, Texas -- The 2013 NFL Super Regional Combine at Cowboys Stadium was a showcase event for the underrated and overlooked prospects in this year's draft class. These players -- many of whom hail from small schools and have obscure backgrounds -- use the two-day event to show off their talent and potential to scouts from all 32 teams in hopes of securing an opportunity in an NFL training camp. These prospects face long odds when it comes to making an NFL roster, but it does indeed happen. Of the 2,000-plus prospects who attended regional and super regional combines last year, 87 signed contracts with NFL teams and 28 earned spots on opening-day rosters.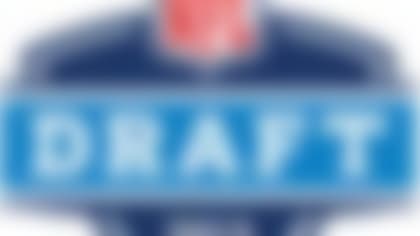 With the draft right around the corner, NFL.com ranks the top prospects available at every position on offense and defense. More ...
I attended this year's event looking to unearth hidden gems in the 2013 class. Based on several conversations with scouts and executives in attendance, here are five names to remember from the 2013 NFL Super Regional Combine:
The British Olympian was the talk of the event after putting together a spectacular showing on the turf. Checking in at 6-foot-6 and 304 pounds with 34 1/2-inch arms, Okoye blazed the 40-yard dash in 4.78 seconds and posted impressive numbers in the vertical (35 inches) and broad jumps (10-foot-5). Those are ridiculous numbers for a guy his size, which is why scouts certainly are intrigued by his talent and potential as a developmental project. (The 21-year-old finished 12th in the discus at the 2012 London Olympic Games and is an accomplished rugby player, but he's new to the game of football.) Now, based on his positional workout, Okoye does have to make significant strides before he's ready for the pro game. He looked a little tight in his turns and transitions, and he didn't show explosive change-of-direction quickness in drills. Still, scouts will take a chance on Okoye as a late-round prospect/priority free agent based on his sheer size, strength and athleticism.
Cody Davis, S, Texas Tech
It's hard to find big, physical safeties with speed and movement skills. Davis was not only one of the most impressive athletes in attendance, but he was routinely cited as the highest-rated prospect in the building by several scouts. He certainly didn't disappoint evaluators by putting together a solid overall performance. Davis clocked 40 times in the mid-4.4-second range and continued to pop with impressive measurements in the vertical (41.5 inches) and broad jumps (10-foot-3). Most impressively, Davis showed exceptional change-of-direction quickness in the pro-agility shuttle and three-cone drills as well as during his positional workout. Davis smoothly executed turns and transitions while displaying better-than-anticipated balance and body control for a guy his size (6-2, 203 pounds). He also showed outstanding ball skills, awareness and hands in drills. With defensive coordinators searching for guys capable of matching up with the big-bodied receivers and tight ends dominating the NFL, Davis will certainly garner strong consideration as a potential mid-round selection.
Scouts pay close attention to the progress of high-profile high school recruits throughout their college careers. Marve was a highly decorated prospect coming out of Plant High School in Tampa, Fla. After spending two seasons at Miami, he transferred to Purdue hoping to snag a starting role. But Marve suffered three ACL injuries during an up-and-down career that was marked by some spectacular moments amid typically inconsistent play. On the regional combine circuit, Marve displayed impressive arm talent and passing skills, throwing tight spirals with better-than-average zip and velocity. Most importantly, he delivered accurate balls within the strike zone and showcased the capacity to make all the pro throws from the pocket. Given the lack of quality quarterbacks in the 2013 class, Marve's strong performance in workouts will lead a team to take a flier on his talent and potential as a developmental prospect in undrafted free agency.
Sam McGuffie, RB/WR, Rice
The diverse job description of the slot receiver in the NFL leads evaluators to covet prospects with versatile skills. McGuffie definitely qualifies, based on his standout career as a running back/receiver at Rice following a one-year stint at Michigan. He finished with over 1,000 yards rushing and receiving at Rice, displaying intriguing skills with the ball in his hands. McGuffie routinely turned quick passes and bubble screens into big gains, while also showing the ability to work effectively between the hashes. He continued to impress scouts with his talent at regional combines. He clocked 40 times in the 4.3-second range while also posting impressive measurements in the vertical jump (40.5 inches), broad jump (11-foot-2) and short shuttle (4.02 seconds). Those numbers place McGuffie near the top of the charts among his peers in the 2013 draft class. Now, McGuffie's injury history (numerous concussions) is a concern, but his combination of speed, quickness and running skills will make him a strong late-round prospect in draft rooms across the league.
Reggie Dixon, RB, Hampton
2013 NFL Draft: Team needs Our analysts examine each team's game plan entering the 2013 draft, identifying biggest needs, potential fits and more. More ...
Speed demons will always catch the eyes of scouts in workouts. Dixon wowed everyone in Dallas with his speed, burst and explosiveness. The former Hampton standout ranked among the fastest prospects in camp with 40 times in the low-4.3-second range. He continued to impress with strong measurements in the vertical (38.5 inches) and broad jumps (10-foot-4). Of course, those numbers were expected, given his background as a top track and field athlete. Dixon clocked a 10.35-second 100-meter dash during his track career with the Pirates, earning recognition as one of the top performers in the MEAC. While his size (5-7, 172 pounds) will limit opportunities in the NFL, Dixon's speed might earn him a shot as an undrafted free agent with a team looking for some juice in the return game.